Jerry Stackhouse Really Loves DMing Vanderbilt Supporters to Call Them 'Fake Ass Fans'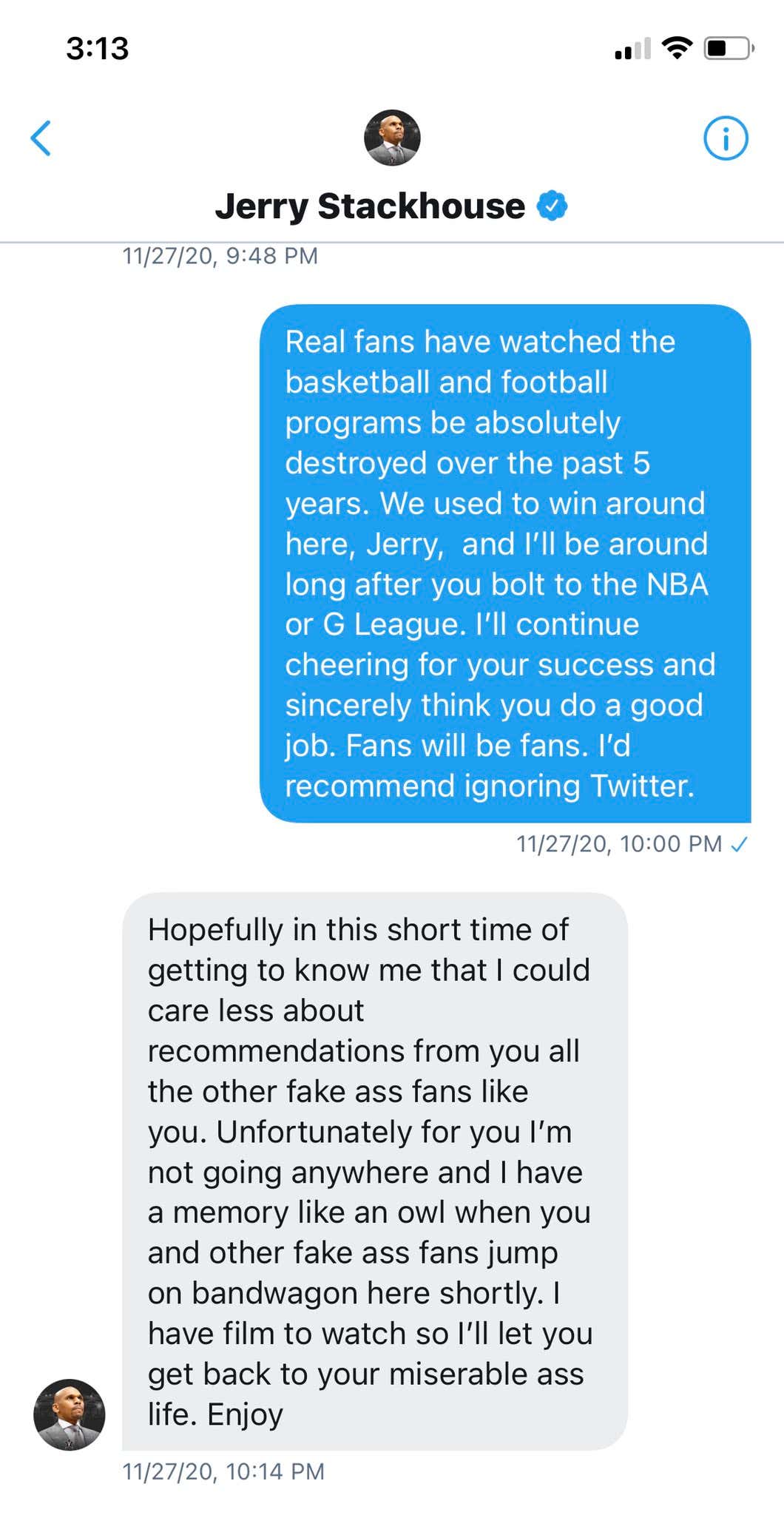 Holy shit! Jerry Stackhouse has apparently had enough of Vanderbilt fans calling him out on his 15-28 tenure as the Commodores' head coach. So much so, in fact, that he's voluntarily hopping into their DMs to call them "fake ass fans."

I don't even know what to say about this because it's so insane. An active SEC head basketball coach who probably makes $2 million per year or so — we don't know exactly how much Stackhouse makes because Vanderbilt is a private university — is choosing to DM fans with 600 followers and cuss them out because he can't handle a little criticism? Imagine being that tissue paper soft.

Believe me, I know better than most people how difficult it can be to ignore people criticizing you on the internet, but if I was making seven figures a year with a seven-figure buyout if you wanted to fire me for sucking, you could say quite literally whatever you wanted about me and I could not fathom caring one bit. Stackhouse is a terrible college basketball coach — with an obviously unfit temperament — who will either continue making millions of dollars to coach or get millions to get fired, yet he's cussing out fans on Twitter after the first game?

And this is VANDERBILT! They might have 100 fans who consistently tweet about the basketball team. Can you imagine what would happen if this guy was good enough to get hired somewhere with an actual fanbase? He'd make it through one non-conference loss before he started listing off Twitter accounts in his postgame presser.

So please nobody tweet about how bad Vandy is. It makes their coach really sad. And Jerry, if this blog has found its way to your desk, just mute your notifications, buddy. I promise life is a lot smoother that way.