If She Shows Up Wearing Your Team's Cap, She's a Keeper...
Sometime in early 1999, a friend of mine got word he was being transferred and because he was an avid mountain biker, he was excited to move to Colorado where the trails were nothing short of spectacular. Shortly after they arrived, on one Sunday morning him and his family went to a local restaurant for breakfast. He wore casual clothes, which because of his thinning hair, always included a cap. As they followed the waitress to their table suddenly the entire restaurant became strangely silent. You couldn't hear a single piece of silverware working a plate, all movement had stopped. Every set of eyes in the place shifted to them, and it was only after him and his family were seated that he noticed all the patrons were wearing Broncos' merchandise and that's when he realized he had made a bad choice, a choice he was careful never to make again, at least not while he was living in Colorado. He was wearing a Flying Elvis Patriots' cap in a Denver restaurant.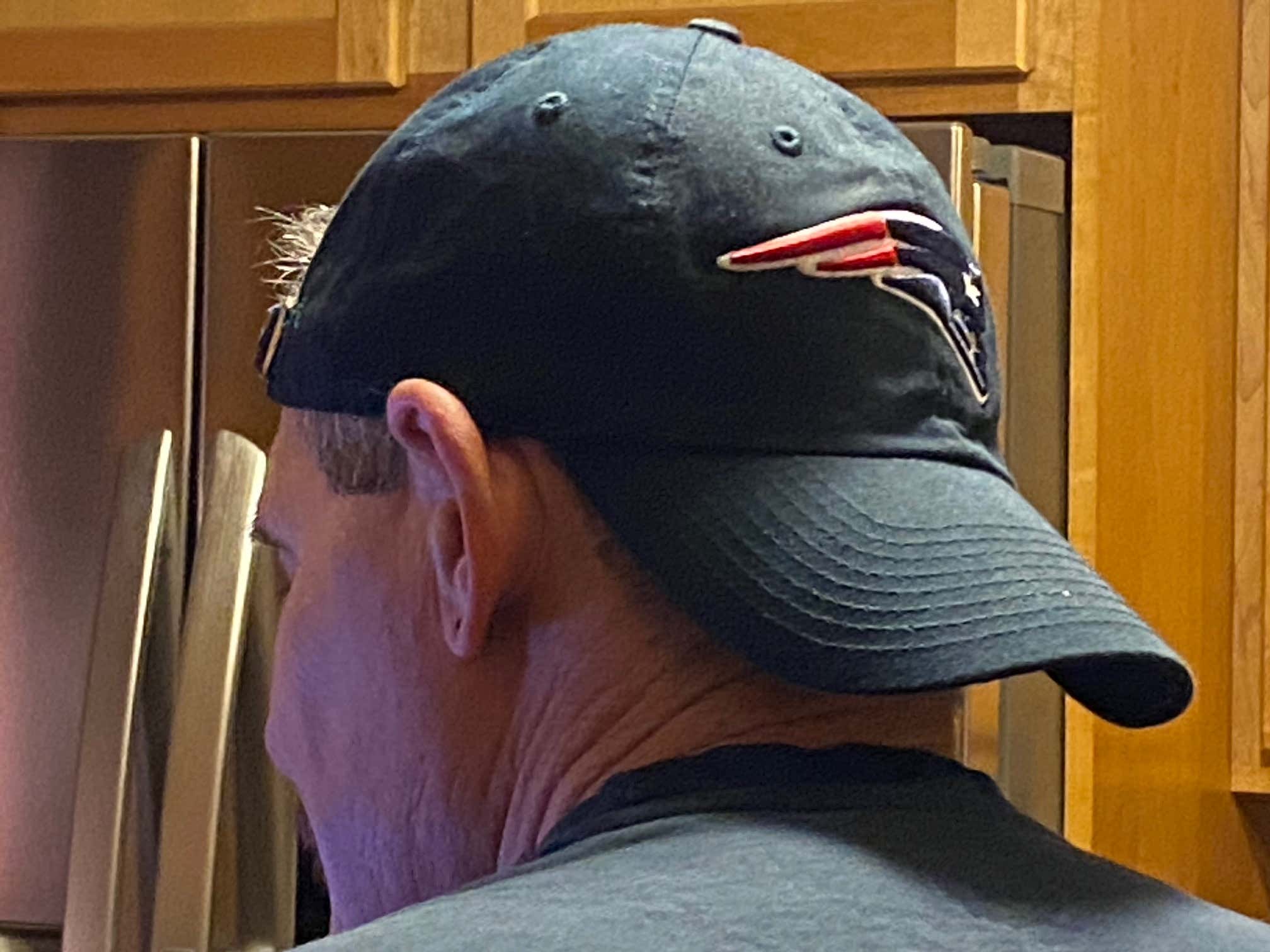 The Patriots were still a couple of years away from winning their first Super Bowl, but the Denver Broncos had won their first in '97 and then another one back-to-back in '98. Unless you were living under a rock, and they do have some incredible rocks in Colorado, most people living there were hard-core Broncos' fans and had the Bronco's logo on almost every article of clothing they owned.
I never went all-in with Patriots' merch, but my kids did. We bought them beanies, caps, t-shirts, jerseys, and sweatshirts, but not the high price authentic stuff hanging on racks in the gift shop at Gillette Stadium, we got their stuff at JC Penny, Kohl's, and eBay. 
I liked the new Patriots uniforms when they were first introduced in '93, but I wasn't ready to totally abandon the red shirts with the "Pat the Patriot" logo on white helmets, the uniforms I'd grown to admire since the days when I was a kid. Of course, once the Patriots won their first Super Bowl wearing the new uniforms, I became less resistant to change, and not too unlike the Broncos fans my buddy had breakfast with in Colorado, I began plastering myself with the Flying Elvis.
I was never one to avoid watching football with friends who were fans of teams other than the Patriots. One of my game day friends is a Giants' fan. I originally assumed he was been born in NY, but later I found out he was a Massachusetts native and his father was a big Patriots fan. The two of them went to Patriots' training camp every summer, but the Giants were his team. It was never a problem for me, after all, I was a Giants' fan back when there were two leagues. The Patriots were my AFL team and the Giants were my NFL team. Y.A. Tittle, Frank Gifford, Homer Jones, Del Shofner, Alex Webster, Sam Huff, and Jimmy Patton were just a few of my favorites.
Then in February of 2008, I had a bunch of my friends over to watch Super Bowl XLII. Everyone was a Patriots' fan except one guy, my friend the Giants' fan. To make matters more challenging, he wore a full Giants' wardrobe. My other friends were immediately uncomfortable with his presence, and even more so when he stood up and fist pumped on every positive Giants' play. When the game ended in a Patriots loss, my buddy who had driven up from Connecticut immediately asked me to shut the TV, not wanting to watch one minute of the Giants' celebration. Then my buddy the Giants' fan asked me to put it on so he could watch the trophy presentation… I didn't want to come across like a sore loser, a bad host, or deny him his moment, so I put the TV back on. My buddy from Connecticut was supposed to stay over like he always did for Super Bowl, but he was pissed and he wanted no part of the trophy presentation and so he left in a hurry, and drove to his home two hours away.
On February 5th, 2017, I hosted Super Bowl LI, my 20th Super Bowl party in 21 years. Each year the guest list changed a bit. One of the guests at this Super Bowl was a diehard Vikings fan. I was a Vikings fan back in the day, Fran Tarkenton, the 'Purple People Eaters', so I didn't see any problems having him over. He's also a Massachusetts native.
When he showed up wearing a Celtics t-shirt I asked him if that was the best he could do. He laughed and said he didn't have time to change into a Patriots shirt. It was a lame excuse and it didn't go unnoticed, but I didn't push him on it. I had had some fun watching football with him in the past.
After a scoreless first quarter, the Falcons put up 21 unanswered points and my friend the Vikings' fan was suddenly all smiles. With 2 seconds left in the half Stephen Gostkowski hit a 41-yard field goal, and the half ended with the Patriots down 21-3.
During halftime, in the middle of what was looking like a blowout, we were all quiet, but that was when the Vikings' fan started his Patriot's-hating rant. He began talking shit about the legacy of Brady and Belichick and how this would be their third Super Bowl loss together… 
When the second half started the Patriots looked like a completely different team and immediately began their assault on the unsuspecting Atlanta Falcons. We were all up on our feet, even my friend the Giants fan, totally confident in the Patriots' chances of winning this football game. All the while, the Vikings fan sat in silence, in disbelief, with the look of disappointment unmistakably pasted on his face. At that point, he obviously didn't belong in a Celtics tee or in my living room amongst my friends who were die-hard Patriots fans.
When the game was tied at 28 at the end of regulation, everyone in the house knew the Patriots were going to win in overtime. Beginning on their own 25, the Patriots marched down the field. Brady went 5-7 passing and James White wouldn't be denied, and he powered his way into the end zone for the win.
I never invited the Vikings fan over to watch another game at my house. Rooting for your team is fine, but I believe you should always show some respect for the host's team. Any behavior to the contrary is rude, unacceptable, and won't get you another invite. 
This year marks the first time since 2008 that the Patriots did not make the playoffs. In '08 Brady got hurt in the first quarter of the first game against the Chiefs and although they finished 11-5 with Matt Cassel under center, it wasn't enough to get them into the Wild Card. This year, with Cam Newton under center they finished 7-9 and after a Week 17 win over the 2-14 Jets, their season was officially and thankfully over.
Every football fan wants to have a horse in the race and I'm no different. I was a fan, sometimes critical, of Tom Brady and Rob Gronkowski when they played for the Patriots and I still enjoy watching those two guys play catch in the NFL, albeit for the Buccaneers. So, I'm all in for Tampa Bay this year, in fact… I bid and won a Bucs cap on eBay so I could show my support. I'm not abandoning my New England Patriots, just taking a break and doing my best to enjoy NFL football right through to Super Bowl LV, which is being held in Tampa.
NFC Divisional Round, Brady/Bucs v. Brees/Saints, Sunday at 6:40 in New Orleans. Although I have much respect for Drew Brees, I'm going with the Bucs, 37-34!