Plaxico Burress Blasts Off On Nick Saban On Twitter
…
If you missed it yesterday during Alabama Day at SEC Media Days, the background for this Twitter outburst was Saban came out and basically blamed the Sugar Bowl loss on NFL Draft Grades being released too early and distracting his players.
AL - "Our team chemistry from the SEC Championship Game to the playoff game was affected by something," [Saban] said, and he suggested that "something" was the feedback from the NFL Draft Advisory Committee.

"So we're trying to get ready for a game," Saban said, "and all of a sudden, a guy finds out he's a first-round draft pick or a guy that thought he was a first-round draft pick finds out he's not a first-round draft pick, and we're trying to get ready to play a playoff game."
He later clarified and said he didn't mean to put it like that, but the damage was already done. Especially with the SEC haters.
Now it's no secret that I could probably be accused of being biased towards Alabama most of the time around here. No not because I'm from Alabama or went to school there or became a bandwagon fan of the football team or anything – solely because they provide so much A+ blog material that I've started to fall in love with them. They entertain me constantly and make my job easier every day, and for that I'll always be grateful. I'm also not a total dumbass so I know what a great coach Nick Saban is and how well run the team is. But say what you want about Plax…he's not wrong.
Saban was as big a money chaser as there was and definitely had no problem stretching the truth trying to get guys to stay and play with him, even while he was looking for the next high profile, higher paying job. He also has seemed to be full of excuses lately and placing blame at places other than himself.
After the Sugar Bowl loss to Utah, he blamed the fans…
'I want our fans to understand that when they don't have positive passion and energy for what we're trying to accomplish, then it affects everyone,' Saban said. 'Last year's team was a great example of that.'
After the Sugar Bowl loss to Oklahoma, he said the team just wasn't excited for a consolation game…
And today he has found a new culprit for his team's shitty play…NFL draft grades.
So Plax may be a moron who shot himself in his own damn leg and cut his career short with stupid decisions…but that doesn't discount his story here.
Also, Twitter burn game: 100/100.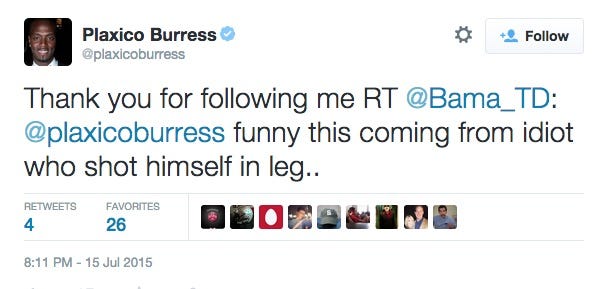 HAHAA.