2021 NFL Mock Draft For Teams Not In The Playoffs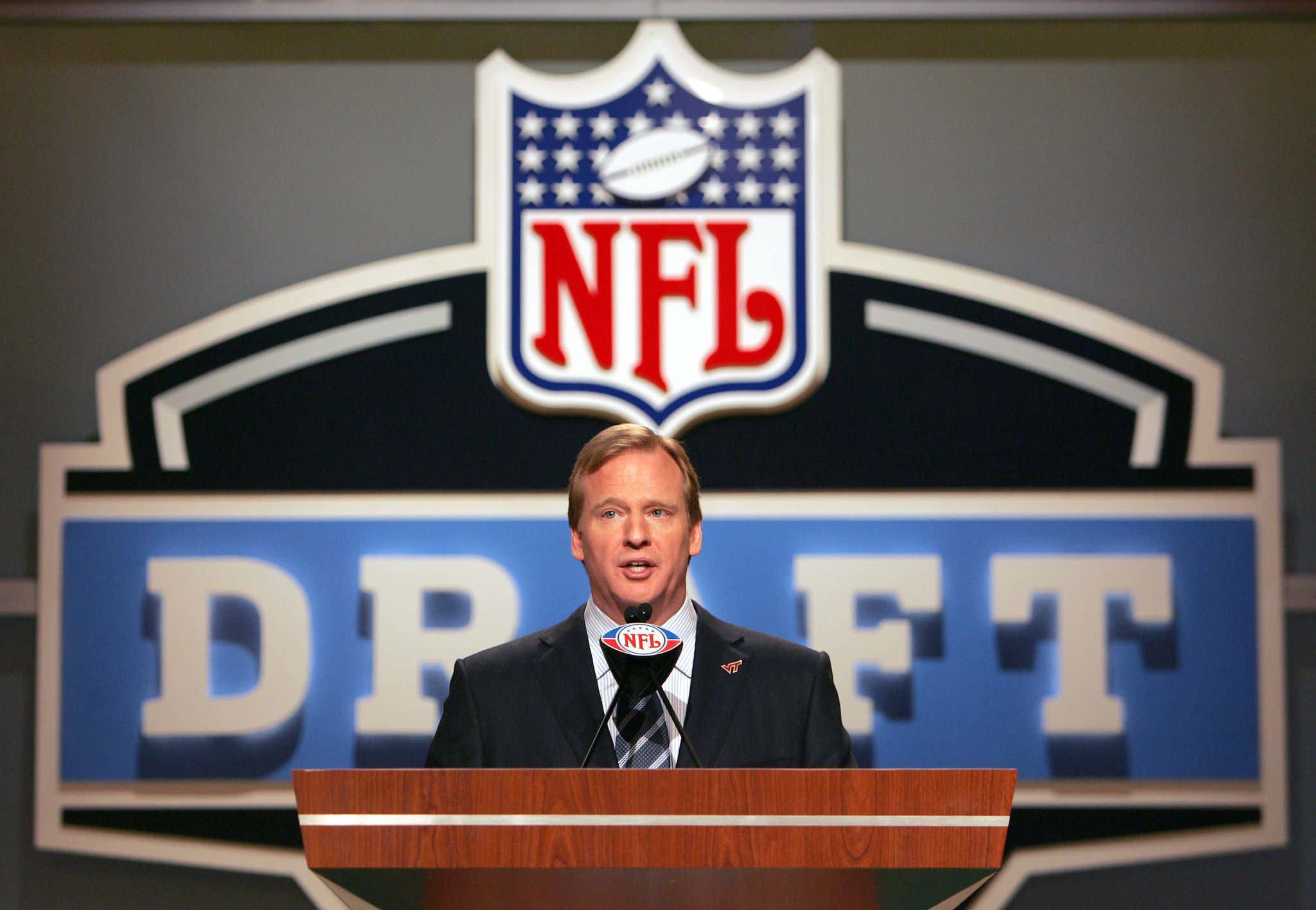 Richard Schultz. Getty Images.
The NFL regular season ended yesterday, so for 18 of the league's 32 teams, it's NFL Draft SZN. It's a szn I'm all too familiar with as until this year my Buccaneers hadn't made the playoffs since 2007. But this recent success won't make me forget my roots. Day after the season mock drafts bring fans of an organization new hope, because each team is only a few players away from a January/February run. So let's take a look at where I see things shaking out now. *Pre-off-season circuit/combine/National Championship Game:
1) Jacksonville Jaguars - QB Trevor Lawrence (Clemson)
The number one pick has been known for some time. Justin Fields certainly could have struck some doubt in evaluators minds with his performance in the Sugar Bowl, but Lawrence is the safe bet to land #1 for now. Congrats Chaps and Duggs!
2) New York Jets - QB Justin Fields (Ohio State)
The Jets played themselves out of the #1 pick, but maybe they played themselves into the better QB? It's too early to tell who will be a better pro, but if these two do go 1-2, they'll be forever linked. Coming out of High School, Fields was a higher ranked prospect than Lawrence.
3) Miami Dolphins (via Houston Texans) - OT Penei Sewell
This pick was dealt from the Texans to the Dolphins for LT Laremy Tunsil. The Dolphins also have the Texans 2nd round pick this year, so not great Bill O'Brien! The Dolphins also will be a power broker in the Draft this year with QBs expected to go in the top two and Atlanta likely at least open to a successor to Matt Ryan with a new regime coming in. They could very well trade down and acquire more assets OR would they be bold enough to punt on Tua this early? He has not looked good for a majority of his time on the field and in a must-win game at Buffalo threw 3 INTs. Do I think they will? No, I do not. But with a pick in the top three, they certainly will have to give Tua's tape a very hard look in the mirror. As far as the actual player, Sewell has long been the top ranked OT, but I can see Miami going in a different direction if they choose to stay at #3.
4) Atlanta Falcons - QB Zach Wilson (BYU)
I can't see a new GM/Coach coming in with the #4 overall pick in a loaded QB draft and sticking with noodle armed Matt Ryan. I wouldn't be surprised if he's there next season, but that could set up for a nice mentor role. Wilson has been a fast riser after a stellar junior season throwing 40 TDs to just 3 INTs. He's got a cannon for an arm and can move, although he'll likely need to put on a little bit of weight to hold up at the NFL level.
5) Cincinnati Bengals - OT Rashawn Slater (Northwestern)
Joe Burrow just started walking again and the #1 priority for the Bengals will be protecting him. Slater is a guy who opted out for the 2020 season but has experience at both Left and Right Tackle.
6) Philadelphia Eagles - WR Ja'Marr Chase (LSU)
The Eagles courtesy of a stinker of a game by Jalen Hurts and Nate Sudfeld will pick 6th. Even though they drafted WR early the past two years, their WR luck hasn't been very good with both Justin Jefferson and DK Metcalf going not long after Jalen Reagor and J.J. Arcega-Whiteside. Hopefully for them they turn it around with Chase who is a lights out talent on the outside.
7) Detroit Lions - EDGE Gregory Rousseau (Miami)
The Lions need help in a lot of places, but whoever they bring in will see pass rush as an area of need. Rousseau opted out this season for COVID concerns as he was a lock 1st rounder and he can help get after the QB immediately.
8) Carolina Panthers - QB Trey Lance (North Dakota St.)
The Panthers signed Teddy Bridgewater a year ago and they likely view him as a bridge QB. I could see them going QB early and Matt Rhule does value some mobility from the position. Lance has Bridgewater-like qualities as far as playing smart and not turning it over, but has added dimensions of a run threat and a big arm. There is limited tape on him though and cause for concern of a one year wonder. This year wasn't his fault and he did play one game, but he's still a bit of an unknown based on that.
9) Denver Broncos - CB Patrick Surtain II (Alabama)
Denver has been hurting at CB and Surtain has good bloodlines and comes from a top notch program. He'll step in Day 1.
10) Dallas Cowboys - OT Samuel Cosmi (Texas)
Tyron Smith has dealt with injuries the past few years and their RT La'el Collins missed time this year too. They'll be able to get a good look at the in-state product and he fits their need at #10.
11) New York Giants - LB Micah Parsons (Penn State)
Talent wise, Parsons could go a lot higher than this. He's a sideline-to-sideline LB and we have seen that position ascend up draft boards recently with selections like Devin White and Devin Bush. He fits what the Giants are looking to do and would be a big upgrade over tackle machine Blake Martinez.
12) San Francisco 49ers - CB Jaycee Horn (South Carolina)
The 49ers have a lot of salary cap related decisions coming up this off-season and almost all positions outside of Tight End and DL are possibilities. But if their roster is somewhat similar, they could use an upgrade in the secondary and Horn could step in and provide some youth and attitude.
13) Los Angeles Chargers - OT Liam Eichenberg (Notre Dame)
The Chargers end the season winning four straight games and playing themselves right out of Justin Herbert's college LT Penei Sewell who they were well positioned to get a month ago. Liam Eichenberg comes from the OL Factory in South Bend and can help protect the the most valuable young QB in football.
14) Minnesota Vikings - OG Trey Smith (Tennessee)
This is high for a Guard, but the way Gary Kubiak runs his offense, his potential will be maximized. He's a mauler who will help pave the way for Dalvin Cook for years to come.
15) New England Patriots - TE Kyle Pitts (Florida)
Yes, the Patriots drafted two Tight Ends on Day 2 last year, but Kyle Pitts is another breed. We haven't seen a college TE like this since Kellen Winslow. While their QB situation is very much up in the air and they are absolutely in play to move up and get one, I think Bill Belichick would be thrilled to stick at #15 and land Pitts.
16) Arizona Cardinals - CB Caleb Farley (Virginia Tech)
Farley was the first big time prospect to opt-out this season and his 1st round status was all but assured based on last year's tape. The Cardinals need help in the secondary with Patrick Peterson getting long in the tooth.
17) Las Vegas Raiders - LB Jeremiah Owusu-Koramoah (Notre Dame)
The Raiders have struggled to fill the LB position since THE BOY Will Compton was released left. They need help on the EDGE, but Owusu-Koramoah, presents too much 3-down value to pass up.
18) Miami Dolphins - WR DeVonta Smith (Alabama)
Smith is such a smooth operator. Reminds many of a young Robert Woods and while his timed speed or size won't blow people away, he just continues to blow by CBs on the field.