Austin Peay Player Hopped On Twitter Right After Game To Talk Shit To Ja Morant, Coach Makes Him Delete The Tweet Because He Scored 2 Points
Ah, mid-major basketball is the best man. They legit have some of the most heated rivalries that people don't talk about enough and it always tends to deliver. Last night was Austin Peay vs Murray State, one of those rivalries that I just mentioned and the fact they are two of the three best teams in the OVC. A couple weeks ago Murray beat Austin Peay by 30 at home. Fast forward last night and Austin Peay wins by 4 because Terry Taylor is a fucking monster. But that's not the point here. That's just the backstory.
 Introducing Michael Peake. As you can see Peake had a dominant game of 2 points on 1-for-5 from the field and 4 fouls. 
Now, typically a guy like that just embraces the win, celebrates with his team, maybe talks shit to guys he knows on Murray, etc. But we're adding Peake to the irrational confidence Hall of Fame. Why? Because he decided to fuck around, hop on Twitter and immediately talk shit to Ja Morant. Yep, the Rookie of the Year Ja Morant, no matter what Marty Mush thinks. That Ja Morant: 
Pretty weak shit talking if we're being honest. You gotta go a bit more for the jugular. You know, sort of how Ja Morant responds here: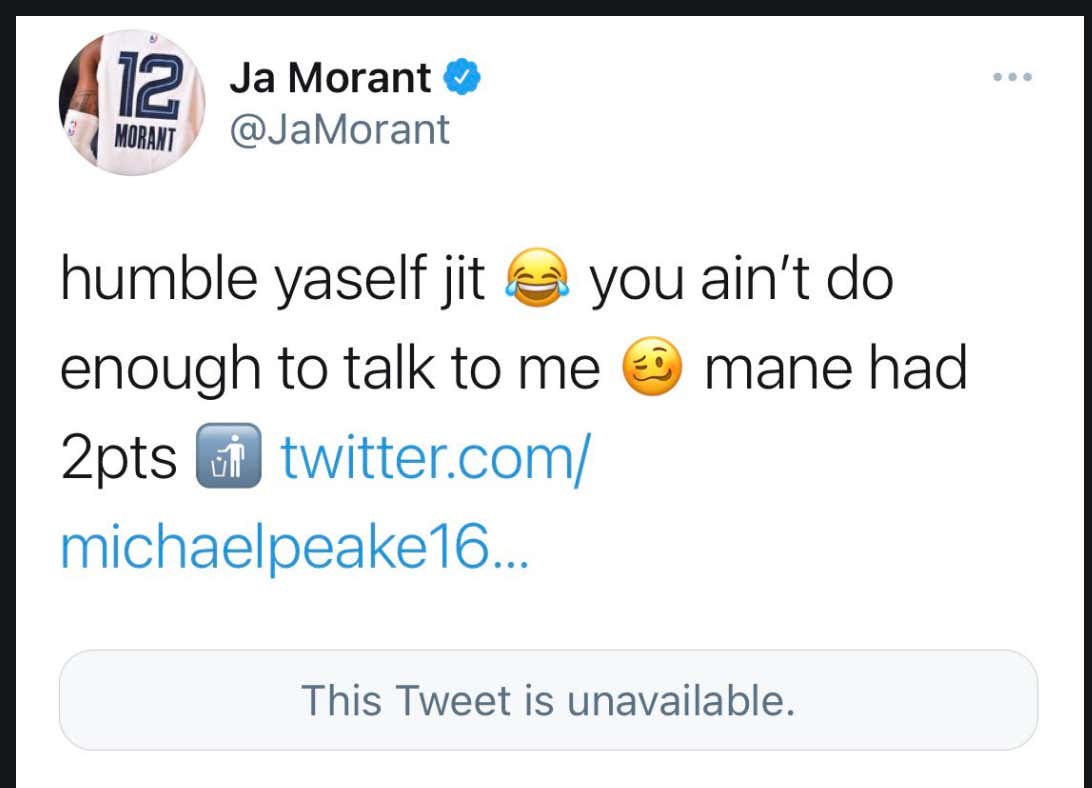 Saying someone hasn't done enough to talk to you is so goddamn ruthless. Just put them immediately beneath you at the basketball table and rightfully so. Oh, you might also see that 'tweet is unavailable.' That's because, Austin Peay's coach stepped in: 
He even deleted THAT tweet. Gonna go ahead and assume his coach made him delete that one too. Oh and it wasn't just him. Another guy who came off the bench for 1 point decided to chime in on Ja
Love Ja's response there. Let the big dogs talk. It's one thing if it's Terry Taylor chiming in, but you can't combine for 3 points and immediately go for the best player in Murray State history. Not when you lost by 30 a couple weeks ago. I actually love that Ja responded to these guys. I know the whole 'you're Ja Morant, you don't need to engage.' Fuck that. Always talk shit when you can and if you're Ja that's a lot of the time. 
This might be the most ruthless tweet out of them all though
Chris almighty. Just straight up saying they are going to be nothing after Austin Peay is as mean as it gets. That's one that cuts right to the core.