Let's Do That Bubble Hockey Part 1: Here's Your Official 2021 World Juniors Group A Preview Blog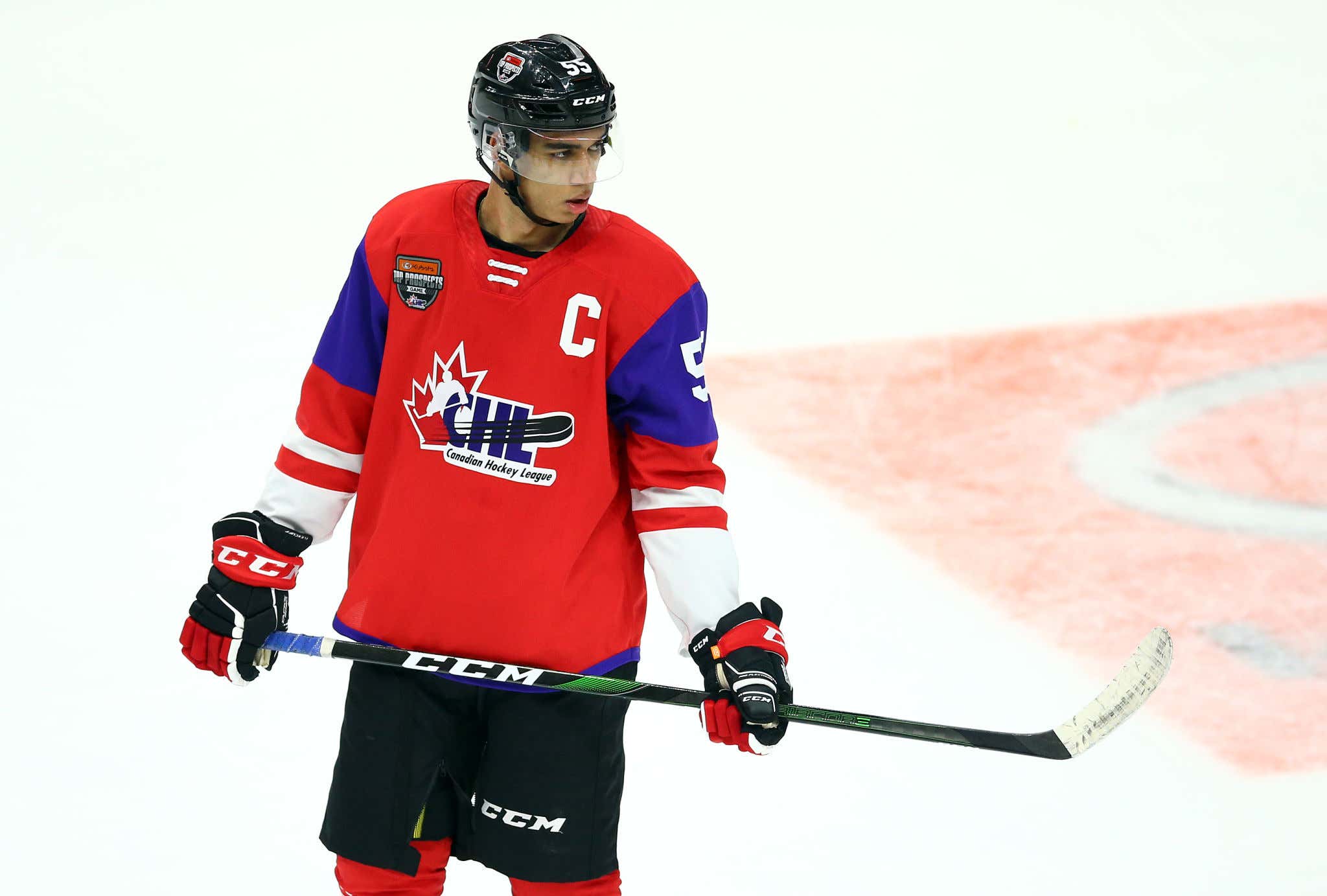 Vaughn Ridley. Getty Images.
The final week of the calendar year is always the most wonderful time of the year. Not necessarily just because of the holidays, but because we are treated to some of the best hockey you'll see all year at the IIHF World Junior Hockey Championships. A tournament which pits the best U20 talent in the world against each other for international supremacy. A chance to see the future stars of the NHL shine on a massive stage and make a name for themselves. 
Like everything else on the planet this year, this tournament is going to be a little different than years in the past. For starters, it'll take place in the Edmonton bubble without any fans. For a lot of these players, it'll be the first bit of competitive hockey they've played so far this season with so many leagues around the world shut down. With the NHL season not starting until January 13th at the earliest, there are plenty of prospects who will be able to participate this year who probably wouldn't have been otherwise. Guys like Quinton Byfield (2020 2nd overall pick) with Los Angeles, and Kirby Dach (2019 3rd overall) with Chicago. 
There are also some players who we were looking forward to seeing at this year's tournament but were unable to attend for various reasons. You have Alexis Lafreniere (2020 1st overall) not being released by the New York Rangers to play in the tournament. You have the top prospect in the 2021 draft, Owen Power, not being released by the University of Michigan to play. Another top prospect in the 2021 Draft William Eklund (Sweden) tested positive for COVID and is no longer eligible. Team Sweden has been royally fucked by the virus the most so far this year, losing multiple coaches and at least 4 players. 
Sure, things will be a little different this year. But we're just about a week away from one of the best tournaments in all of sports starting up on Christmas Day. It's still happening, and we should sure as shit be happy with a "different" World Juniors tournament this year rather than no World Juniors at all. 
So let's get into our preview for the 2021 World Juniors. Per usual, I'll be breaking this up into 2 or 3 different blogs. We'll get a Group A preview, a Group B preview, and then a final full tournament preview. We'll get started with the reigning champs in Group A. 
Team Canada (2020 Gold Medal)
Team Canada is heading into the 2021 tournament as an absolute fucking juggernaut. This team is LOADED with talent. Out of the 8 defensemen on their 25-man roster, 6 of them are 1st round draft picks. All 14 of the forwards on the roster are 1st rounders as well. 7 out of those 20 1st round draft picks went in the top 10 of their respective drafts. 
From last year's gold medal team, Canada has 6 players returning. Quinton Byfield (2020 2nd overall, LAK), Bowen Byram (2019 4th overall, COL) Jamie Drysdale (2020 6th overall, ANA) Dylan Cozens (2019 7th overall, BUF), Dawson Mercer (2020 1st round, NJD), and Connor McMichael (2019 1st round, WSH). 
Oh and as if that wasn't enough, Team Canada will have Kirby Dach (2019 3rd overall, CHI) for this year's tournament. He wasn't on the gold medal team last year because he was too busy playing in 64 games with the Blackhawks. 
So 6 returnees and a kid who played almost a full season in the NHL last year. 
Some other players to watch out for will be Cole Perfetti (2020 10th overall, WPG) who was 2nd in points last season in the OHL. Philip Tomasino (2019 1st round, NSH), and Jack Quinn (2020 8th overall, BUF). All of those players have put up massive numbers in the OHL. And when it comes to a short tournament like the WJC, scoring is king. Especially when the only real notable weakness for Team Canada might be between the pipes. 
When Canada wins the gold at the World Juniors, they typically also have the best goalie in the tournament. Last year was Joel Hofer. 2018 was Carter Hart. This year they have a trio who are all making their first WJC appearances. Dylan Garand (2020 4th round, NYR) was one of the better goalies last year in the WHL during his draft year. He put up a .921 SV% in 42 games with Kamloops. For goalies who played at least 30 games last year, that would put him 2nd behind only Dustin Wolf for Team USA. 
Then they also have Taylor Gauthier who is pretty interesting. Gauthier is 19. He's already gone through 2 draft years without getting picked. I don't know if Hockey Canada is just low on goaltending prospects or what, but you typically wouldn't see an undrafted 19 year old in net for Team Canada unless there's something else that we don't know. He had a decent year with Prince George last year in the WHL. Maybe he's just a really, really late bloomer. 
All in all, Team Canada still has more than enough firepower to overlook the fact that their goaltending unit is weak. The only thing that could potentially hurt Team Canada a little bit is the fact that they had to quarantine for 14 days in the middle of their training camp after a few positive coronavirus tests. So maybe they'll start a little slow in this tournament. But considering how much of a hassle it has been for the European teams to travel to Edmonton for the tournament, that just levels the playing field. 
As far as notable missings go, obviously there is Alexis Lafreniere. It sucks that we won't get a chance to see Owen Power play for Team Canada in his draft year, especially after Bob McKenzie put him at the top of his draft board. 2020 1st rounder Ridly Greig also had to leave the team after testing positive for COVID. And then this one was a long shot given the fact that all 14 forwards are 1st round draft picks, but I was hoping there was a small chance we'd see Shane Wright (2022 top prospect) get the call as a 16-year-old. 
Team Finland  (2020 4th Place)
Kevin Light. Getty Images.
Finland is still in the middle of a bizarre trend where they either win gold at the World Juniors or they don't win anything at all. They won gold in 2014, 2016, and 2019. In '15 they finished 7th, in '17 they barely avoided relegation by finishing 9th, and in '18 they finished 6th. Last year wasn't a total failure since they made it to the bronze medal game. But it's still just so weird that it's gold or bust for the Finns. 
The Finns have 4 players returning from last year's team. Goaltender Kari Piironen (Undrafted), Ville Heinola (2019 1st Round, WPG), Mikko Kokkonen (2019 3rd Round, TOR), and Aku Raty (2019 5th Round, ARI). But most importantly, Finland has another player returning from the 2019 gold medal team who was unable to participate last year due to injury, Anton Lundell (2020 12th overall, FLA). 
In 17 games so far this season in Liiga with HIFK, Lundell has scored 12 goals and put up 8 assists. He's 4th in points right now in the Liiga, which is one of the top pro leagues in the world. So the Finns have their bonafide stud at the forward position in Lundell. They have their bonafide stud on the blueline with Ville Heinola, who scored his first career NHL goal last year with Winnipeg. 
And then in net, I mentioned they have Kari Piironen returning from last year's team. But they also have Joel Blomqvist (2020 3rd Round, PIT) who was one of the top rated goalies in this past draft class. Obviously not the same caliber as Yaroslav Askarov from Russia, but I wouldn't be surprised to see him in net against Canada on New Years Eve. 
Some other key players to watch on Finland will be Roby Jarventie (2020 2nd Round, OTT) who was one of the first couple picks in the 2nd round this past October. Ottawa had a massive draft and Jarventie is another strong pick up for them. He has 7 goals and 7 assists in 19 games for Ilves this season in the Liiga. Also there is Brad Lambert (2022 Draft), who is in his draft minus one year. Obviously the name doesn't sound very Finnish. His mom is Finnish, his dad is from Saskatchewan and played in the AHL. He's one of the top prospects in the 2022 Draft Class and has put up 4 goals and 3 assists in 18 games this season for JYP in the Liiga as a 16-year-old. He turns 17 right before the tournament.  
A couple of notable names missing from Team Finland's roster this year are Aatu Raty (2021 #8 ranked prospect) and Patrik Puistola (2019 3rd Round, CAR). Both of these players were on Finland's roster last year, and Puistola was the team's leading scorer with 5 goals and 3 assists. Aatu Raty's brother Aku is still on the team for this year, but for some reason we won't be seeing one of the best prospects in the 2021 Draft suiting up for Finland this year. I don't think it's because of COVID either, it might just have been a cut. 
Team Germany (2020 9th Place)
Hockey Germany is currently having a moment. I wouldn't call it a golden generation or anything like that, because there's no chance they medal at this year's tournament. But remember in 2019 when Switzerland finished 4th? Germany could potentially have that type of tournament. 
In this past draft, Germany had 3 players taken. Tim Stützle (3rd overall, OTT) was one of the biggest prospects the whole year. He had 34 points in 41 games with Adler Mannheim in the DEL last year. Lukas Reichel (17th overall, CHI) unfortunately won't be eligible to play in this tournament after testing positive for COVID. And then John-Jason Peterka (34th overall, BUF) makes his return to the World Juniors after scoring twice against Team USA at least year's tournament. Stützle to Peterka is a deadly combination. 
Germany also could have used defenseman Moritz Seider (2019 6th overall, DET) in this year's tournament but he opted out. But still. That's a 3rd, a 6th, a 17th and a 34th overall draft picks coming out of Germany in the past 2 years. There's obviously a ton of talent coming up the ranks, and it doesn't hurt that the reigning Hart Trophy winner is from Germany. 
But yeah. If Germany had all 4 of those players I just mentioned in this year's tournament, I think they would have been primed to make a run towards a possible bronze medal game. But since Reichel and Seider both won't be in the bubble, they'll just be a fun team to watch. 
Team Switzerland (2020 5th Place)
Switzerland finished 5th last season, and 4th the year before. I think this is the year they start to take a step back. They have 4 players returning from last year's team. Bastian Guggenheim, Gaetan Jobin, Joel Salzberger, and Simon Knack. Out of all of them, I'd say watch out for Simon Knak (2021 Draft Eligible). He put up 34 points in 49 games with the Portland Winterhawks last year in the WHL. And then this year during the shutdown, he's been on loan with HC Davos and getting a chance to play with Joe Thornton. So I'm sure that Jumbo passed on a little knowledge to a kid looking to get drafted in the NHL. 
Team Slovakia (2020 8th Place)
It's been awhile since the Slovakian national team has been competitive at this tournament. They won a bronze medal in 2015, but they've also finished in 7th or 8th place in 7 out of the past 8 years. So do I think that Slovakia will be very competitive in this year's tournament? No. Not really. But some prospects to keep an eye out for will be defenseman Samuel Knazko (2020 3rd Round, CBJ), and forward Martin Chromiak (2020 5th Round, LAK). 
Chromiak was taken pretty late in the draft but there's a chance it's because teams just didn't get a chance to see a ton of him last year. He came over to North America in the middle of the season and played 28 games with Kingston in the OHL. He put up 11 goals and 22 assists with Shane Wright. 
Key Games:
Group A is kind of lacking this year. It's always tough when you can't get USA and Canada or Finland and Sweden in the same group. Not having either of those two border wars sucks. So as far as Group A's schedule goes…
12.25 // 6pm ET // Germany vs Finland
12.26 // 6pm ET // Germany vs Canada
12.31 // 6pm ET // Canada vs Finland 
Come on back for the Group B preview blog later.