George Washington Law School Intern Fired For Doing A Mountain Of Cocaine Then Bringing A Prostitute To Dinner During Company Retreat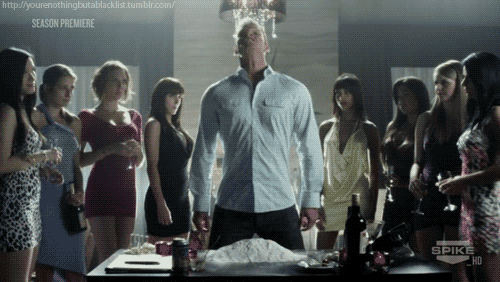 Above The Law – Today, we've got news from Latham & Watkins, the firm that despite eye-popping profits and big bonuses still serves as the poster child for the mass Biglaw layoffs of 2009. It's rumored that a New York summer associate was allegedly Lathamed after he apparently acted like a very bad boy during the firm's summer academy program, which was previously decribed to us as three days of "training, socializing, and karaoke."
The firm's summer academy took place in Los Angeles. The story has been very well-documented on various message boards online, and more information began pouring in to our tips line about it this weekend. We've heard from multiple sources that an "older" summer associate (i.e., older than 35 years of age) who may have just completed his 1L year at George Washington Law was allegedly booted from his summer class after committing numerous misdeeds during the Latham summer academy.
Tipsters have told us that this 1L comes from a wealthy and powerful family and spends lots of money. Others have chimed in to let us know that his personal Facebook page is decked out with pictures from his luxurious lifestyle. Still others have informed us know this summer frequently paid for four- and five-digit nightclub tabs during his woefully short time at Latham. Let's call this summer associate "Bottle Service" — B.S. for short.
We've been told that B.S. allegedly had problems at the academy from the get-go. According to our sources, this fellow missed several flights to Los Angeles, then upgraded his seat to first class — all on Latham's dime. Upon arrival in L.A., B.S. allegedly upgraded his room to a penthouse suite using his own money. Unfortunately for him, his suite was next to a Latham partner's suite. What could have possibly gone wrong?
It seems that B.S. was allegedly caught with cocaine and high-end prostitutes in his suite during Latham's summer academy. One of our sources claims that B.S. "had the balls to bring one of the prostitutes to the firm dinner dressed in spandex."
….
Damn, still need to come up with a new phrase to replace Power Move, been on my list of Things To Do forever. Because it definitely gets overused…but how the fuck else are you supposed to describe what this GW law student did? What other set of words can do it justice? Missed a bunch of flights to the retreat. Finally got one and upgraded it to first class on the company dime. Got to the hotel and immediately upgraded his room to the penthouse suite. That suite happened to be right next to the partner's suite, shit, gotta play it cool and tone things down for the weekend. Haha nope, I meant we gotta dump this mountain of cocaine onto the table, snort all of it into our face, call up the highest of the high-end prostitutes, bang em out in the suite then pick the hottest one and bring her to the official company dinner dressed in her nicest spandex pants.
And the thing is, as douchey as it all sounds, I love the effort. Everybody knows you need to make a splash, that's like day 1 stuff for summer internships. All these lawyers and businessmen etc. see all summer, every summer is just endless streams of faceless, nameless warm bodies who are there to complete their menial, tedious, bullshit tasks, grab them their coffees, organize their files. Then they'll grudgingly pick one of the bunch to stick around because company policy says they have to. Why not just go all out and try to make sure everybody there knows your name? Showing up to a retreat coked out of your brain with a professional whore is certainly one way to go there. I mean the guy is a 35 year old intern. The fuck else is he supposed to get noticed?