I Declare Tummy Sticks On Auston Matthews And Connor McDavid Skating Together This Offseason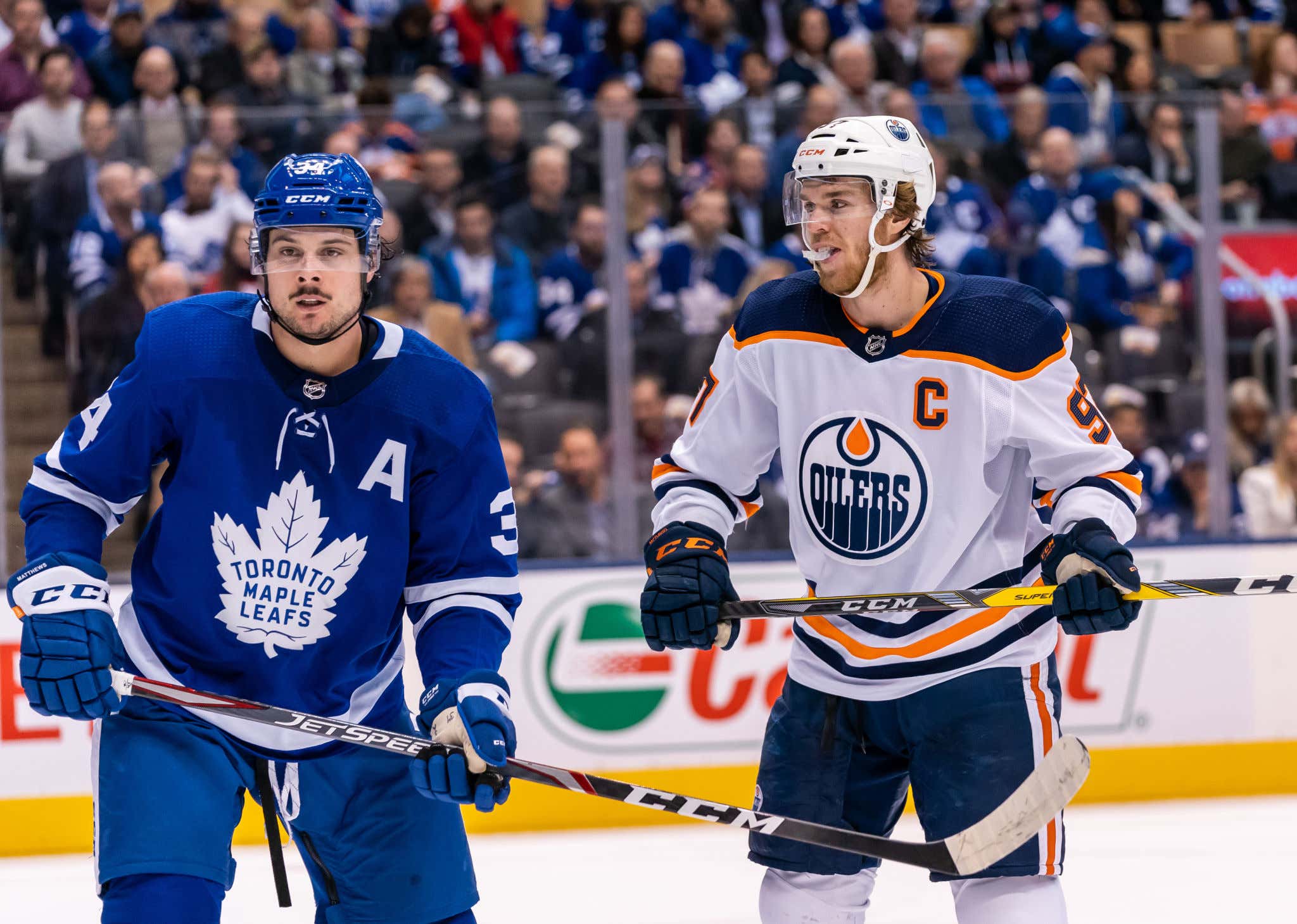 Kevin Sousa. Getty Images.
Sportsnet - Budaj and Doan have a front-row seat to what's quietly become hockey's hottest show the past two weeks. McDavid, awaiting the NHL's return and in search of something to get his competitive juices flowing, joined Matthews in Arizona earlier this month. They were teammates on Team North America at the 2016 World Cup of Hockey; both are Wasserman Hockey clients.
They've been skating together four times a week. Word got out, much to the intrigue of their peers. Jonathan Toews arrived last weekend. Others participating include Jake Bean, Anthony Duclair, Matt Dumba, Alex Galchenyuk and several Coyotes. Doan runs the practises. Needing NHL-calibre netminding, he called Budaj, who lives in the area. Prior to this, Budaj put on his goalie equipment just once in the last 15 months — to play beer league.
Elliotte Friedman put up an awesome story today on McDavid and Matthews working together over the past few weeks in Arizona, and I'd definitely suggest giving the whole article a read. These guys are getting coached up by Shane Doan, scrimmaging against some of the best NHL and NCAA talent around, and it sounds like both of them are training like a couple of sick sons of bitches. Between McDavid's speed and Matthews' shot, I think you could create the greatest hockey player to ever live if you combined both of their skill sets. So the fact that they're working together right now and taking a few pieces from each other…well that is dangerous as shit to the rest of the league. 
But regardless of how awesome this is, we still have to call a spade a spade here. And the fact of the matter is that this is a blatant case of Tummy Sticks. You think Gretzky and Lemieux would ever be caught dead training together? Heck no. If they ever crossed paths in the offseason, it was about to be a rumble. They'd drop the mitts and start chuckin' away right then and there. But those were a different time in a different day. Nowadays everybody is all buddy buddy with each other. I mean just listen to these two compliment each other. 
Matthews on McDavid: "The respect goes back for so long. Connor's hockey IQ, speed and edges are so impressive — to say the least — and his vision at the speed he moves obviously stands out, yet it really is the whole package with him."
McDavid on Matthews: "When you watch his game, his shot is the first thing you notice. But, spending more time together, I've noticed just how smooth he is on the ice. It's very impressive."
Makes me sick! 
I mean who the hell do these guys think they are? Just out here getting better, more skilled and more dominant. I can't even imagine how Rick from Red Deer must be feeling right now. Probably just went on a murderous rampage and is wanted across 3 provinces. 
I certainly wouldn't hate getting out to that rink to watch some of the action in person. But just so I could "boo" the everliving crap out of both of these guys. But yeah, I can't imagine there are too many goalies and defensemen around the league right now who are thrilled about what's going down here. Tough day to learn you're in for an even bigger clown show than ever next time you have to line up against one of these two weapons. Thoughts and prayers.