Does This Look Like The Face Of A Guy Who Could Help Determine Gordon Hayward's Future?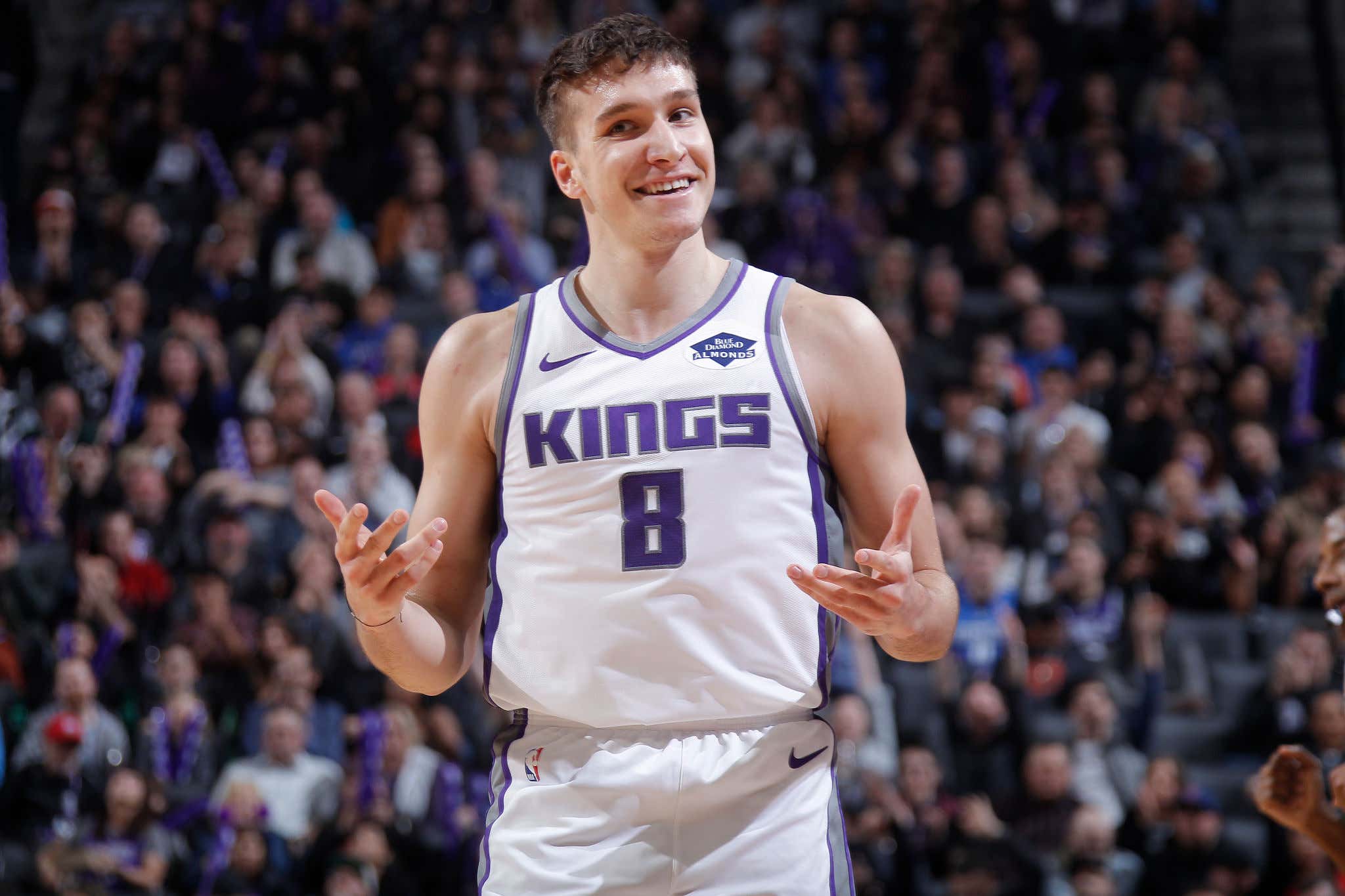 Rocky Widner. Getty Images.
This Bogdan Bogdanovic/Bucks situations continues to get weirder and weirder and it remains incredible that this colossal screw up had nothing to do with the Kings front office. I'm still trying to understand how that's possible, but it's true. To recap quickly for those who maybe missed all the craziness from a few days ago, this is the high level timeline.
- The Bucks trade 3 first round picks and 2 pick swaps along with Eric Bledsoe and George Hill for Jrue Holiday
- The Bucks think they pull off a Sign and Trade for RFA Bogdan Bogdanovic. One would assume they did the Holiday trade because this was the second shoe to drop
- Bogdanovic never agreed to anything, therefore the deal fell apart. He can now hit the market and the Kings will have to decide to match or not
- Bucks are now stuck with Holiday on only 1 guaranteed year, lost one of their best three point shooters and reserve guards in Hill, and all those picks
- Giannis can officially sign his extension today, has until the end of December to do it
Here's where things get tricky. The Bucks don't have a ton of cap space to bring in a player of Bogdanovic's skill. That's why the S&T was so important. That means they probably can't afford other shooters on the market like Joe Harris. They need to find a team that can bring them a piece Giannis approves of that fills the same need as Bogy. That's not easy to do and I'd be shitting my pants as the Bucks front office. Your plan to keep Giannis could not have gone worse.
But I don't really care about the Bucks. I care about how this Bogdanovic move impacts Gordon Hayward. Chances are Bogdanovic's agent canvased the market and learned that there is a bigger offer out there for him. There's really only a few teams with space, most notably the Hawks and the Knicks. It's not a coincidence that both of those teams are in on Hayward. As we know, Hayward opted out of his current deal and is using both of those destinations to leverage the Celtics. Either to trade him to IND (most likely) or get Ainge to up his money/years on an extension.
My question is, does Bogdanovic hitting the market impact either of those options? Like If you're the Knicks or Hawks, would you rather spend 20M+ on a 30 year old Hayward with an injury history or something similar for a 26 year old Bogdanovic? He may not be as good as a fully healthy Hayward, but it's also less of a risk. That's why the 6pm deadline is so interesting. Hayward might very well be stuck if one of those teams goes after Bogdanovic instead. There are already reports out there that the Hawks are going after Rondo and are prepared to make him an offer. That's going to eat into their space to afford Hayward as well.
It's a little crazy that someone like Bogdanovic could potentially swing two Eastern Conference contenders. If the Bucks don't find a suitable replacement, maybe that's enough for Giannis to bounce. That would be devastating. If he lands in NYK or ATL, maybe that helps the Celts chances of keeping Hayward. Or maybe it helps Ainge get the most from the Pacers in a deal (what I think).
All I know is we're only a handful of hours from the free agency floodgates opening and all the chaos that comes with it. I am ready.