Love is Dead Again: Olivia Wilde and Jason Sudeikis Have Split Up After a SEVEN Year Engagement
That's it folks, love is dead. We said it with Chris Pratt and Anna Faris. We said it when Brad Pitt and Angelina Jolie called it quits. We said it when Jwoww and Roger said enough was enough. This though, this might be the final straw. Olivia Wilde and Jason Sudeikis were perfect together. The unbreakable couple. Without knowing a shred of personal info about the two you have to assume they were the most fun lovers to ever be around. In my mind these two never came close to getting into a fight. Just listen to Sudeikis' all-time pick up line to Wilde. 
Welp as perfect as it may sound, that's when good ol' reality sets in. After seven years of being engaged, it's over. Heartbreaking. Now you do have to pause and wonder about the seven year engagement right? What the hell is up with that? I guess the idea of marriage is being phased out these days, but then what's the point in being engaged in the first place? They have two kids as well so it's not like that was holding them back. There's a little something up there, but oh well. 
The real news here is that Olivia Wilde has been set free. One of the sexiest people to ever grace Planet Earth is back on the market. I know Dave DM'd Kate Beckinsale during the Dave Portnoy Show with Eddie & Co. this week, but I think he needs to reset his sights on Wilde. I mean come on..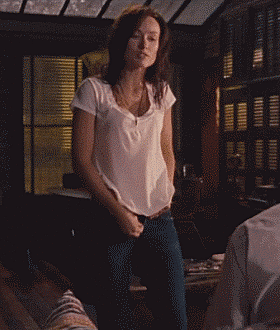 Fuck. The only shot true love has left in the world is Blake Lively and Ryan Reynolds. If that ever ends love is dead forever and there's no coming back.