And Now We Have More NFL Wives Calling People Out: Kelly Stafford Rips Ford Field And Detroit Paper For Blaming The Lions Loss On Matt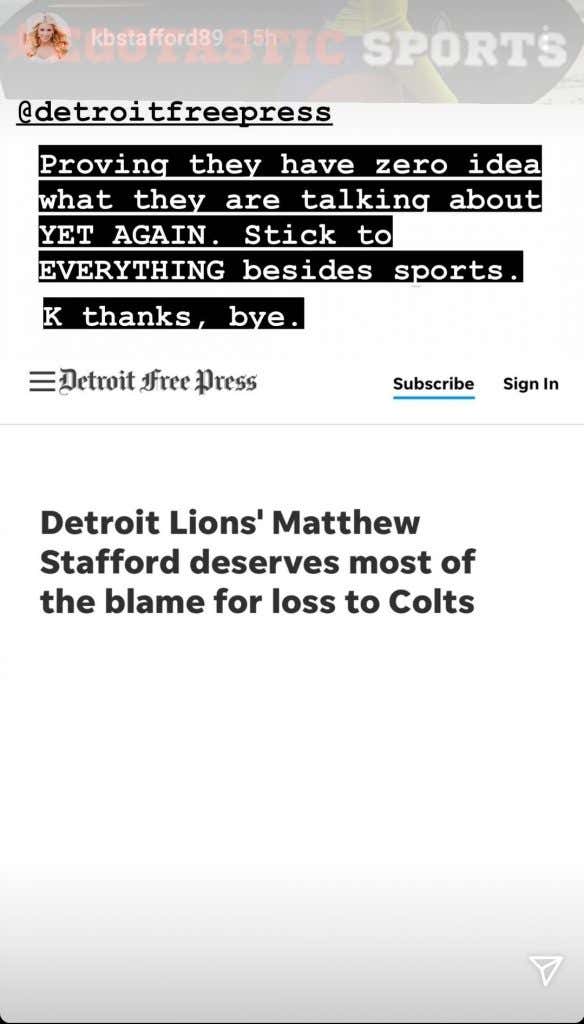 Am I going to hide and make fun of the Lions when Golden Tate's wife did this? 
Yep! Mostly because I'm not a Daniel Jones fan and it's hilarious when wives start calling people out. Every year we get some sort of story about a wife or significant other calling out teams and whatnot. So step on up Kelly Stafford. Now let me be very clear. Kelly Stafford can talk as much shit as she wants. She's a certified badass who had brain surgery last year
Hell she's mixed it up with Lions fans before 
It doesn't even just stop with the newspaper. She called out Ford Field for being a shitty homefield. 
I love it. Mostly because it's free content, but also I'm here for any sort of unnecessary drama. Now that said, Matt Stafford has gotten a bit of a bad break in Detroit. Again, it's Detroit. But also he had Calvin Johnson retire early. He's tried to play through a destroyed back because his line stunk. His team is pretty bad at drafting. Yet he was always a decent quarterback. You could win with Stafford. 
Gotta admit, not being able to just insert pictures of her bachelorette party is the worst thing about the new picture laws. Yes, I'm not trying to get a lawsuit here. Kelly Stafford, certified smoke who will give you all the smoke if you blame shit on Matt. No surprise she's an SEC girl too. It just means more. 
Duane Burleson. Shutterstock Images.
Mediapunch. Shutterstock Images.
Chris Pizzello. Shutterstock Images.