Gal Gadot Explained What The Hell She Was Thinking When She Put Together That "Imagine" Music Video With A Bunch Of Celebrities Back In March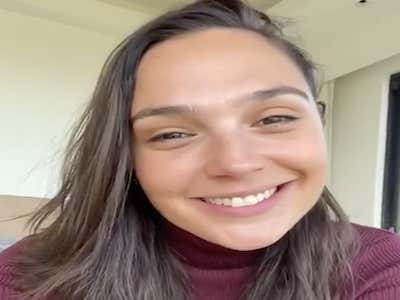 Vanity Fair- Beautiful, talented, blessed with two children and a supportive husband—who partners with her on successful projects, like the development of Tel Aviv's Varsano Hotel, which in 2015 Gadot and Varsano sold to Russian-Israeli billionaire Roman Abramovich for $25 million—flying all over the world, making big films with other beautiful and talented people.… Gadot's life looks beyond privileged. And so it doesn't come as a surprise that the internet turned on her after she posted the now infamous video of herself and other celebrities singing John Lennon's "Imagine," in March, at a time when many people, including herself, had just started quarantining due to COVID.

It's certainly hard to make it through the awful, off-key two-minute video, which features an array of head-scratching performances from the likes of Wiig, Sarah Silverman, Natalie Portman, and Will Ferrell, as well as a few real singers such as Sia and Norah Jones. And the timing was certainly off—people were feeling desperate, scared, and in need of resources, not celebrities cooing at them from their luxurious environs.

When I bring it up with Gadot, she doesn't apologize. "Sometimes, you know, you try and do a good deed and it's just not the right good deed," she says with a smile and a shrug. "I had nothing but good intentions and it came from the best place, and I just wanted to send light and love to the world. "I started with a few friends, and then I spoke to Kristen [Wiig]," she says. "Kristen is like the mayor of Hollywood." She laughs. "Everyone loves her, and she brought a bunch of people to the game. But yeah, I started it, and I can only say that I meant to do something good and pure, and it didn't transcend."
You know what? I honestly can't fault Gal Gadot for her thinking process on this one. We all have bad ideas from time to time, especially as we were stuck inside while the entire world plunged into total shit. The fellas on Pardon My Take used to call that a Jimbo. The only difference is that most of us don't have some of the most famous people on the planet, some of which are comically disconnected with that planet, to bounce those ideas off of. Because once you bounce one of those bad idea off of them and they don't calmly put it in the trash, this (along with millions and millions of views) is the result:
I don't know what's crazier: That this video actually happened, that this video only happened roughly half a year ago, or that this video didn't instantly wipe COVID-19 and every other possibly COVID + number combination off the planet forever. I know shit was crazy back on March 18th, but it still seems a little early for the celebrities to smash the Super Awkward 2020 We Are The World Bad Imitation button to assure the commoners everything was going to be alright. At least Gal could just let it all roll off her back and say Kristen Wiig threw it to her Hollywood pals that made it super Hollywood weird since who doesn't love Gal Gadot or think someone in that group of celebs took a simple idea and made it something that caused everyone to want to crawl out of their skin?
I'm not hating on this video though since the world is clearly a better place because of it. Not because a bunch of a bunch of rando celebs, from A-List to F-List, butchering a John Lennon classic eased our concerns over the pandemic choking out the planet. But instead because it gave us all a much needed laugh by creating the video version of this absolute gem.
As well as this group of misfits singing:
So at the end of the day, we can all thank Gal Gadot for bringing this unintentional comedic gold into our lives at a time when the world desperately needed a laugh and blame Kristen Wiig for the scar marks on our face from all the cringing we did while watching that masterpiece.
We stan a queen. Or whatever Wonder Woman is to the Amazons.
Giphy Images.
Giphy Images.