Thanks To Barstool I've Got The Exact Moment I Met My Baby's Dad On Tape, And I'm Roasting Him In It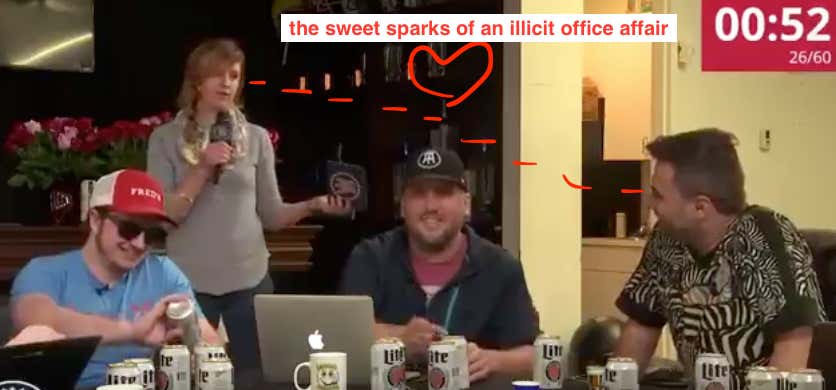 Though I'm very much Team TMI & am pretty open about my personal life, I've always kept romantic endeavors a little more quiet. That's a bit harder to do now that it looks like a basketball is growing under my shirt, so when I got a text this morning asking if the @VivaLaStool account could post this old clip I figured, 'Why not?". It's the exact moment I first locked eyes with my baby's dad. (Does 'my baby's dad' sound as classless as I think it does? Perfect.)
Plus, people have begun DMing me/commenting to ask how Pat & I met, and the quick answer is 'through a friend at work' (thanks PFT!). But the real answer takes about 5 minutes as I shit on him & his buddies:
The Hard Factor podcast guys came to visit Barstool HQ from their spot in Austin, TX, and PFT asked if I'd roast them during a Power Hour. After a quick glance in their direction, I happily obliged. 
Pat was the only one I didn't have too much to say about, probably because his shirt really threw me off (he looked like a living pack of Fruit Stripe gum) and afterwards I had somewhere else to go & didn't stick around to get to know him further. 
From then on, though, whenever they were in town it was fun to hang out, & over time the two of us hit it off. Trips to Austin became the highlights of my month; scooterin' the city, concerts, meeting his friends, & dragging him to places like that horrible bat bridge & overcrowded swimming holes & 4H Club cow beauty pageants & the boonies of the 'Hill Country' and other things I considered 'must-see-Texas'…
Along the way there has been a lot of 'on again, off again' and 'breaks' because of 1) the long distance and 2) me being a crazy person who is more skittish around relationships than a dog near a vacuum… But thankfully, aside from having a good heart through & through, the man has got some serious, Saint-like patience. He's colorful, avoids the 'cookie-cutter' life, is not afraid to be fully himself, and is funny, independent & weird in the best possible ways and I love the guy. (Really, Pat's an interesting fella who works freelance in the music/movie world & KFC has a 'Behind The Blog' coming out with him soon.) I've even grown to love the Fruit Stripe zebra shirt & mullet that Maury said, "Looks like my golden retriever's hair" before he did our big reveal.
So, wow… on that exact night who could have ever thunk that about 1.5 years later, the reason I'm getting stretch marks across my tits is a man I once said was, "the least athletic of the group" and looked like he sold "faulty, used cars". 
What a world. We're up for the next adventure & to roast whatever challenges come our way (probably a lot of diaper blow-outs, if I had to guess. Very badass.)
** Final note - I was blown away by all the awesome messages this past week. Thanks to all the Stoolies out there for the support & kind words. It's weird times & the feedback was legitimately a great reminder how truly good people are & I feel really lucky to get to share this happy stuff as part of my living.