Dana White Says Conor McGregor Broke The 'Man Code' By Sharing DMs, Conor Responds By Calling Him A Liar
Ohhh boy. Here we go again.
Last night, Dana White was asked about Conor McGregor sharing their private messages on Twitter, and the UFC President had the following to say in response: 
"This is some man-code stuff. It's just something you don't do. It's one of the dirtiest things you can do." 

"When you're the No. 2 or 3 ranked guy in the world and you're telling me you want to fight, but you want to fight unranked 39-year-old Diego Sanchez in a main event in Los Angeles – no."
I don't think it was too surprising that Dana wasn't happy about that whole ordeal played out, especially considering it might've put him in an awkward spot with UFC legend Diego Sanchez after this exchange....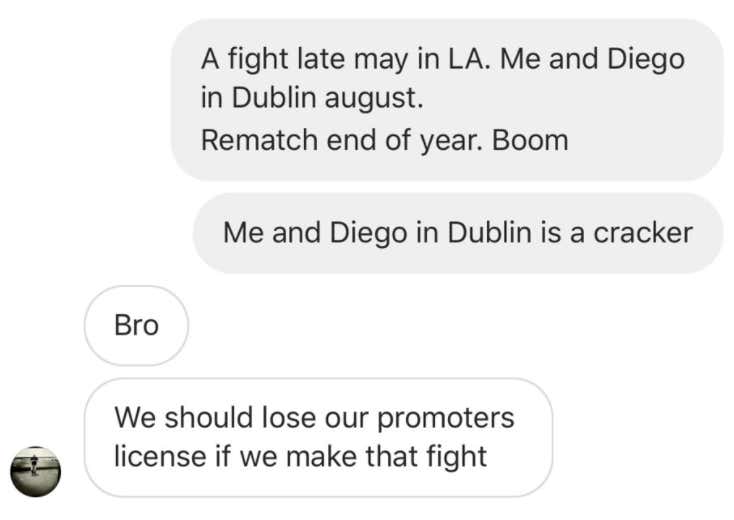 I felt that "Bro" in my fucking chest.
Ultimately, Dana is obviously correct there, and Diego's loss last night just exemplified why, but Conor is now saying that this wasn't about Diego at all. It's more about Dana (allegedly) lying about Conor turning down fights after he requested Justin Gaethje in May…. 
…….which Dana said was logistically impossible to from those original leaked DMs.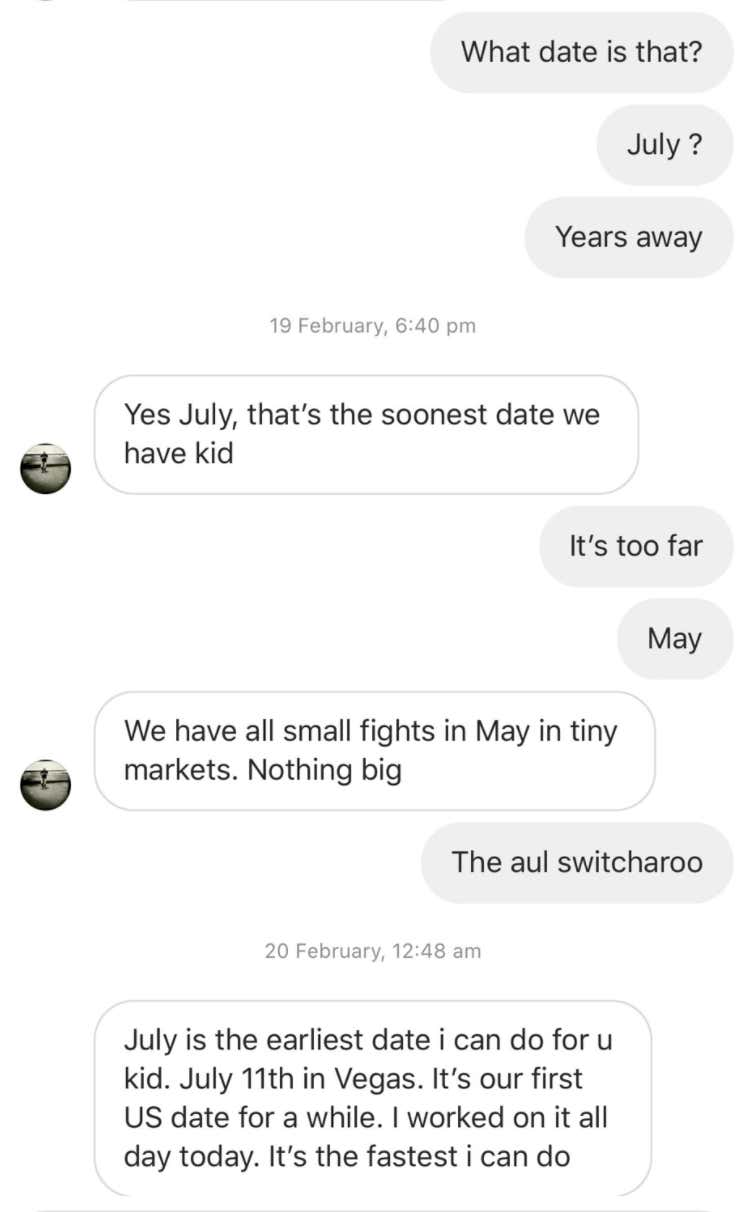 Dana said they could book it for July and then Conor told him he no longer wanted it, and requested Diego Sanchez in May - who again, may be the easiest matchup in the entire company for McGregor - so with all due respect to the Champ Champ, I don't know what he's on about here. Except maybe the part about Dana lying about being involved in Pacquiao talks. I have no idea if that's true or not.
From the DMs that Conor himself leaked, though, it kinda seems like he's just upset that he's not getting his way and is putting this Manny Pacquiao talk out there so the UFC will panic and give him a fight. I'm not the first to suggest as such, but that's definitely my read on the situation. If the UFC doesn't bite, he probably WILL go fight Pacquiao in Saudi Arabia for charity or to help the Philippines COVID Relief Fund (as they're both under Paradigm Sports Management), but as a fan of his, I'd definitely rather see him wait a couple extra months to fight in the octagon than step back into the squared circle for a gimmick fight out of spite.