The Definitive Guide To Which Running Back Numbers Are Fast, Slow, And Ugly
So I tweeted this out yesterday after Devonta Freeman chose number 31 as his new number.
I think it's pretty clear to anybody that has ever played or watched a football game that there are good numbers and bad numbers for every position. Like the numbers 8, 12, and 16 just look right on a QB and give you confidence in your QB1 if he's wearing them. This holds true for every position from left tackle (78) to linebacker (56) to receiver (80, 84, and 88). Seeing CeeDee Lamb wearing that 88 Cowboys jersey scared the shit out of me as a Giants fan and instantly bumped CeeDee up at least 5 Overall rating points in my brain.
Running back numbers are pretty similar in that some numbers are just faster than others. It's just science. Like if you draft a player in fantasy without seeing him play, the number he wears will inevitably shape the way you think about him, ESPECIALLY if he has a superduper fast jitterbug QB wearing number 1 next to him.
Of course, like all things science, there are non-believers, such as my friend total stranger Eric here.
No offense to Eric, who clearly knows a lot about running despite being a "Trail runner". But he doesn't have the look of someone that could understand something as complex as fast numbers and being a Hawkeyes fan hurts his case even more since the Hawkeyes have slow uniforms while Oregon has fast uniforms (That's another blog for another time).
Even a former player that saw these fast numbers up close and personal on the playing field took great umbrage with my take.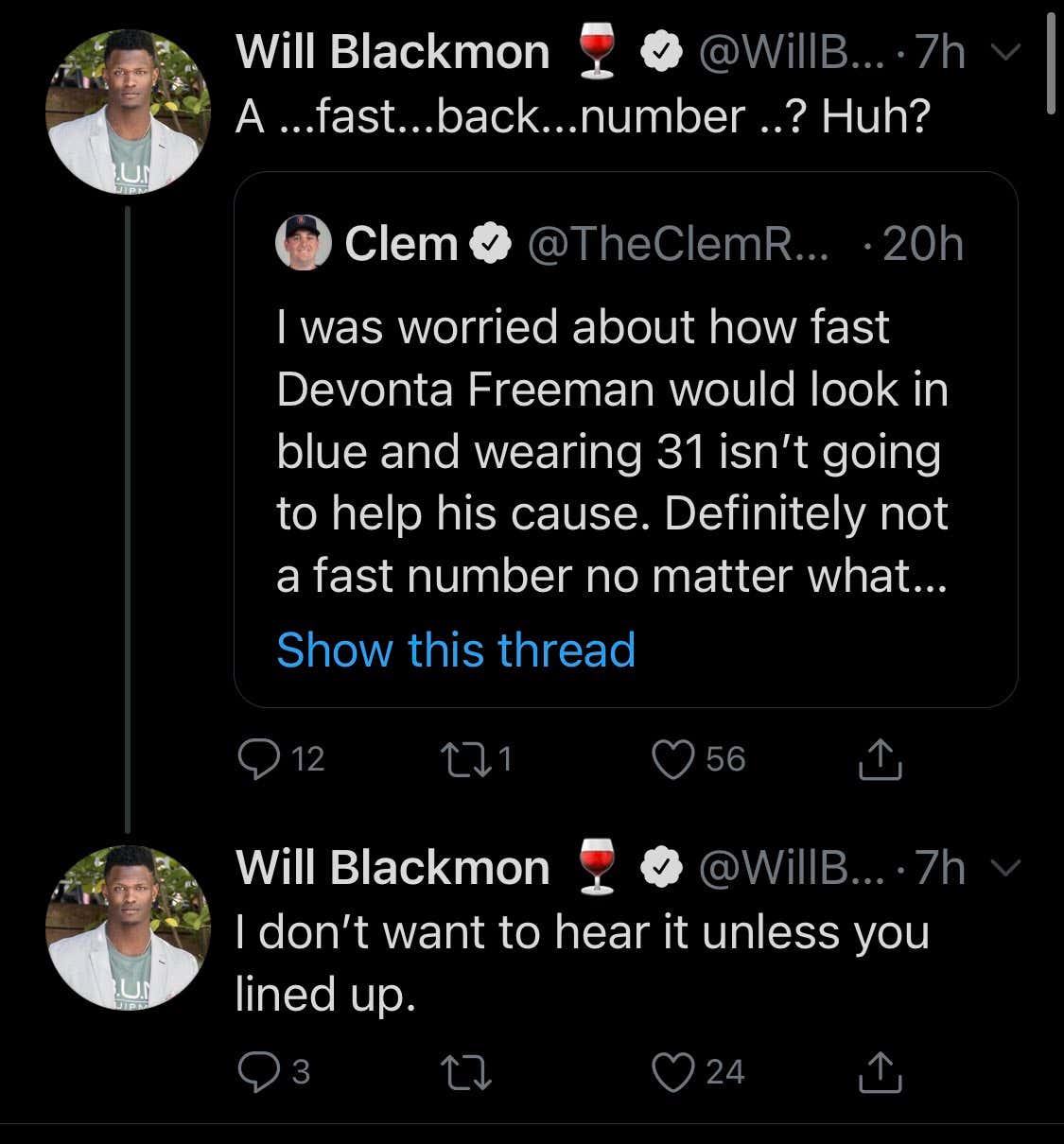 Now I may just be a comically overweight blogger that never "lined up". But my coworker did and I think he would tell you that he was the fastest man in the universe while wearing number 21.
Dan Currier. Shutterstock Images.
And....not the fastest man in the universe with this number
Amy Sancetta. Shutterstock Images.
You are crazy if you think I am going to #DISRE21PECT the speed of a man that calls himself Prime Time by saying he added even .00001 second to his 40 time by changing numbers.
I also realize that the most recent example of a decent running back wearing 31 just set the modern land record for running back top speed or some silly shit.
Uhhhhhhh, every player runs faster against the Jets. That's literally Day 1 football shit. My counter to all these poorly researched tweets is can you imagine how fast Mostert would've run with Jerick McKinnon's 28 on his jersey? I'm saying at least 5 MPH faster.
So I I have decided to take literally half my day to break down this phenomenon to prove that numbers do matter in painstaking detail despite the fact half the people that clicked on the blog closed it once they saw the size of the scroll bar on the right. However, I feel it necessary to prove that the songbird and poet of our generation was correct when she so beautifully said Numbers Never Lie.
Without further ado, here is the fast, the slow, and the ugly of running back numbers.
FAST NUMBERS: 20, 21, 22, 28
Giphy Images.
If your running back has one of these numbers in the 20s, chances are he is fast as lightning and awesome. If he ever gets tackled in the backfield, it's almost definitely the offensive line's fault. I can go on for days about the numbers these numbers have put up. But instead I'll just say a few names and move on: Barry, Emmitt, LaDanian, Tiki, Emmitt, Marshall, and Adrian. I drank all the Jonathan Taylor hype Kool-Aid over the summer and damn near blacked out when I saw he was wearing 28 in Week 1. 
That number plus that offensive line should equal magic for Colts fans.
QUICK NUMBERS: 23, 24, 25
Devonta at his peak with number 24 was faaaaast
You can convince me that 24 belongs in the Fast Numbers section and I won't fight you on it. But I tried to keep that list to four since Mount Rushmore has four Presidents on it and everybody loves Mount Rushmores. Since I have been sorting by Speed in Madden ever since the first Franchise Mode, I can tell you that there have been plennnnnnty of running backs who wore 23 that had high speed numbers and could juke the defense out of their jock strap but sucked at everything else, more than likely because the balance of the numbers on their uniform threw them off. 
The Gold Standard to this theory is of course Reggie Bush.
The 2 on Reggie Bush's back might as well have been a 2000 pound piano because it slowed him down just enough to turn a surefire first ballot Hall of Fame career into a fine career but not nearly the one we all envisioned when he was doing shit like this at USC.
Giphy Images.
Holy shit Reggie Bush was awesome. The only thing that could stop him was the NFL's uniform rules, which caused him to crack 1500 yards from scrimmage in his career once and he barely did it that one time. If Reggie could have worn 5 in the NFL, he would be wearing a gold jacket in Canton sooner rather than later.
SPEED NEUTRAL NUMBERS: 26 and 27
Giphy Images.
26 is neither fast nor slow, it's unique. The two guys I think of when I see it are Saquon and Lev Bell (Steelers version), who both seemed to hit effortlessly hit the gears they needed to whenever they wanted, whether it was in the running game or receiving. Now let's move along because the mere mention of Saquon is going to make me cry again.
27 can be a quick number with power (See: Ray Rice) but can also be a slow number with power (See: Eddie Lacy). For every good 27, there is a 27 that weighs them down.
At first blush, I feel a running back with the number 27 is at the very least decent since there have been some legit RB1s with it. But their speed comes relatively smoothly, kinda like watching Kareem Hunt run.
SLOW NUMBERS: 29. Every number in the 30s outside of 32 and 34. The 40s. 
The 30s and 40s are big time power back and/or fullback numbers. You guys want to watch Mike Alstott truck some fools? Good, me too! 
Please make the PSHHH PSHHH PSHHHH crushing sounds every time Alstott runs over some poor superhuman
32 and 34 have some speed in them to go along with the power that the 3 adds to the number. Or at least it did back in the day when Jim Brown became THE 32 and guys like Walter Payton, Earl Campbell, and Bo Jackson carried the water for 34. Derrick Henry would actually be the perfect example of a 32 running back in the modern game but he chose 22. He should either be forced to change his number or put the strong arm emoji on each of the twos on his jersey.
Giphy Images.
Pretty much every number in the 30s outside of 32 and 34 is a plodding/bruising number.
This is not a knock on The Bus, who is one of my favorite running backs to watch ever. But the man wore number 36 for a reason and he wore it well
Brian Westbrook killed the Giants with great regularity and left any linebacker who dare covered him in the dust. But since he wore number 36, I truly believe the defensive coordinators thought they could guard such a lethal weapon with someone wearing a number in the 50s. 33 has some high water marks as well, including two NFC North running backs in Dalvin Cook and Aaron Jones that can put the fear of God in you if you are playing against them in fantasy. But I feel like it also swallowed fellow NFC North back Kerryon Johnson whole.
The 40s are just a weird hodge podge that usually makes you think fullback or Practice Squad except for some obvious exceptions.
Ever since he entered the league, nothing about Alvin Kamara has made sense. He pulls off these crazy runs with a 2nd string fullback number after barely being used by his college team. I heard a rumor that Darren Sproles was forced to wear 43 because he cannot be seen by the naked eye wearing a fast number and I think they proved this on an episode of Sport Science back in the day. The Lions are famous for putting their players in a position to fail and giving Jahvid Best 44 (along with 33 for Kerryon Johnson) is a clear example for that. If you are a small running back wearing 44, you better be the baddest motherfucker on the field if you want to pull those digits off. Luckily for the Giants, Ahmad Bradshaw was just that.
As someone that has had Alfred Morris on his fantasy team throughout his stops in Washington, Dallas, AND San Francisco, I can confirm this is true.
Even the fancy shmancy PFF numbers back it up
Stephen Davis put up NUMBERS around the turn of the century. But those numbers on the field were always put up in slow motion because of the numbers on his back.
TL;DR - Wayne Gallman either needs to start producing with number 22 or pass that shit to Freeman because there are no other available fast numbers on the Giants due to other players having them or the number being retired. Freeman could still be fast but he has downgraded his top speed due to his number. It's just science
Giphy Images.
And to all the Giants fans chirping me about 31, this is only for running backs. I know who the GOAT 31 in our franchise is.
Yes, I'm still angry at them letting him return that fateful kickoff in the goddamn preseason. The man had the world by the balls and Angie Harmon by the heart. Now he has neither.