Last Night In The NBA: Jamal Murray Would Not Be Denied And The Nuggets Officially Have Some Life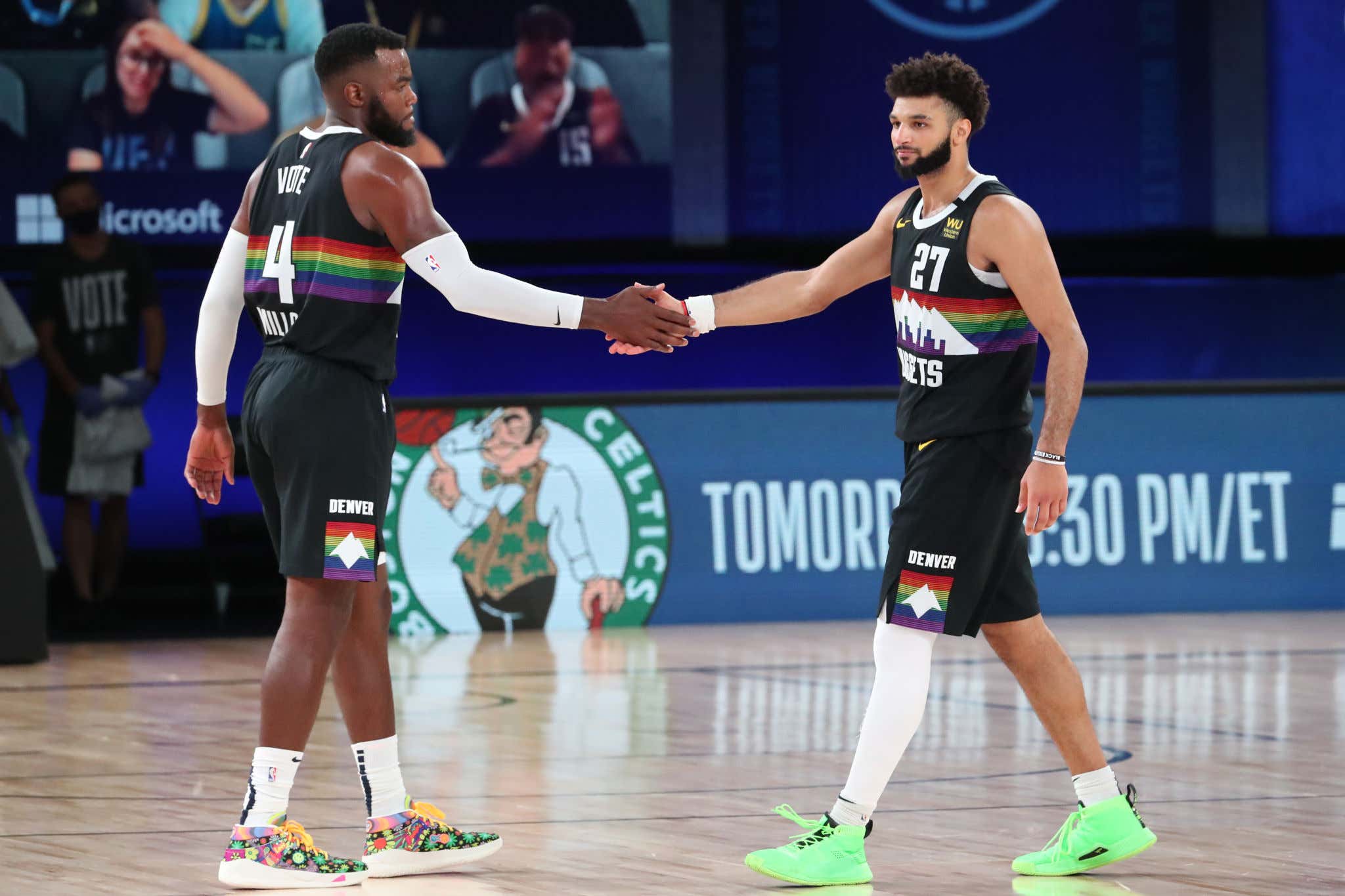 Nathaniel S. Butler. Getty Images.
Good morning everybody and welcome back to another edition of Last Night In The NBA where we bring you up to speed on everything that went down from the night before in the Association. Tuesday night was another big night in the conference Finals, this time it was the Nuggets playing for their playoff lives and the Lakers with an opportunity to all but punch their ticket to the Finals. We saw what happened in the East with this exact scenario in their Game 3, and we know that the Nuggets are at their best when their backs are up against it and the pressure rises. If for whatever reason you missed this game I'm not sure what you were doing since it started at 9 goddamn o'clock, but here's what happened.
Los Angeles Lakers (2-1) 106 vs Denver Nuggets (1-2) 114
Man, can you imagine if AD didn't hit that game winner in Game 2? We'd be waking up with the Nuggets leading the WCF right now. Brutal. But the reality is Ad did make it, and the Nuggets were once again faced with a familiar situation. Their season was on the line which means they suddenly turn into the best team in basketball. It's remarkable really. You could have questioned how they would respond after a gut punch like that, but I think by now everyone should have known they were going to respond well. This is how they play. 
Even with being fairly sloppy for the second game in a row with 18 TOs, the Nuggets looked like a team full of confidence, and one that in no way thinks this series is over. There is still more work to do, they don't control the series yet, but they have life. That sliver of life is all they've needed in previous series, and hopefully the same can be true here. We obviously have to start with their two best players, Jamal Murray and Nikola Jokic were massive. It wasn't just their combined 50 points. It was the fact that they were extremely efficient in order to get that 50. Jokic finished 9-14 and Murray 10-17 including 4-8 from deep
Jamal Murray turned back into the Bubble MVP version and he was clearly the best player on the floor in the fourth quarter to help put this game away. When the Lakers went on a run to make it a one possession game, Murray went nuts. He finished with 10 points in the fourth on 4-5 shooting including two dagger threes to seal it. The biggest thing I noticed in watching his performance is it was very clear that he got his legs back. His jumper wasn't short, we saw him go coast to coast and have a loud ass dunk to start the fourth, he played with great energy. If that's going to be the case moving forward, the Nuggets have a chance. There just isn't a Lakers defender right now that can handle Bubble MVP Murray. He only played 43 minutes too so he actually got some rest. That'll be big.
As huge as those two were, the reason the Nuggets were able to build their lead also had a lot to do with the secondary scoring they got from their role players. Jerami Grant with the game of his life notching a playoff career high 26
which is impressive when you consider the majority of his defensive assignments were LeBron and AD. How he had the legs to still be effective offensively was impressive. Then there was Monte Morris, who for the second straight game came off the bench and was instant offense. This time it was to the tune of 14 points on 5-7 shooting
Sprinkle in a little 4-6 shooting from MPJ as well 
and this was an example of that Nuggets depth being so damn valuable. When they get production like this and can have stretches where they actually buckle down and defend, they can beat anyone. Their top end talent is good enough, their role players are good enough offensively, that's what would have me excited as a Nuggets fan.
I would also love the fact that event though the Nuggets went on a run and this team had to win the game for a second time after blowing their lead, they didn't pout. Their fourth quarter offense was a little suspect where they relied too much on threes and had I think 8 straight possessions of turning it over or something like that, but they got their shit together and before you knew it they pulled it out.
For the Lakers, you certainly would have liked to have a 3-0 lead because that would have been the series, but you are still in a good spot even with this loss. Granted they might want to lose Game 4 on purpose so they don't have to deal with the Nuggets 1-3 magic so I wouldn't rule that out. As it usually is their formula was pretty much the same. LeBron and AD did most of the heavy lifting, combining for 57 points on 40 shots
But what was insane was the Anthony Davis finished with just TWO rebounds! He didn't have his first rebound until the fourth quarter! How is that even possible? This is Anthony Davis we're talking about. I find that relatively insane. Playoff Rondo did his best to get the Lakers back in it, the dude was physical as hell in the fourth and nearly pulled it off
But when the Lakers needed that big momentum three in the fourth to get over the hump, KCP missed it. Kuzma missed it. They didn't have the same sort of impact from their role players like the Nuggets did. They shot just 6-26 from deep as a team and had 16 TOs which led to 23 Nuggets points. Alex Caruso is coming crashing back down to earth, he finished just 1-7 and defensively Jamal Murray carved him up to the tune of 8 points on 3-4 shooting in their 11 possessions against each other. If he's not going to defend and he's not going to make open looks, that's tough. 
LeBron did show up in the fourth this time around finishing with 13 points which is impressive considering he had to overcome this vicious elbow from Murray. I'm surprised he was even able to finish the game after this. 
Remember, LeBron loves to tell you how he doesn't need to flop and doesn't do that shit. Yeah OK pal.
It's certainly not time to panic if you're the Lakers, but just like in the East if things get to 2-2 alllllllllll the pressure shifts to LA. The Nuggets have new life and all the confidence in the world after being right there against the Lakers in two of the three games so far in this series. This very well could go the distance which I think we're all rooting for.
And that's it! You are now all caught up with everything that went down last night in the NBA. We're back tonight with the HUGE Game 4 in the East, so if you'll excuse me I need to go throw up. Have a great Wednesday!