Gerrit Cole Shoves Again To Cap Off His First Regular Season in New York - Now October Awaits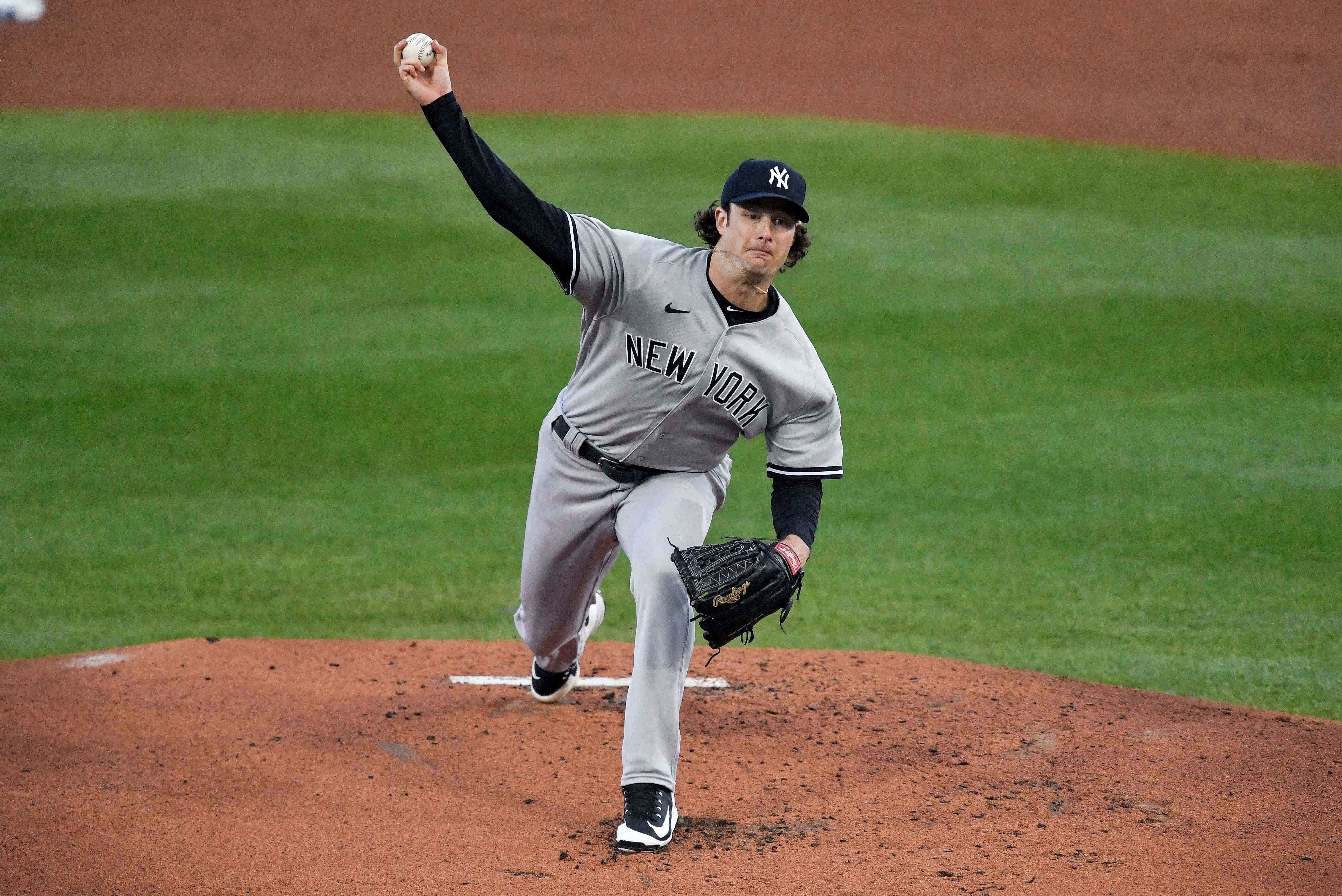 Adrian Kraus. Shutterstock Images.
Yankees 12 Blue Jays 1
Through Gerrit Cole's first eight starts with the Yankees he compiled a pedestrian 3.91 ERA and had allowed an eye-popping 12 homers. Listen it wasn't great by any means, but if you had any sort of legit panic about number 45 you needed to be slapped in the face. I mean it was crazy the kind of shit people were giving him. People wondered if the guy from Houston was just a mirage. I told people to give the dude some time to get in a groove. Four starts later and he's lowered that ERA to 2.84 and over his last 27 innings he's struck out 34 guys, giving up just 3 earned runs. Not too shabby huh?
Cole finished his first regular season in New York going 7-3 with a 0.96 WHIP and 94 strikeouts over 73 innings (12 starts). Pretty good stat line if you ask me. Katie Sharp helps detail how badly the Yankees have needed a guy like this man. 
Here's some Cole porn from this evening. Overpowering fastballs, dotted changeups, and unhittable sliders. He is so much fun to watch. 
My favorite part of the outing, however, came in the bottom of the 6th with the Yankees up 7-1. The Jays led off with back to back singles. Cole decided to lock in here and not allow a single run to cross. I feel like he almost played a game with himself to pretend this was a one run game or something to keep himself zoned in. 
After Gio stepped on third to end the inning Cole hopped off the mound and screamed in excitement. You show me this clip and tell me it was Game 7 of the ALCS and I'd believe you.
Keep in mind this was a 7-1 ball game. Cole was treating it like the most important inning of the season. That's part of the reason I love this man. He's the ultimate competitor and demands perfection. He's everything you could ever want from an ace. 
He'll get a week off now before his Game 1 start in the postseason against the Twins. Kinda stinks to have that lay off, but the Yankees have no choice with the schedule coming up. Kyle Higashioka will almost certainly be his catcher for that game as he's become 45's battery mate over this recent stretch. Don't fix what ain't broke. Cole and Higgy are on a roll right now and shouldn't be separated under any circumstances. The regular season is over for Cole, and now it's time for what really matters around these parts. This is where you can become immortal in New York. I'm excited to see what he's got, especially how he closed out the regular season. 
As for the offense tonight, who's to say these boys can't score without the home run ball? 12 runs on 15 hits holy moly that's music to my ears. First time they've scored that many runs in a 9 inning game without a homer since 2001. Three knocks from Judge and Gleyber. Four from Gio. Higgy and Hicks with multi-hit efforts as well. Just moving the line. Now can the Twins please lose a fucking game please!