On This Date in Sports: September 13, 1995: Alan and Lou
In collaboration with the Sportsecyclopedia.com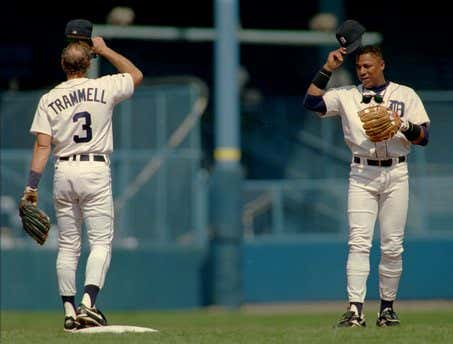 Lou Whitaker and Alan Trammell play their 1,915th game together with the Detroit Tigers, already major league baseball's longest-serving double-play combination. The two set an American League record for most games played together as teammates. Lou Whitaker retires at the end of the season, ending the Trammell-Whitaker combination at 1,918 games. Both players began their careers as September call ups in 1977. Trammell retired in 1996. Both played their entire career with the Tigers. 
Lou Whitaker was born on May 12, 1957, in Brooklyn. Raised in Virginia, Whitaker was drafted by the Tigers in the fifth round of the 1975 draft. He began playing second base in 1976 and was called up at the end of 1977, making his debut on September 9th.  Whitaker played with the Tigers for 19 seasons with the Tigers. In 1978 he was named Rookie of the Year, he played in the All-Star Game five times, winning three Gold Gloves and four Silver Sluggers.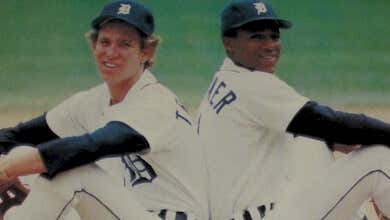 Alan Trammell was born on February 21, 1958, in Garden Grove, California. Raised in San Diego, Trammell was drafted by the Tigers in the second round of the 1976 draft. While Whitaker was named Rookie of the Year in 1978, Alan Trammell finished fourth. Trammell and Whitaker were both paired together for the first time in the minor leagues and made their debut together on September 9, 1977, at Fenway Park against the Boston Red Sox.  Trammell played 20 seasons in Detroit, playing in six All-Star Games. He won four Gold Gloves and three Silver Slugger awards. 
For near 20 years, Alan Trammell and Lou Whitaker were inseparable in the middle of the diamond for the Detroit Tigers. The pair even appeared together on an episode of Magnum P.I.in 1983. As the Tigers became contenders in the 1980s, the duo played a significant role. When Detroit had their magical 1984 season, Alan Trammell was named World Series MVP.
When Lou Whitaker played his final game in 1995, the pair played in 1,1918 games together. They topped the record of American League teammates held by George Brett and Frank White of the Kansas City Royals. They also turned more than 1,3000 double plays together, shattering the record of the legendary Tinkers to Evers to Chance.   
In 2018 Alan Trammell was inducted into the Baseball Hall of Fame. Lou Whitaker still waits for his call to Cooperstown, but for two players who were inseparable on the field, it seems inevitable that Whitaker will join Trammell as they should have gone in together, to begin with.