Everything You Need To Know For Day 25 Of The NBA Playoffs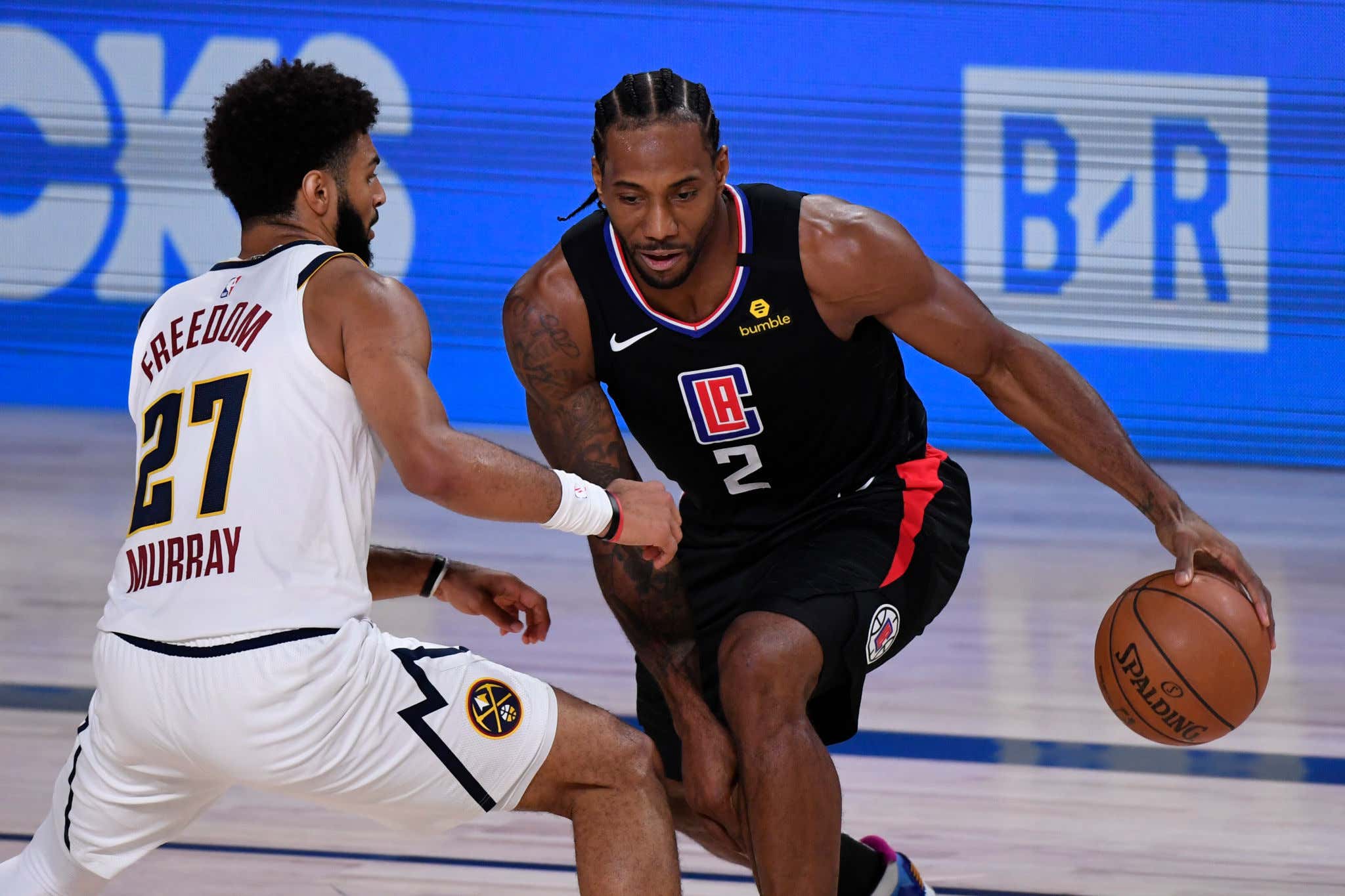 Douglas P. DeFelice. Getty Images.
If you are someone who might be looking for NBA bubble playoff drama, may I present to you tonight's slate. Doesn't get more pressure filled than tonight with three of the four teams fighting for their playoff lives. I'm not sure you could draw up bigger stakes than that with three teams having a do or die playoff game on their hands. I'm stressed just thinking about it. Sick to my goddamn stomach and then some. So please just allow me to ramble a little bit because I need every distraction I can find on a day like today. Let's get you ready for the action.
Denver Nuggets (1-3) vs Los Angeles Clippers (3-1) 6:30pm ET
For the second series in a row the Denver Nuggets find themselves in a familiar spot. Four games into a series and their season is on the line. Last time we saw them in this position we saw them overcome a 3-1 deficit against the Jazz. That's the good news. The bad news is the Los Angeles Clippers are very much not the Utah Jazz. This 3-1 hole is a whole lot deeper against this team. So what can they do to keep their dreams alive?
It all starts with Jamal Murray. He needs to find a way to get back to the Bubble MVP Jamal Murray. So far this series he's learned that the wing defenders of the Clippers are a different animal. He's shooting just 38/34% for the series and averaging nearly 3 TOs a game. Mike Malone has to figure out a way to get him going despite all the contact he has to play through. They need his offense in the worst way and it needs to be efficient. The frustrating part of their Game 6 loss was the whole scoring 12 points in the first quarter thing. You expect poor defense, but that type of offensive struggle isn't usually what we see from the Nuggets. If Jokic/Murray are able to get off to good starts that could go a long way.
On the Clippers side, you don't want to fuck around. We say it all the time, but when you have an opportunity to close out a series you have to do it. You have to step on that throat and not allow any sign on life. This is a factor for the Clippers since it looks like the Lakers have all but wrapped up their series. I like their chances to do just that, especially if Mook is going to continue to shoot like he is in this series. Paul George and Kawhi get all the headlines, but do people realize Mook is shooting 60/53% in this series with over 2 3PM? He's 4th in overall FGA and 2nd in 3PA. That's a real difference maker and important for the Clips if George is going to have an inefficient offensive night. 
They also haven't really had their monster game from Lou Will/Harrell that we saw so often during the year and you know that's coming at some point. Why can't it be tonight in an effort to close it out?
Boston Celtics (3-3) vs Toronto Raptors (3-3) 9:00pm ET
I can't even think about this game. I'm sorry that's a lie, I've been doing nothing for the last 24+ hours other than thinking about this game. It's a combination of frustration, nerves, confidence, panic, the works. Game 7s are awesome until you have to live through one as a fan. This game could go either way and I don't think anyone would be surprised. The series has been that even. Both teams have Game 7 experience, both teams have looked great and like dogshit during this series, it's going to be an absolute battle.
For the Celts, all the pressure in the world is on them. You face losing 4 of your last 5 to blow a series you had a 2-0 lead in. You've lost heartbreakers. While we may not know what to expect in terms of how the team will look, the one thing we can be sure of is that the third quarter will once again be important. Just how bad have those been for the Celts? The numbers will make you sick
Ortg: 104.3 (5th)
Drtg: 131.7 (8)
Net Rating: -27.4
Meanwhile, the Raptors have the best offense of the field in third quarters. It has come back to bite this team in every single game for the most part. Now with the season on the line, they cannot let this continue tonight. There is no Game 8.
On the Raptors side, you're playing with house money. You have all the confidence in the world that your team will come through because they've done nothing but hit HUGE shots all series long. The Raptors have shown they aren't going to quit, and an ugly, close game is something they might even prefer. 
I would imagine we're going to see a whole lot of Kyle Lowry to start this game and it'll be a whole lot of forcing switches so he can be matched up with Kemba. That's been an advantage all series long. It also allows FVV to play more off ball and do his thing catch and shooting. A huge difference in Game 6 was once he started to heat up from three in the third quarter, so I would imagine we get more of that tonight. 
Their box-and-1 defense did a good job of taking Kemba out of the game, and they seem comfortable letting someone like Jaylen try and beat them offensively. Limiting Kemba/Tatum early was a big part of why TOR stayed in the game in the first half, and I doubt they change anything about how they've defended either one. 
There is nothing like a Game 7, we know this. Anything can happen. The whole thing makes me sick and if we're being honest I do not care for it one bit.