The Philadelphia Flyers Beat The Islanders, The NHL's Absolute Dog Shit Review System To Tie The Series At 1-1
Final: Flyers 4 - Islanders 3 // Series tied 1-1
Philly Myers. You fucking legend. You beautiful man rocket, you. 
Oh my god. What a game. What a rollercoaster. The Flyers came out GANGBUSTERS in the 1st period. The boys knew they shit the bed to open up game 1 and they weren't going to have that abysmally slow start again. So right out of the gate, the thoroughbreds got going. You had Kevin "The Best One" Hayes. The Dorchester Rocket. The South Side Sniper. Not only does he get the Chiclets Bump on the 1st goal of the game, but he fucks around and snipes the 2nd one as well. 
Short side snipe heyhowarrrrrreya. 
Then you had Sean Couturier just proving himself to be too much man for poor Nick Leddy to keep up with. This is what Dad Strength Coots can bring to the table. 
And just like that, the Flyers were feeling great about themselves. They chased Varlamov out of the 1st period. This great Varlamov that we've been hearing so much about gets pulled less than 20 minutes into the first end of a back-to-back. It was hard not to feel confident at this point. The one thing the Flyers have desperately been lacking since the actual playoffs got started was offensive production out of their top 6. Just 15 minutes into the game, you had 2 goals from Hayes and one from Coots. The big dogs came out hungry. 
But then…well it's not like the rest of the game was totally awful since I think the Flyers did a really good job at handling most of the pressure the Isles were throwing at them. But this is a confident New York Islanders team that works their ass off for 60+ minutes every time they touch the ice. You had to know they weren't going away. You needed to get one more goal to really put any hope of a comeback out of their minds. And the Flyers weren't able to do that. Meanwhile, the Isles just kept chipping away until the inevitable happened.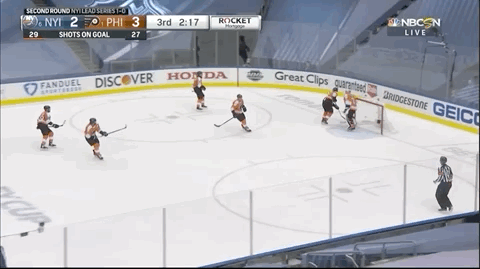 The Flyers blew a 3-0 lead as JG Pageau scored his 2nd goal of the series off of a brutal Flyers defensive breakdown. Now after the goal was scored, Alain Vigneault challenged the original entry here for an offside review. And I'll let you be the judge of that one for yourself. 
I mean that sure looks off to me. And it's fucking pathetic that the NHL still hasn't figured out a way to get a clear, definitive camera angle to determine these things. Because if we're going to make calls based on a skate blade being a millimeter off the line, well then you better have the camera angles to back that up. But somehow the refs saw this replay, said fuck it and called a good goal anyway. There are 3 things I'm pissed off about here but that goal call is only #3 on the list. 
The first thing I'm pissed off at is AV even challenging the call to begin with. There's just over 2 minutes left in regulation. If you don't get the call (which they didn't), not only is the game tied up but now you have to finish regulation on the penalty kill. You need to be beyond confident that you're going to get the call to make that challenge. And even if you are, sometimes it just makes more sense in that position to eat the shitty call and just hope that the Hockey Gods get you back later. Instead, they gambled and it could have cost them big time. 
The other thing I'm pissed about is that was just an incredibly lazy play from Sanheim at that point of the game. You know how tough that Isles forecheck is. You know that you can't try to make a breakout pass through the entire defensive zone there, especially while you're holding on to a 1-goal lead with just over 2 minutes to play. I get that a winger should have been further down the wall for him but the fact is that there was nobody there. So just bank it off the glass and eat some clock. No need for that turnover. 
Fortunately none of that means a damn thing because Philly Myers unloaded from the point in overtime and now the series is tied. 
This was an unbelievable shift from Giroux, Coots and Hayes leading up to the goal. A great offensive zone faceoff win from Giroux. Coots made a great power move to put the puck on net initially which caused a ton of confusion in front of the cage. The puck squirts up to the point and Myers fucking laid into that one. He got a lucky bounce, for sure, but that thing was still moving. 
This was a game that the Flyers absolutely needed to win. You needed a win here to make sure you can give Carter Hart the night off tomorrow on the back-to-back. You lose this game and you're down 0-2 in the series heading into last night, there's a chance you try to push it and keep Hart between the pipes. But now that the series is tied, he can get the rest he needs in game 3 and Elliott is more than capable of coming in here and stealing a game. Best of 7 becomes a best of 5 now. Just how we expected this one to go. 
What a win. Wasn't pretty the whole time but that's a resilient win for the boys.