Last Night In The NBA: LeBron Dominates, The Heat Move On, The Rockets Might Be Choking Again And More!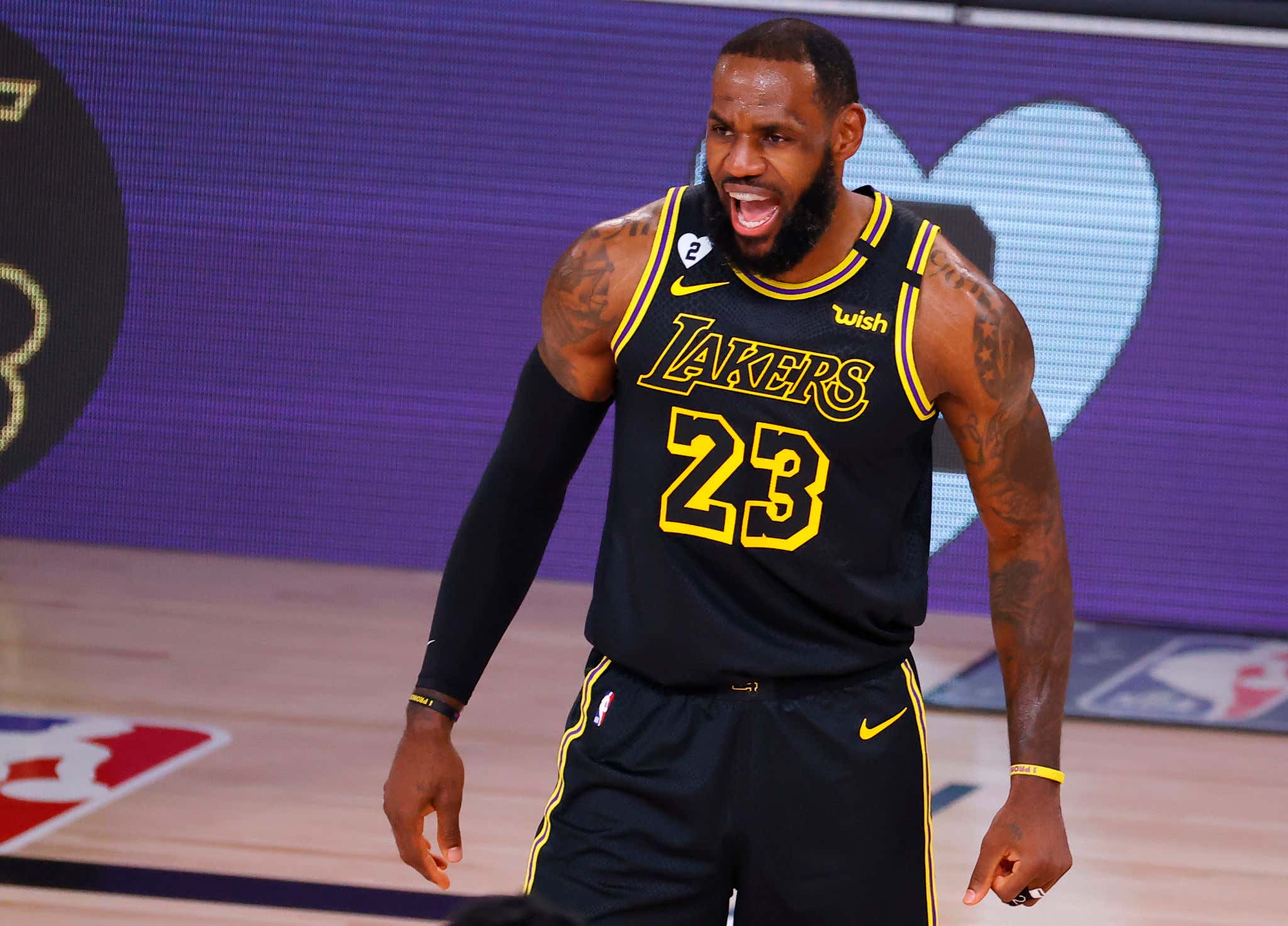 Kevin C. Cox. Getty Images.
Good morning everybody happy Tuesday and welcome back to another edition of Last Night In The NBA where we bring you up to speed on everything that went down from the night before in the Association. It was another slate of Game 4s and for the second straight night there was really only one game that had any drama. You can get the sense that some of these teams are starting to smell blood in the water. We're starting to see more and more blowouts as these playoffs go on and hopefully that's not a trend we see in the deeper rounds because I think we can all agree playoff basketball is better when games don't end in the first quarter. As always if you got busy yesterday and couldn't watch all the games that's OK, just keep reading because here's what happened.
Milwaukee Bucks (3-1) 121 vs Orlando Magic (1-3) 106
Hey, the Magic will always have that Game 1. If I were a Magic fan I would just focus on that instead of the reality that this series is a wrap. Good job, good effort, but it's time to call it a season. If there's one positive thing to take away from this series it's that Nikola Vucevic is a stud
and Terrance Ross is a legit scoring option off the bench
They were once again without Aaron Gordon and actually made this game competitive. Don't let the final score fool you, there were 12 lead changes and 9 ties in this game. Things didn't really fall apart until the fourth quarter when things got a little out of hand, and they did make 18 3PM which was nice. The issue was their offense when cold when it mattered and their defense went south. You do that agains the Bucks what do you think is going to happen?
For MIL, it was pretty much the same story as a lot of their wins this year. Giannis is going to do Giannis things and dominate
and hey look at that, Khris Middleton actually showed up in a playoff game this year!
he didn't start off strong, another 1-7 first half, but he did score 18 points in the fourth quarter on 6-10 shooting which was nearly half their points. They very well may have lost this game if he didn't go nuts in his final 10 minutes of action. I think we can all expect the Bucks to wrap this up in Game 5 and then they'll have a rested and confident Miami Heat team to deal with. Hopefully that team from Florida gives them a little bit more of a challenge. 
Houston Rockets (2-2) 114 vs Oklahoma City Thunder (2-2) 117
Is this series living up to the hype or what? Here's how I see things if I were to be a Rockets fan. You're starting to get a little nervous. Not a whole lot, but the doubt is slowly creeping in given how this team is losing games. Then you combine their playoff history and I can understand the nerves. You calm yourself by reminding your brain that Russell Westbrook hasn't played in this series yet, and if he does he'll prob get whatever he wants against this Thunder defense. But gone is the confidence that came with the 2-0 lead. This was a pretty rare loss for the Rockets, it was the first time all season they lost shooting over 38% from three, they made 23 on the night and had 6 players in double figures. That usually translates to wins
Here's the problem though. They ran out of gas in the fourth quarter. Scored on 21 points on 32/21% shooting with 4 TOs. James Harden and Eric Gordon combined to shoot 3-11. They were gassed which allowed the Thunder to do just enough to squeak out the win and tie this series up. This is the fear you have as a Rockets fan. When this team doesn't go ice cold, they are nearly impossible to beat. But one bad shooting quarter can change everything, and they keep having these type of dry spells in fourth quarters. That's concerning.
For OKC, it's pretty clear the difference in these last two games is the fact that the three guard trio in OKC has been dominating. Another solid night from SGA (18), CP3 (26) and Schroder (30) carried the offensive load for the Thunder just like they did in Game 3
The Thunder are looking at this Rockets small lineup and are having their way with it. You would think having smaller quicker defenders out there might limit this trio, but the opposite has happened these last two games. Chris Paul is shaking his dick all over his former team with no remorse. Now you have to deal with Dennis Schroder thinking he's better than James Harden which is always a wild ride. I don't care who you are, if you're able to hang with a team that made 23 3PM, that's impressive.
You have to think Westbrook will be back at some point, but in the meantime it's very clear that the OKC trio of guards are proving to be a big time problem for this Rockets defense.
Indiana Pacers (0-4) 87 vs Miami Heat (4-0) 99
Poor Pacers. Remember when TJ Warren was the best player on the planet in the bubble? Those were better times. They got to the playoffs and were just outmatched right from the start. I bet they reallllllllly wish they played PHI or some shit in the first round instead. And hey, you may have been swept in the first round for the second time in two years, but at least you had three 20 point scorers in this game. That's a positive!
Now the focus turns to whatever they hell they decide to do about Victor Oladipo, and I hate to rub it in but he's probably going to the team that just swept the Pacers. They have some good young pieces and they did get boned a little bit by injury, I just don't know how this team takes the next step given all the teams around them in the East. Feels like they are destined to be that 4-6 seed pretty much forever.
For MIA, you better not turtle against the Bucks. Not with all the love you're getting right now. If they come out in that series and shoot the ball like shit and get swept or lost in 5 I will be so heated (pun not intended but intended). You don't prove shit by sweeping IND in the first round only to lose in 5 to MIL in the next, Trust me, I've lived that. 
The good news is that Goran Dragic looks FANTASTIC
Bam is continuing his ridiculous level of play on a nightly basis
and this team has the toughness (Butler) and shooting (Herro, Robinson) to hang with the Bucks, a team that also loves to shoot threes. I just hope that Jimmy Butler's shoulder isn't too bad and we actually get a competitive series. The Heat and their fans want to talk about how legit they are, well here is your chance to prove it. 
Los Angeles Lakers (3-1) 135 vs Portland Trail Blazers (1-3) 115
The Blazers were a fun story, Dame went on an incredible run to get into the playoffs, but this is a wrap. This was a reminder that it is a 8 vs 1 and you combine that with the Mamba jerseys, this game was over before it even started. Then it was really over in the first like 30 seconds when the Lakers got up 15-0. LeBron James went out there and put his foot down, basically saying enough of the bullshit we're done with this team
I mean the man went out and threw up 30/10 in 28 minutes going 12-14 from the floor. Good fucking luck with that shit. Then you had AD throwing up 18/5/5 in just 17 minutes going 5-8 from the floor. Guess what, few teams on the planet are going to beat the Lakers if those two have that type of efficiency. 
You sprinkle in some effective Kuzma as well
and the Lakers shooting 69% in the first half and I don't really know what else to say. They were dominant from the opening tip and were up by as much as 38 points. They never trailed, the game was never tied, this was the very definition of an ass whooping. The lead might be 3-1, but this thing is over.
For POR, yeah I mean not sure what you want them to do when Dame and CJ combine for 8-22 and they have 17 TOs. Not only that, but Dame fucked up his knee. They basically had to be perfect on both ends for them to even have a chance in this series, and they did it for 1 game. That's not great. 
When you go out and give up 80 points in the first half, and then follow that up with a 32 point third quarter, this is what happens. The Lakers have had at least 110+ points in each of their last three wins, and while it may have been fun to give them shit for dropping Game 1, they responded like a 1 seed should and ended the Blazers chances rather swiftly. Hopefully the Blazers stay healthy next year and can avoid this team in the first round next playoffs, because they are basically in two separate leagues.
And that's it! You are now caught up with everything that went down yesterday in the Association. We only have 2 games on the schedule today with the Jazz looking to close out their series before we get the highly anticipated Game 5 with DAL/LAC. My advice would be to do any chores or errands you have today before the tip so you can earn those brownie points for the later rounds. Have a great Tuesday!