Stan Bowman Tried To Win This Year And His Plan Resulted In The Team Finishing 12th In The Western Conference
Getty Images.
When I interviewed Danny Wirtz a couple of weeks ago for Redline Radio I asked him two questions that were related to the Hockey Ops Department and Stan Bowman. The first one was about Danny's very public support of Stan Bowman. I asked him how/why he trusts Stan Bowman after 5+ years of failed plans and why his current plan is now on the right track. Danny's answer was more or less "Stan's job is hard" and "these decisions around trades, signings, and picks are complicated". Those two things Danny said are absolutely true. They also didn't answer my question. 
I also have a feeling that privately Stan had one big excuse he could fall back on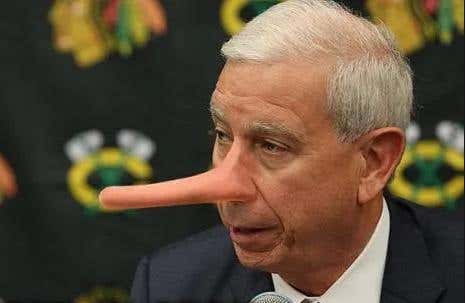 "John made me do it"--Stan Bowman. 
It's been long rumored that John McDonough was a meddler and that he had his finger prints on the Seabrook contract as well as the Panarin trade. I am not in the room. I don't know any of that for sure. I just know what I've been told over the years. I also know that there was a power struggle internally between Joel Quenneville and Stan Bowman and that Stan Bowman ultimately won. Looking back at what Bowman did in the off-season after the Hawks missed the playoffs the first time you can argue that maybe he was sandbagging Joel so he had an excuse to fire him. Again, I don't know that, but he cleared cap space that year and then signed Chris Kunitz and Brandon Manning and then fired Joel a month into the season when he had a .500 record. More to this point later.
The other question I asked Danny is if he had a confidant that he trusts that he could use as a sounding board. Danny answered that question through his prism which is the totality of the Chicago Blackhawks business. In reality, I don't think Danny Wirtz needs much help in running the Blackhawks business. He is smart. He grew up in the business. He's run other successful brands and businesses. I have no doubt that he will make the Blackhawks business operations run smoothly and successfully. In my head that question was really about Hockey. It was asking if he can have a conversation with Stan and then have a guy to tell him
It sounds from Danny's answer and rumors of John's meddling that Stan would have a compelling story. It also sounds like Stan made it seem like he is a finance guy. Someone who trades in MBS and uses derivatives and uses complicated instruments that people like you and I could never understand. Which is why the financial industry can just run amuck without checks and balances because there are so few people who have the insights to debate them. Which is why Danny needs a hockey executive confidant that isn't Stan and isn't Al. 
Now, I really don't want to go through every single major trade and signing going back to the summer of 2013(I've done that before you can read it here from 2018). That is when things started to go bad for Stan with the Bickell signing(which was always a bad deal considering it was $16M based on one playoff run) and getting absolutely NOTHING of value for Nick Leddy. I've always wondered if Stan Bowman would still have a job if Patrick Kane didn't get injured right before the trade deadline in 2015. Kane gets put on LTIR, Stan suddenly has an extra $6M in cap space to play with and get goes out and gets Antoine Vermette, Kimmo Timonen, and Andrew Desjardins at the deadline. Kane comes back for Game 1 of the playoffs and there is no cap in the playoffs so the Hawks have basically bonus players and they go on to win the Cup. 
Yeah Stan mismanaged the Saad situation in 2015(realistically he should've let him walk to an offer sheet). Yes, that decision which led to trading Patrick Sharp and Stephen Johns also set the team back in 2016. Of course the Phillip Danault trade, the Teravainen trade, and the big daddy… the Panarin deal was atrocious. Trading Panarin should've been used as a reset the way the Avalanche were able to reset everything by trading Matt Duchene. The evidence doesn't exactly stack up with Stan being this great forward thinker who is able to balance the present with the future. Quite the opposite in fact. However, like I said before, Stan has the ability to shift blame away from him when talking about 7 years of bad deals. 
His excuses are why I want to really shift focus to the 2019-20 season. I think, even with the contract extension he received in secret last summer, Stan Bowman felt pressure to win this year. He fired Joel, could blame the 2018-19 season on Corey Crawford and transitioning under Jeremy Colliton. This year though, this year he had to win and he gave it his best shot. He went out and acquired veterans left and right
He traded for Olli Maatta
He traded for Andrew Shaw
He traded for Cal de Haan
He signed Robin Lehner so he wouldn't be screwed if Crawford had more health issues
He looked at his thin forward group and traded for Nylander because he had acquired defensive help and had Boqvist coming into replace Jokiharju
His coach wanted more jam so he traded Anisimov for Zak Smith and signed Ryan Carpenter.
He drafted the most NHL ready prospect available at #3 overall
He had HIS coach running his system. 
Stan was trying to win. The Wirtz family spent money on a ton of new players. He thought he had a team good enough to win. He finished 12th. He failed. He got Toews, Kane, and Keith all playing at extremely high levels. He got a 30 goal performance from a rookie. It still wasn't enough. The team was a disaster defensively again. His plan didn't work. That should be yet another indicator that Stan Bowman just isn't cut out for this role. And there are plenty of others throughout his tenure. 
It doesn't get talked about enough in my opinion, but the fact that he has had a streak from 2010 to 2018 of 1st round picks failing to sign a second contract with the Blackhawks is unbelievable.
2010: Kevin Hayes…never signed. Hayes wanted to sign after his junior year at BC(allegedly) and the Hawks told him to go back. He fucking dominated that year and signed as a free agent with the Rangers and now he's a bonafide stud. 
2011: Mark McNeill…bust. Phillip Danault…traded…woof. Brandon Saad(2nd round) traded.
2012: Teuvo Teravainen…given away to Carolina just dump a bad contract signed by Stan
2013: Ryan Hartman…traded
2014: Nick Schmaltz…traded
2015: no pick
2016: no pick
2017: Henri Jokiharju…traded
That seems almost impossible. And it's not like Stan has come out as the winner in any of these trades. 
The other thing that is borderline impossible for me to believe is that the Blackhawks have drafted a 7 goalies in Stan's tenure…those 7 goalies have a played a combined ONE NHL game. Corey Crawford was drafted in 2003. That is the last guy they drafted to have an impact at the goalie position.
Stan Bowman also wasn't able to draft and develop ANY defensemen until Henri Jokiharju, who he traded. The jury is still very much out on whether or not Boqvist will be worthy of a top 10 pick. I have my doubts about his ability to ever be a legitimate top 4 defenseman on a good NHL team. 
Speaking of the draft…you'd think a team that hasn't won a playoff series since 2015 would be able to restock the cupboard with good young players knocking on the door. Well that hasn't been the case for Stan and Co either. I love what I see out of Kirby Dach. I am very high on Ian Mitchell. I am hopeful about Evan Barratt being a nice bottom 6 piece. That is…about it. The Blackhawks prospect pool is considered very average. Maybe Kurashev turns into something. Maybe Beaudin can help at some point. Ditto for Regula. It's below average up front and crowded at the blueline. Even Mark Kelley, the director of amateur scouting, said that the Blackhawks didn't draft all of these defensemen with the intent that they'd one day play for the Blackhawks. Which, I mean…why spend all the time, money, and energy developing guys who you don't think will play for you? Whatever though, taking the best player available is usually a sound strategy and having assets is a good thing except when…Stan Bowman is the guy executing trades of these guys. That means we have more Jokiharju-for-Nylander trades in our future….great.
I know this is a tough job right now for Danny Wirtz. There's so much information to take in and evaluate and when you have a guy like Stan Bowman advocating for himself and pouring poison in your ear it has to be so hard to remember and recognize all of these failures because it is complicated and there are so many. Not as complicated as Bowman says it is, but it is complicated. At the end of the day though Stan has been given TREMENDOUS resources and advantages that many GMs would kill for and there are many many MANY guys doing a better job than him at the moment. Covid-19 also complicates things. Especially from a financial standpoint. Last summer John McDonough, Al MacIsaac, and Stan Bowman all got extensions. Jeremy Colliton also has a contract. A birdie told me that the Blackhawks still have to pay McDonough in the neighborhood of 10 million dollars. My guess is that the combined salaries owed to Colliton, MacIsaac and Bowman are probably in the neighborhood of 10 million dollars as well. That's a lot of money for me to tell someone to light on fire and make wholesale changes in Hockey Ops. I don't know what the balance sheet looks like for the Hawks. What I do know is that the greatest marketing campaign in the history of the world is winning. There's plenty of evidence that Stan Bowman and his guys can't get it done. Drafting has been spotty. Trades have been a disaster. Cap management is arguably the worst in the league. He also fired the greatest coach of all-time and replaced him with a rookie who hasn't gotten it done. This isn't strike 3 and you're out. It's strike 10. Maybe there's another role for Stan in the organization. Maybe make him sell hot dogs in the 300s. Maybe put him in the basement with a red stapler. He is not suited for his current role and the longer you let Stan make decisions on the direction of the team the further away you are from being in the playoffs. 
PS: Rocky gave an interview last week saying that Danny will NOT remove the interim tag and the Hawks will be bringing in a President or some other decision-maker. My gut tells me that there won't be a President at all. There will be an EVP of Business and an EVP of Hockey Ops. Both report up to Danny and Rocky. If that is the case and the Business Ops guy struggles because Stan can't do his job that feels like another landmine to navigate around. We are heading into the biggest off-season in a long time. I hope Danny acts boldly here. Be bold and mighty forces will come to your aid. 
PPS: Stan Bowman already cost this franchise their Hall Of Fame coach. I would not be totally surprised that if Stan is retained that he costs us Duncan Keith and Jonathan Toews. I could see both asking out of this nightmare if Stan is still in charge. I haven't heard that first hand, but I have heard that. Maybe Keith to Vancouver to be closer to his son. Toews is frustrated too. Kane said in his last press conference that he doesn't know what the team will look like next year…