Happy 101st Birthday To The One and Only Sister Jean!
Big day today for the Jesuit community here in Chicago and abroad. And the God Squad overall. The face of the program, Sister Jean officially turns 101 years young today. 
There's arguably no bigger Nun in the game right now. Especially in regards to this website. Sister Jean was basically passed the torch from Mother Theresa and never looked back. Loyola, and Chicago, are lucky to have her.
Loyola has been hyping the momentous occasion up all week, getting alums to post all the reasons they love Sr. Jean and all their favorite memories of her.
They also ran a pretty great timeline on her with some interesting facts.
- August 21, 1919
Born Dolores Bertha Schmidt, the first of three children of Joseph and Bertha Schmidt, in San Francisco
- September 1937
Leaves her home in San Francisco for a two-day, three-night train trip to Dubuque, Iowa, to begin a six-month period as a postulant, or candidate, with the Sisters of Charity of the Blessed Virgin Mary (BVM)
- March 19, 1938
Officially received into the BVMs, taking on the order's traditional habit and her new religious name: Sister Jean Dolores
- August 15, 1945
Professes her final vows as a BVM in Dubuque and is assigned soon after to teach at St. Charles Elementary School in North Hollywood, California. She starts a sports program, coaching women's basketball, softball, volleyball, track, ping-pong, and yo-yo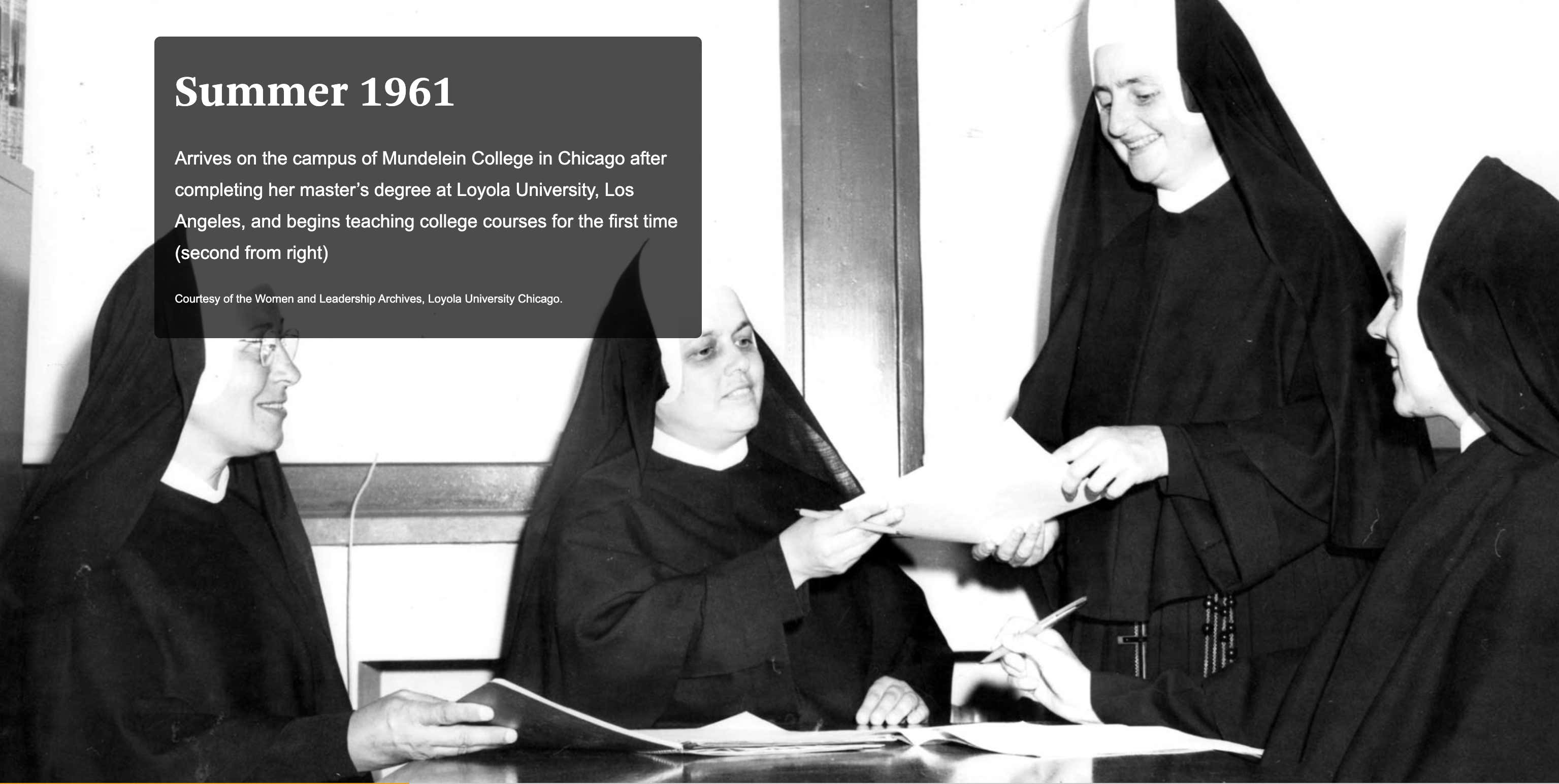 - 1970 
Named acting dean of Mundelein College for the next two years, in addition to already serving as associate dean and director of summer sessions
- 1974
Serves as director of Coffey Hall for the next four years, adding another role to her growing list of titles
- 1984
Ends tenure as associate dean and director of academic services, and becomes associate vice president for academic affairs
- 1994
Begins a new role with the men's and women's basketball teams by helping the players keep their grades high enough to remain eligible to play, calling herself the "Booster Shooter"
"Booster Shooter" has a great ring to it.
- 1996
Transitions from her role as an academic advisor to official team chaplain for the men's basketball team
- 2009
Launches SMILE (Students Moving Into the Lives of the Elderly), pairing Loyola students with residents at the Clare, a retirement home next door to the Water Tower Campus
- May 13, 2016
Presented a Doctor of Humane Letters honorary degree by Loyola in recognition of her decades of commitment and service to the University
- January 21, 2017
Inducted into the Ramblers' Athletics Hall of Fame in Gentile Arena during halftime at a men's basketball game
- March 2018
Becomes an international celebrity due to her constant presence on the sidelines during Loyola's historic NCAA Tournament run that culminated in an unlikely spot in the Final Four
* - March 31, 2018
Officially occupies Barstool Sports Founder and noted "Michigan Man" Dave Portnoy's office during Loyola vs Michigan Final Four matchup. (It's not enough however as Loyola's magic runs out and the Ramblers come up short)
(Question: does your school award swords? Doubtful)
I'm not going to lie (especially on a blog about a living religious icon) and say I knew who Sister Jean was while I was at Loyola. I only knew a couple of the Brothers while I was there. And I was still traumatized from the Nuns at my middle school beating my ass that whenever I saw one on campus I made a swift u-turn. But it's been awesome to see her become such a celebrity over the last 5-10 years. She's done so much for the school, the surrounding Rogers Park community, and she's really helping to put the program somewhat on the map. 
So happy 101st Birthday Sister Jean! Can't wait to celebrate 102 for real next year.
p.s. - They're throwing her a virtual party this afternoon if you're interested. 
August 21, 2020 • Virtual Birthday Party, 11 a.m. CDT

Since we can't celebrate with Sister Jean in person, we'll be celebrating virtually! Join us at 11 a.m. on Friday, August 21, 2020 where we'll hear birthday wishes from students, staff, alumni, and more. Sister Jean will also address attendees at this event. Register. 
No, they didn't ask me to DJ it, but no hard feelings. Maybe next year for the 102nd Birthday.
p.p.s. - I got a chance to meet Porter Moser last summer when he came to Wrigley to sing the stretch. Could not have been a nicer guy. Definitely as advertised. 
He invited me to come to a game this season (bummer) and sit next to the bench. I told him I would absolutely take him up on the offer but only if I could finally meet Sister Jean. I felt like a girl that uses a guy in the friend zone to get to his richer more popular friend. Forgive me.