The Aftermath Of This Professional Cyclist Riding Through A Hailstorm Makes Me Want To Puke My Brains Out
Source - Tim Declercq took a POUNDING while riding in a major bike race in France on Thursday -- when a hail storm broke out and destroyed his entire back!
The 31-year-old Belgian pro cyclist was racing through Stage 2 of the Criterium du Dauphine in the Chartreuse Mountains when the hail began to fall hard.
People scrambled for shelter -- but Declercq couldn't get out of the way fast enough, and the ice balls smashed his back up leaving massive welts.
The photo: 
.
.
.
I don't even have a weak stomach, but really? THIS is what happens when you bike through a hailstorm???
It looks like the results of an STD search on Google Images (not that I've ever done one). His back looks like what would happen if eczema had a love child with plaque psoriasis. Puke. Puke. Puke. Puke. 
Here's a video of the hailstorm he rode through…
Lucky for him he's already on the path to recovery…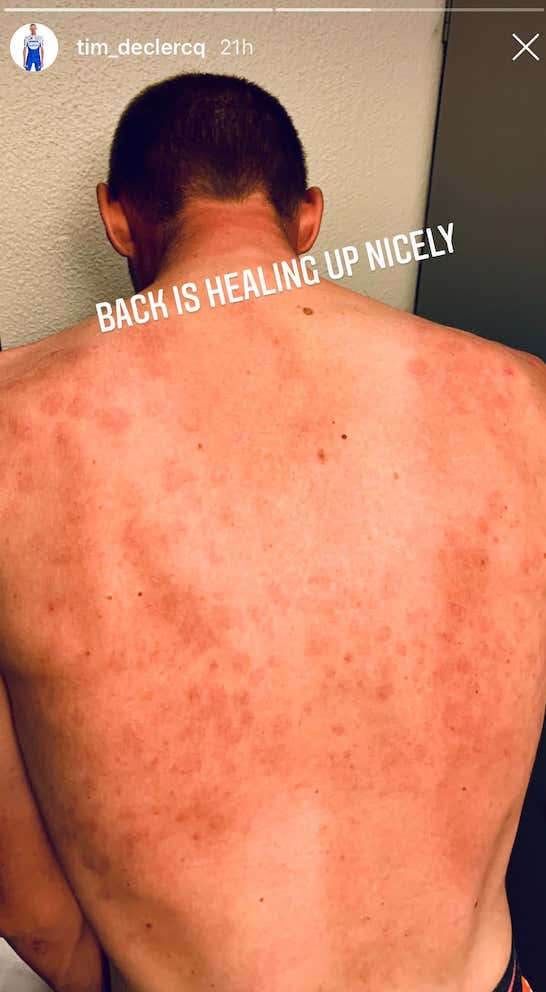 Thank god. Note to self: if I'm ever on a CitiBike while it starts to hail, pull over. It's not worth it. Best of luck in the future, Tim, and watch out for the weather.