Last Night In The NBA: Jimmy Butler Is Ready To Fight Chris Paul, The Pacers Win Again, Kawhi Looks Ready And More!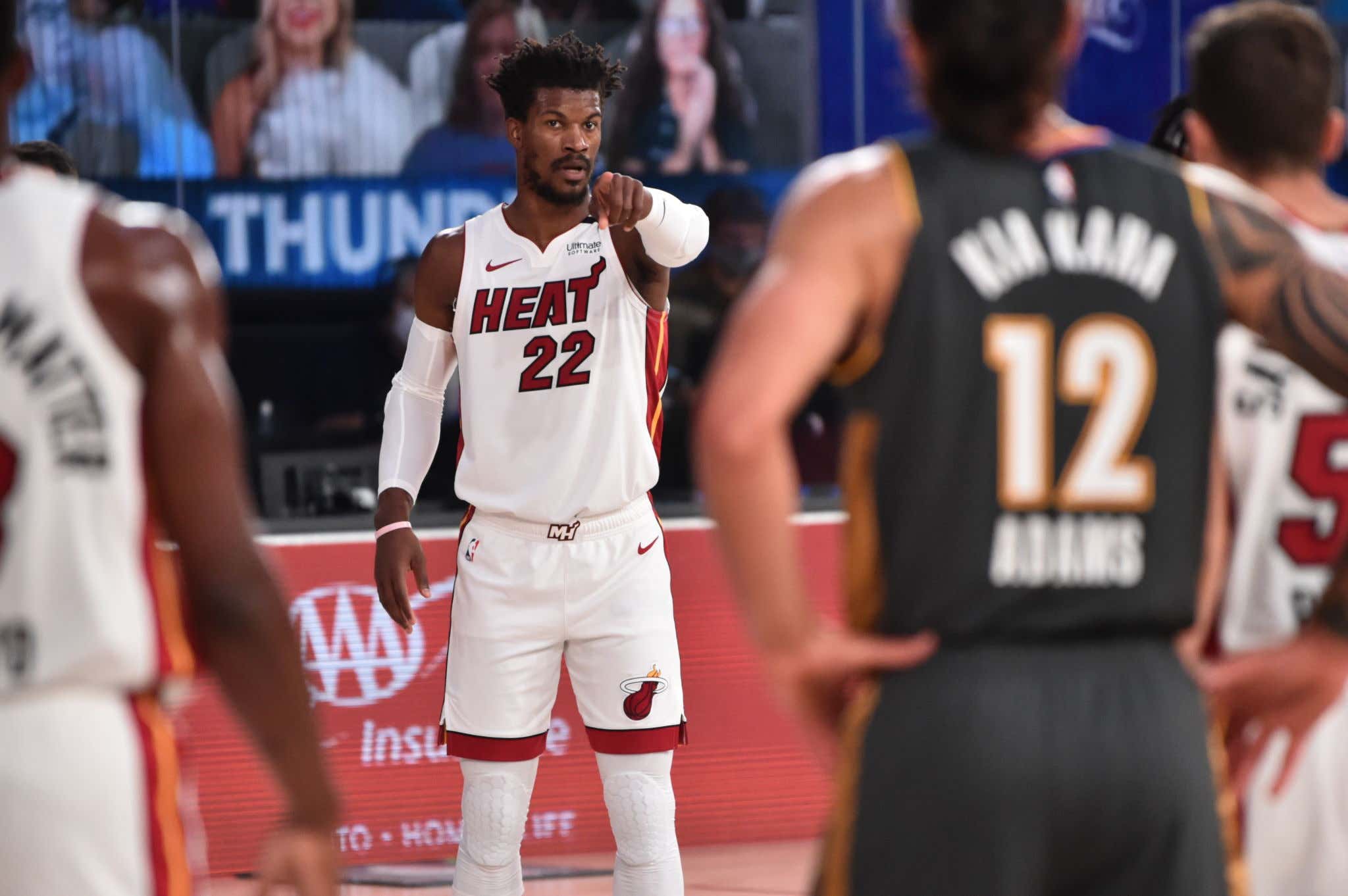 David Dow. Getty Images.
Good morning everybody and welcome back to another edition of Last Night In The NBA where we bring you up to speed on everything that went down from the day before in the Association. It was a fairly "light" day on Wednesday's slate with just four total games, so if you use this blog to kill time in the cubes this morning don't be mad at me, I don't make the schedule I just post the highlights. The good news is that three of the four games were decided by 4 points or less so once again the bubble delivered. As always if you didn't watch or got busy and missed the action, here's what happened.
Indiana Pacers (44-28) 108 vs Houston Rockets (44-27) 104
Rough news for Rockets fans once we learned that Russell Westbrook was hurt and may actually miss playoff games. Are the Rockets cursed with injury luck in the playoffs? Many people are asking. I'd say he's pretty important and this game was a great example why. The Rockets had James Harden, who continued to go nuts and pretty much destroy everything in his path with a cool 45/17/9 on 13-21 shooting and 7-14 from deep. I'd say he's ready
Here's the problem though and why having Westbrook is so important. Nobody else really showed up offensively. This is a team that shot 37/28% from the floor and had 20 TOs. You can't win with that. This game went back and forth pretty much all day, both teams having at least a 14 point lead, 11 lead changes and 7 ties. The only difference was down the stretch the Rockets had no other options than James Harden. They needed that secondary scorer to show up and it never really did.
The good news is Eric Gordon came back and for the most part looked OK after injuring his ankle earlier in the bubble. He had 13 points in 20 minutes which isn't terrible. He was clearly rusty shooting the ball and the 6 TOs aren't going to happen again, but it's just nice for the Rockets to have their 3rd guy back
This loss and the OKC win locked us into a HOU/OKC first round series which might stink for those fanbases but is great for the rest of us. I just hope everyone can be healthy for it.
For IND, no TJ Warren who they announced has plantar fasciitis which stinks. They also said he can play with it in the playoffs but that's still a tough blow for the 4/5 matchup. The good news is this team does have depth and is capable of getting production from a variety of different guys, just like they did in this game
If the bubble has tought me one thing about these Pacers, it's that they aren't going to fold just because a main rotation guy is out. They just find a way to win. It's not a fluke thing either, this is what they have been doing for the last two years now. It's their identity. It's why you can't count them out of any series. Do they have the most high end talent? No, but they have a good coach, they play hard, they are deep, and they aren't overly reliant on one guy. If Oladipo shows up and is healthy in the playoffs, this is a team that can win a series.
Toronto Raptors (52-19) 125 vs Philadelphia 76ers (42-30) 121
Great move by Nick Nurse to sit this one out so his assistant could get some shine on national tv. Yet another reason to love Nick Nurse. They also sat Ibaka and OG and for a while there it looked like the Raptors were going to get run out of the gym. They eventually found their footing, their offense came alive with 18 3PM and this was a battle pretty much all the way through. A total of 22 lead changes and 9 ties will do that to you. 
The one concerning thing I would say about the Raptors in the bubble so far is Siakam still doesn't look quite like the All Star Siakam we saw before the break. Just 5-14 in this one, his efficiency is going to have to get much better next week. On the positive side both Kyle Lowry and Chris Boucher were solid. Lowry had 19 first half points and Boucher had 19 off the bench on 7-12 shooting
For PHI, Embiid returned but played just 13 minutes and was 1-4 so he wasn't really a factor. As the Sixers try and figure out this new offense with no Ben Simmons, guys like Tobias Harris become so much more important. They are going to need more efficient performances like we got in this game that's for sure
22 points on 8-13 shooting with 6 rebounds and 5 assists, a great all around game from Harris. The rest of the starters were pretty "meg" for PHI, all the real production came from their bench. Guys like Korkmaz had it going from deep with 5 3PM
Raul Neto who will probably get more burn now that Simmons is out has really responded as of late, he had 17/5 off the bench
hell even Thybulle and Mike Scott gave this team something offensively. Sadly, with no Embiid on the floor and Horford only playing 18 minutes, the Sixers defense fell apart in the second half allowing 70 points. That's not good. The Pacers win locked in a BOS/PHI series which should be interesting, it feels like those two teams were on a crash course all year. 
Miami Heat (44-28) 115 vs Oklahoma City Thunder (44-27) 116
Another really really fun game. The Heat got out to the big lead early, leading by as much as 22 points. They were in control for 99.9% of this game. Guys like Tyler Herro and Duncan Robinson were unable to miss no matter where they shot it from
A combined 49 points from those two with a total of 8 3PM. This team got a total of 13 points from Bam and Jimmy Butler and were still able to build that huge lead. That's the beauty of having flame throwers on your roster. Jimmy Butler did have his moment though, making it clear that he was ready to fight anyone who disrespected his teammate. You see Chris Paul and Duncan Robinson got into it a little bit
and Jimmy Butler immediately covered for his guy and trucked CP3 into another universe. He had this to say afterwords
That's why guys love Jimmy Butler. He doesn't give a fuck who you are, you come at his guys he's going to do something about it no questions asked. That's a guy you want to go to war with. 
In the end, the Heat blew this game but it was whatever since their seeding was already locked in. Now we get a series of TJ Warren vs Jimmy Butler. Who could hate on that?
For OKC, there was that depth again. This team is so goddamn deep it's fairly ridiculous. They didn't even have Schroder in this game and it didn't matter. Great production from SGA
Chris Paul did Chris Paul things
and how about the play of Darius Bazley? What a steal this dude is turning into right before our eyes. He went like 22nd or 23rd in the draft and is starting to blossom into a real weapon. Another night of 20+ points, this Thunder team is loaded
Ultimately the game was decided by a Mike Muscala game winner, which I guarantee is not something you saw coming
As we saw in the bubble this Thunder team is for real and is going to be one tough ass out for the Rockets. I can't wait to see that series.
Los Angeles Clippers (48-23) 124 vs Denver Nuggets (46-26) 111
I found it pretty interesting that the Clippers played their main guys so much considering all we hear about is how they don't care about their seed. All the starters played at least 29 minutes, and then Lou Williams played 24 off the bench. We got the production you would expect with that workload, Kawhi and PG13 combined for 53
and Lou Will had 23 off the bench
The Clips really woke up offensively in the second half dropping a nice 74 points on 64/47% shooting, and then put the clamps on in the fourth holding the Nuggets to just 19 fourth quarter points. That pretty much sealed the deal. We still haven't even seen this team with Montrezl Harrell back in the lineup yet, but I think it's safe to say that the Clippers are going to be an issue in the playoffs. That LAC/DAL series should be fun I'd say.
For DEN, ultimately the loss didn't matter in terms of seed, they are still without their main guys, and really the fact that they can compete in these games despite missing so many key rotation players just shows how deep this roster is. We know about Jokic
and Jamal Murray
but the story in this game was Jerami Grant who had 25 off the bench
The Nuggets also told us that MPJ will stay in the starting lineup in the playoffs which makes sense because he's been awesome so far in the bubble
and who knows maybe they get crazy and keep playing Bol Bol. Why not? The Jazz don't want that Bol Bol smoke in a series. I just hope we see this team fully healthy in the playoffs because I truly think they can hang with anyone given how much talent is on this roster.
And that's it! You are now all caught up with everything that went down last night in the NBA. We're back today with a full slate of 7 games which is music to my ears. Let's have ourselves a Thursday!