Last Night In The NBA: Kyle Kuzma Would Shoot Over Jesus, The Suns Cannot Be Stopped, Jimmy Butler Handled TJ Warren And More!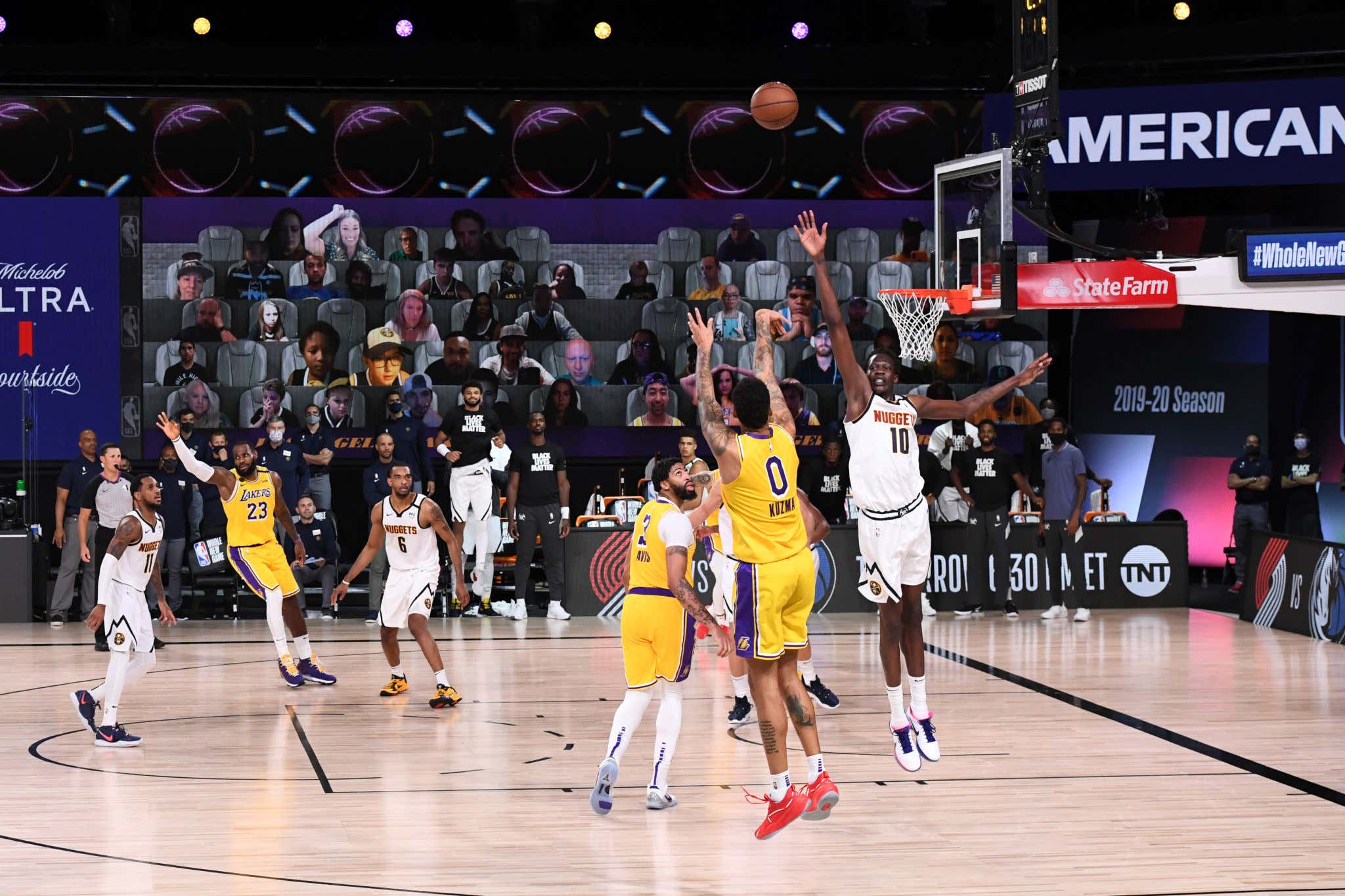 Garrett Ellwood. Getty Images.
Good morning everyone happy Tuesday and welcome back to another edition of Last Night In The NBA where we bring you up to speed on everything that went down from the day before in the Association. We had 5 more games on the Monday slate and it had a little bit of everything. Upsets, NBA beef, game winners, you name it we got it. We're less than a week away from the NBA playoffs officially being underway so these seeding games are more important than ever for a wide variety of teams. It's all about building momentum for Monday. As always if you got busy or decided to watch something else for some unknown reason, here's what happened.
Oklahoma City Thunder (43-27) 101 vs Phoenix Suns (32-39) 128
The Suns cannot be stopped. Doesn't matter who is on their schedule, the Suns are playing at such a dominant level right now for a minute there I really considered them fucking around and winning the whole damn thing. That may sound crazy to you, but at now 6-0 in the bubble they are playing the best basketball out of any team in Orlando. There is still some work to do for them to get into the play in game, but with how MEM looks I don't think that would surprise anyone.
In a game that had a weird start with Ayton showing up late since he missed his coronavirus test earlier in the day, once he got back and was on the floor this game started to turn. We already know what Devin Booker has been up to in Orlando, he's been destroying people from the jump, and this Suns team is so goddamn fun to watch
but there are other reasons the Suns look so good in the bubble. How about the emergence of Mikal Bridges on both ends of the floor
or what they've been able to get out of Cam Johnson
there's really no other way to say it. You blow out OKC, a team that had also been playing great in the bubble and has one of the most legit defenses in the league, that's impressive. Even if it wasn't against all their main dudes, 6-0 is 6-0 last time I checked,
For OKC, rough night for everyone not named Darius Bazley that's for sure
and the loss could end up being costly for OKC seeing as how they are now just 0.5 games behind UTA for that 5th seed. Tough to win against the hottest team in the NBA when you shoot 38/33% with 19 TOs and their defense didn't exactly show up. Allowing 42, 33 and 30 point quarters to end the game isn't exactly what OKC is all about. But again they were missing a ton of guys, Schroder, Gallo, Adams, and Roberson didn't play so I'm not sure what you expected.
Dallas Mavericks (43-30) 122 vs Utah Jazz (43-28) 114
Hey UTA….woof. No Donovan Mitchell but still, that's what you say when you see a team blow a 22 point lead. They've now lost three straight and that fourth quarter was pretty brutal. Only 14 points on 18/10% shooting! I didn't even know that was possible. Imagine making 21 3PM and only turning it over 12 times and still losing comfortably. That's rough. But hey, at least Jordan Clarkson did some things
Feels like the Jazz are going to be penciled into the 6 spot which would give us a DEN/UTA series. That's interesting because the Nuggets traded Donovan Mitchell to the Jazz on draft night. I'd watch that series.
For DAL, no Porzingis or Luka and yet they had no problem scoring. That's why this is the #1 offense in the entire league. They still had three starters with over 20
and even JJ Barea came out and dropped a career high 18/8
The Mavs really turned up the defense in that fourth quarter which is what allowed them to take control of this game and that is not exactly a sentence you often write when talking about this team. They do trail UTA by just 1 game for the 6 spot and that's probably pretty important for them because it would allow them to avoid LAC in the first round. I wonder how much that mean to them when it comes to playing Luka/Porzingis. I'd want to go for it if it were me.
Toronto Raptors (51-19) 114 vs Milwaukee Bucks (55-16) 106
No Giannis for MIL, but do they sneaky stink? I mean would you say they have even looked all that good in the bubble? Giannis has been a freak so I guess that's all that matters, but I'd be curious to know the worry level of Bucks fans. Are they just going with the routine that none of these games matter so it's no big deal? Because on the surface, the Bucks haven't exactly looked all that great. They struggled to shoot at just 39/32% with 19 TOs, and outside of Middleton and Korver nobody else really showed up offensively
The good news is Giannis does exist and having him in the lineup changes pretty much everything for this team. But you do hope the supporting cast shows up starting next week, because they really haven't so far in the bubble.
For TOR, they've now beaten the #1 seed in both conferences. Not bad! People will continue to sleep on them, probably because the Celts tore them a new asshole, but this team is deep and this team is going to be a problem in the playoffs. 
It's not like TOR wasn't without guys either. Neither Lowry or FVV played in this game so MIL doesn't really have the Giannis excuse. Guys like Norman Powell gave them the business
and it just goes to show how deep this roster is. The Bucks are supposed to have one of the best defensive units on all of basketball and everyone but Giannis played. The Raptors dropped 67 points in the first half and never really looked back.
Indiana Pacers (43-28) 92 vs Miami Heat (44-27) 114
Now this game should have been circled for you because Jimmy Butler and TJ Warren hate each other's guts. Nobody has been able to stop Warren so far in the bubble and you knew Jimmy Butler was going to take that personally. Safe to say he won that battle
He may have shot like shit but he still went for 19/11/5 and completely took Warren out of the game. There was no way Butler was going to lose this game or let Warren go off, and he got just enough complimentary offense to blow this team out
It's looking more and more like this could be a potential playoff series and given the beef between Butler/Warren, we should all be rooting for that. I'm pretty sure they play again too before it's all said and done and I imagine it will be more of the same.
For IND, a tough shooting night at just 39/28%, pretty much everyone struggled. That's what happens against that MIA zone if you aren't ready for it. Warren finished 5-14, Brogdon 4-12, Turner 3-7 and they got practically nothing from their bench. You add all that up and that's how you lose by 22 points. Their largest lead was 3 and there were only 2 lead changes, so MIA got in that ass pretty much from the jump
Denver Nuggets (46-25) 121 vs Los Angeles Lakers (52-18) 124
This game was nuts so I hoped you stayed up for it. Really a blown opportunity for the Nuggets, all they had to do was make their late fourth quarter FTs. They didn't, and we all know what then Basketball Gods do when you fuck that up. On a night where both LeBron and AD were great
neither was the hero of this game. That would be Kyle Kuzma. No seriously, it was Kyle Kuzma, he was fantastic
I thought he looked aggressive all night, he was quick off the catch and really attacked the rim. That's the version of Kuzma this team needs as their #3 guy. Then in the final seconds when I think we all were under the impression LeBron would take the last shot, the Lakers ran a beautiful ATO that got Kuzma a wide open look from the corner to win it and he cashed it. Sort of weird to have that moment with no fans, but it was a beautiful play and better execution.
He said after the game he would shoot the shot even if Jesus was in front of him which is weird because Jesus was like 5'5. Big deal. 
Either way, great shot by Kuzma and that can only help his confidence moving forward.
For DEN, a tough one to blow if you were seriously trying to catch the Clippers for the 2 seed. Granted they benched all their 2nd and 3rd string guys for the entire fourth quarter so it was actually impressive they were even in a position to win this game
The Nuggets are another one of those teams that is deep as hell, but late missed FTs by both Morris and Dozier proved to be the kiss of death. One of those games you imagine that if the Nuggets played their starters in the fourth they probably win, but my guess is they prefer health opposed to winning a seeding game. Especially after the OT the other night. Tough loss though.
And that's it! You are now all caught up with everything that went down last night in the NBA. We're back today with 7 total games which means it's another long day of basketball on deck. Let's have a great Tuesday!