White Sox Dave Calling Tom Brady the Most Overrated Athlete Ever is the Worst Take in Take History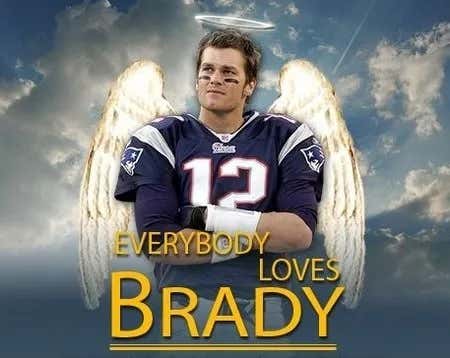 I've been at Barstool longer than anyone besides Dave Portnoy. And as such, I think I've proven myself to be a team player who is loathe to call out my colleagues. But this is one of those rare occasions when I'm left with no choice. 
The other day The Dog Walk guys did a podcast drafting their overrated actors, foods, restaurants, athletes and musical acts.
For the most part, I agreed with their choices. Particularly Five Guys, which opened near me and I went once because we'd had a blizzard and were out of power in the house. That was four years ago. And I didn't bother grabbing a menu because I haven't been back. Give me some ground beef, rolls and my gas grill and I'll cook circles around their entire menu. I was the biggest letdown from a supposedly life-changing chain restaurant since Krispy Kreme landed in my area with a thud and then quickly went out of business. But I digress. 
My issue is with White Sox Dave drafting Tom Brady as his No. 1 all time overrated athlete in any sport. A take so utterly wrong that all other wrong takes, past, present and future just became more correct, just because this one exists. To be clear, my beef is not personal. I don't have personal beefs over the quarterback of the Tampa Bay Bucs. But if he was still my quarterback, it would be, I assure you. When the GOAT was still in New England, the last man who disparaged him in my presence got a quick introduction to George Michael [holds up right fist] and Andrew Ridgely [holds up left fist] and found out the hard way that when they get together, it's Wham! for everybody. 
So just to refute WSD's points one at a time, without exaggerating his arguments or twisting his words in any way, here are his points with my rebuttals. 
Argument: Brady gets statistically worse in the postseason, while Aaron Rodgers is better.
This one, frankly, is easy. Because I've addressed it twice this offseason already. Here are their postseason numbers over the last decade:
And what I wrote previously about them:
From the years 2010-19:

Brady and Rodgers TDs per game are almost identical.
Brady has more interceptions, but has thrown for an average of 45.7 more yards.
Rodgers' passer rating and completion % are higher, but the differences are negligible.
Brady has been asked to carry his team far more, with more attempts, completions and yards.
Rodgers has run more but taken far more sacks.
They have the same number of losses. Brady has 60% more wins. 
Rodgers won a Super Bowl at the start of the decade. Brady went to eight straight championship games and five Super Bowls.
In those Super Bowls, Brady led a go ahead touchdown drive in the 4th quarter or overtime in all five. One was sudden death, and defense blew the lead in two of the other four.
In one of those losses, he threw for 505 yards, three touchdowns and no interceptions as his defense allowed scores on eight of their opponent's 10 possessions and two drives of over 7:00 (basically a quarter of the game).
Brady won three rings, which is as many as the other four names in this ranking combined.

And it's worth noting that during this period, Rodgers was throwing to Greg Jennings, Jordy Nelson, Randall Cobb and Davante Adams, who combined for seven Pro Bowl appearances. While Brady was fighting for championships by getting 128 yards out of Chris Hogan, 151 out of Danny Amendola and 141 out of Julian Edelman. 
Now, a Brady hater might point out that I'm just comparing the last decade and not Brady's first 10 years in the league. That would be the period in which he won his first 10 postseason games (a record), four AFC championships and three rings. In other words, the most overrated athlete in history has had two Hall of Fame careers. But fine. Just to play the game, here are their career totals:
Aside from Brady throwing for more yards per game, taking fewer sacks and not rushing for as many yards, you can barely shine a laser pointer between their averages. Other than the fact Brady has 37.5% more losses than Rodgers and 300% more wins. 
Argument: Brady has benefited from having a great coach and great teams around him.
I'll concede the great coach. No argument there. And yes, the defenses from 2001, '03, '04 and '18 were superlative. But take a look as some of the other teams he took to championship games and Super Bowls. The 2006 squad had Reche Caldwell as a leading receiver. No. 2 was Ben Watson. No. 3 was a running back. In the AFC title game at Indy, the defense couldn't protect a 21-3 lead. Still, Brady carried that team to 34 points. And not to speak ill of the recently deceased, but if Caldwell hadn't dropped a sure touchdown late in the game, they would've won and crushed the Bears (sorry, Dog Walk guys) for their fourth ring. 
I'll mention the 2011 team, that he carried to the Super Bowl despite a defense that gave up the second most yards in the league. Or the 2013 D that gave up the seventh most and allowed Peyton Manning to pitch a perfect game in the AFCCG at Denver. Or the offensive life two years later, again at Denver, that was so decimated by injuries that Brady reportedly took more hits in that game than any QB since 1970. Still, he willed them to three red zone trips in the 4th quarter and was a failed two-point conversion (necessitated by a missed extra point earlier) from forcing the game into overtime. 
And these are just examples of times he didn't win a ring. Not the six times that he did.
Argument: Brady lucked out because the Tuck Rule was a fumble. 
The Tuck Rule was called correctly. And called consistent with the way it had been called that whole season. Meaning, before the Raiders went to the Rules Committee and got it changed. The same exact call went against the Patriots earlier in the season, when Vinny Testaverde of the Jets let go of the ball and it was ruled an incompletion. No one remembers it because that was the game when Mo Lewis knocked Drew Bledsoe out of the lineup and Brady into his destiny. As a matter of fact, when Walt Coleman went under the hood to review it, according to legend the first words out of his mouth on the first replay was "Oh, fuck." Because he knew he'd blown the call. Oh, and as a fun bar bet, try to guess how many passing yards Brady threw for in the shaken up snow globe that was that night. The answer is 312. Almost twice as many as 2002 MVP Rich Gannon had.
Argument: Brady lucked out because Marshawn Lynch didn't get the ball on the 1.
I'm not going to defend Pete Carroll. In fact, I still owe him a nice fruit basket all these years later. I'm just saying that to reduce that game to one play and one decision is to overlook a few things. First of all, that if there was a lucky quarterback in that game, it's Russell Wilson, who was the recipient of the second luckiest catch in Super Bowl history, the bouncing ball that a rolling Jermaine Kearse made flat on his back after it went off a defender, off his knee, off his shoulder, in one nostril and out the other, but he still somehow held onto. Mostly though, it's ignoring the fact that, facing the best defense of the last 10 years in the league, Brady threw four touchdowns to four different receivers and overcame a 10-point 4th quarter deficit. That same D the year before held the most prolific offense in NFL history to eight points. 
Argument: Brady lucked out when Dee Ford lined up offside.
Admittedly, that was a nice break, to say the least. But to call the negated interception a Pick-6 is objectively wrong. And it's disingenuous to not mention the pass hit the best tight end of all time right in the hands. 
And it wasn't luck that caused Brady to go right back to Gronk for a 25 yards on the very next snap to set up the go-ahead touchdown. It wasn't luck that made him throw for 180 yards in the 4th quarter and overtime, on the road in one of the toughest stadiums in the league. And it wasn't luck that helped him win the game when the defense that was supposedly carrying him to all those championships blew leads of 14-0, 17-7, 24-21 and 31-28 with just 39 goddamned seconds left.
So, while I respect WS Dave's passion and - while I'm being honest - the hatred, because it's really been fun to push back against all these years, you can call Tom Brady whatever you want. But just don't call him lucky. All that winning can't just be good fortune. As Matt Damon put it in "Rounders," "The same guys make it to the final table at the World Series of Poker every year. What do you think, they're the luckiest guys in Vegas?" 
Still, great show, Dog Walk guys. I'm a fan.