Cubs Captain Anthony Rizzo Had Patients At Lurie's Children Hospital Draw Signs For The Entire Team That Will Hang In The Wrigley Bleachers Today And Hopefully All Season. Let's Grade Them.
So friend of the program, Cubs captain, all-star first baseman, and fellow paisan Anthony Rizzo called in his secret weapons for opening day. He hit up his friends at Lurie's Children Cancer Hospital here in Chicago to help pump up the team. And boy did they deliver. 
(For those unfamiliar, Lurie Childrens is homebase for The Rizzo Family Foundation and where they've done incredible work along with the Norwestern Medical staff for years now helping kids and their families battle cancer.)
They quickly got to work pumping out individual signs for each member of the team. 
No easy feat since there are a lot of new fresh faces. 
The plan is to hang them out in the centerfield bleachers for tonight's game. Hopefully they stay there much longer.
Let's take a look at each sign and grade them, shall we?
This guy's work ethic! Three grade-A signs. Very well done. Off to a hot start.
Clear, concise, and to the point. I like it. 10
The color scheme of this one really does it for me here. 10
Emphasis on the fantastic last name was definitely the way to go and the artist came through. A+
Love this one. Great work Sadie! A+
Another keeper. Look at that smile. 10
Rowan Wick getting lots of love. Great job adding the flair on this one. Definitely plays to the judges. 10
Pitch a no hitter. Keep it simple. Great point. A+
Would a shout out to Forward Hospitality Group on this sign won this artist some bonus points from the judges? Absolutely, but it's still a fantastic sign. A+
Can always use a good reminder. Right Fielder. I like that. 10
Whoa. We've got Clark, Optimus Prime, and a Cubs version of Optimus Prime going on on this one. We might have a winner. 10
I spoke too soon. Star Wars and a riddle? Somebody told this artist the judges are suckers for both.
Another great one. 10
Lotts shoes there Josh btw.
This artist has clearly seen one of the 100 new Ian Happ advertisements around town or on Instagram. Guessing this is in reference to the khaki company he endorses now. Well played. A+
Love it. A W. 10
Very Patriotic sign to match Kyle Ryan's Country Club flag shorts. Well done. 10
Lot of work went into this one with the scrap booking method. The judges definitely take notice. That's a 10.
Hustle, Hit, Never Quit. Love it. 10
Trying not to be too distracted from the great flow in this one, we've got kinda a Grateful Dead thing going on here with the tie dye water colors. Love it. 10
More great attention to detail. These artists are incredible. A+
Bote's sign with the pinstripes. Also a sucker for pinstripes. A+
Lots of K's, looking and swinging. Love this. 10
Are those real daisies? Amazing. Is there an inside nickname here we're unaware of? Regardless, 10.
#MEGASTRONG. 10
Danny Disco hanging in the club. Don't sleep on this sign's carved edges. Major craftsmanship. 10
They're right. Pitches never give up. 10
Ignore the hair and focus on the sign. Great marquee! 10
Let your soul glow Albert. 10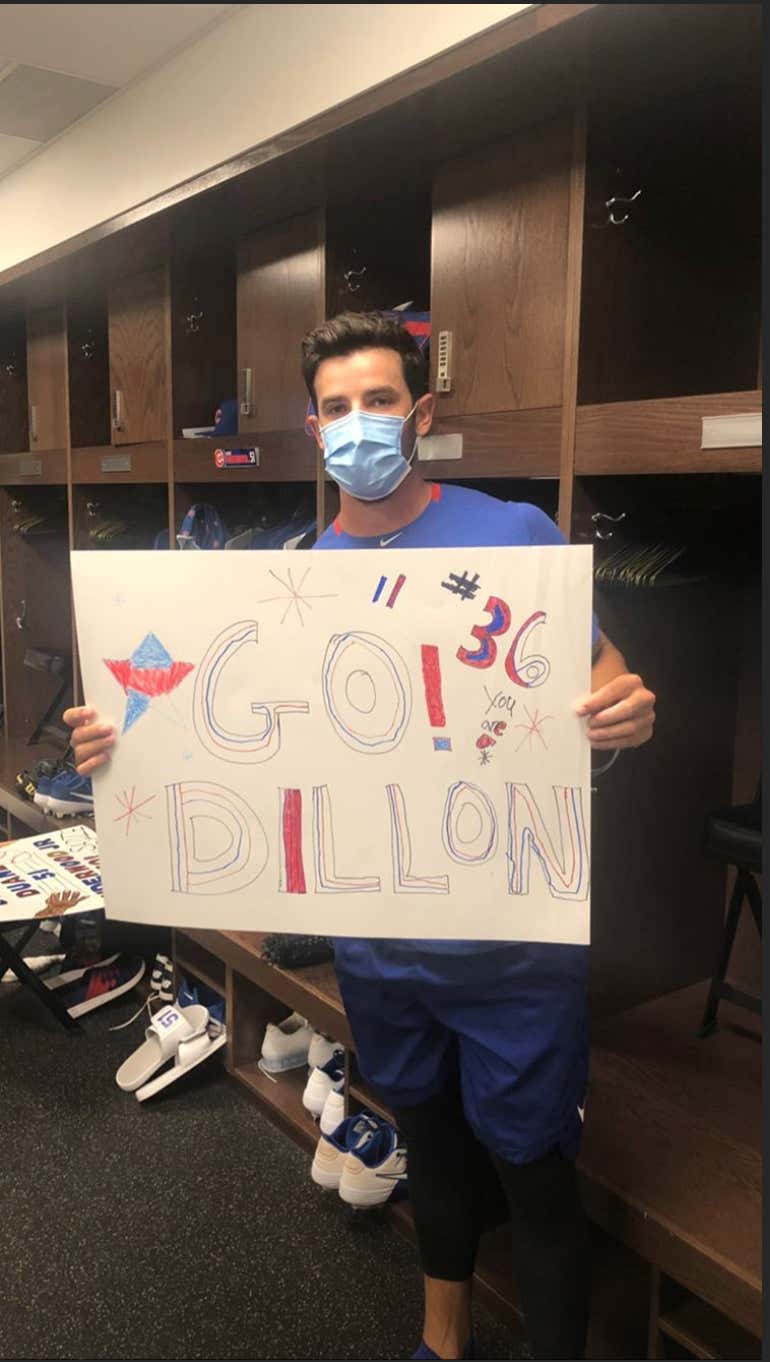 Is this a Paul Mitchell ad? Another great sign. A+
Lot of hard work went into this one. 10
Ain't that the truth. 
How did Carl manage to sneak his sign in? Great work here, 10
Kris clean your locker(s) up man, it's a pig-stye. Can't take away from this marvelous sign though. 10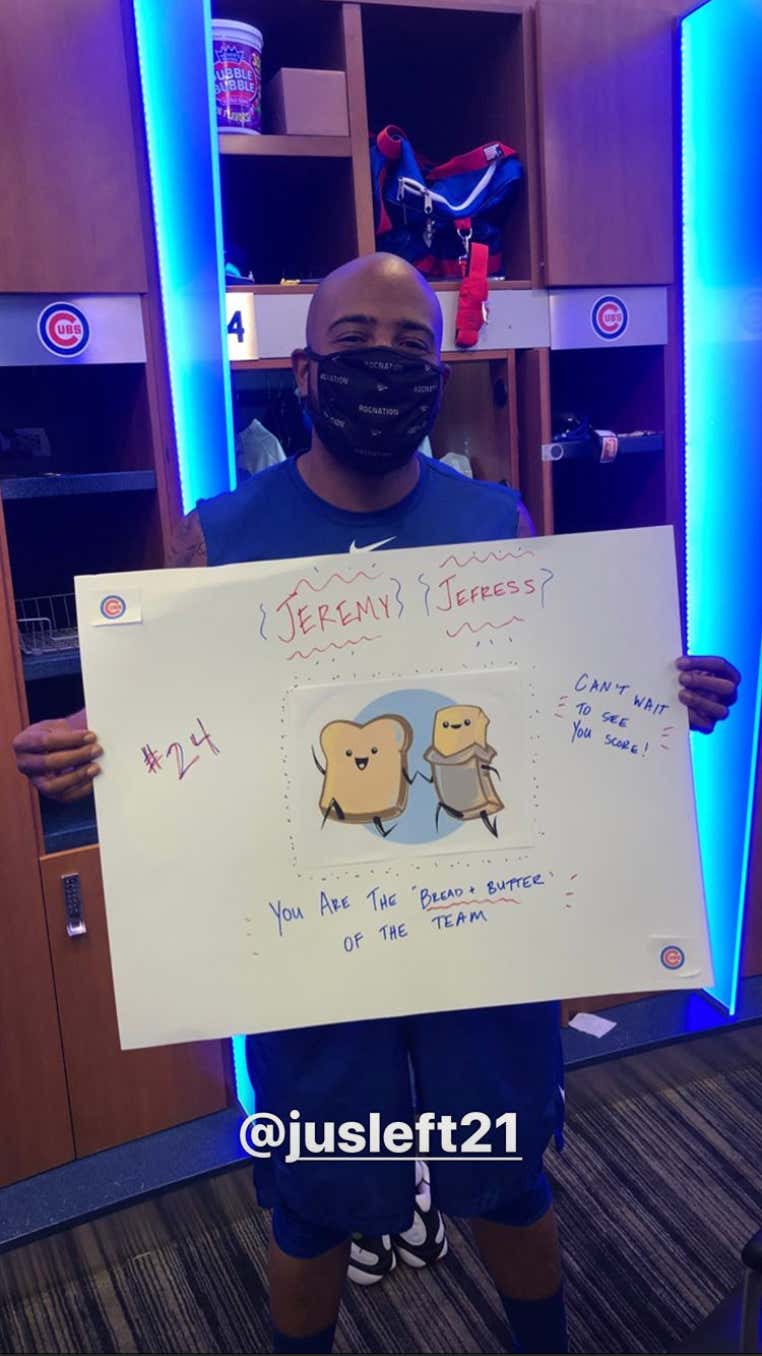 Damn, bread AND the butter of the team? Lot of pressure Jeremy. Sign's a 10
Smiley Jon Lester holding a fire sign. A+
We might have the winner. 10!
10
10!
Amazing. 10!
Here's the artist from earlier's work. Perfect in every regard. 10
If I didn't know any better I'd say that's the owl from the tootsie pop commercials. Love this message too. Teach them Kyle come on!
A+
Not sure how he's managing to hold on to two signs this hot. 20!
PREACH! Even though he doesn't want to tarnish his 0.00 ERA hopefully we get to see him toe the rubber again. Great signs guys. 20!
Haha, "We love you Rizzo but you are not my hero, my sister is!" Adorable x infinity. 20!
"What do you call a dinosaur fart? A blast from the past." 10! 
Love this kid.
10 again!
Amazing job here. 10
Love the message. A ticket we can depend on. 10! 
There you have it. These were all the winners. Good luck to all the other teams trying to come into Wrigley to compete with this. Pray for the Brewers.
The kids also put together a nice little surprise for Anthony. 
Warning, don't watch this if you don't have tissues handy.
Some things man. 
Go Cubs! Get on the bus!
p.s. - The White Sox did something similar by selling 1,500 cardboard cutout spots for fans to buy and allowing this guy to buy 100 of them to print of himself.