One Year Ago Kemba Walker Became A Celtic And It's Been Even Better Than I Imagined
Omar Rawlings. Getty Images.
Man, what a year it has been. Even though we all knew well before Woj's tweet that Kemba was going to be a Celtic, today was when it became "official". If you honestly think Ainge wasn't tampering long before that tweet I don't know what to tell you. It's why I thought it was very lame how they got so butthurt over the Sixers tampering with Horford. They were doing the same shit and got their guy. 
It's important to remember the context around that tweet as well. Remember, about an hour earlier we got this
and a few hours later got this bad boy
For a Celtics fan, it was a very emotional day. Instantly there was a tremendous amount of pressure for Kemba Walker to do a couple things for this franchise
1. Replace the All Star/All NBA level point guard production from Kyrie Irving
2. Fix their chemistry issues
3. How would he handle not being a #1 option like he was in CHA
4. Be a positive factor in a deep playoff run
While #4 is still TBD, I feel confident in saying that Kemba Walker has answered each of those previous questions swimmingly. Let's start with #1
Replace Kyrie's Production
It was a disaster, but there's no arguing that Kyrie's 2018-19 season at least from an offensive production standpoint was pretty fucking good. So how has Kemba's season stacked up?
There are two ways to look at this. From a straight up numbers standpoint, pretty damn close. Kemba was an All Star and has largely matched his scoring. The only main difference is the efficiency. He's not ever going to live in Kyrie's efficiency range in my opinion, but that's OK. I think it was a fair concern heading into the year how the defense would look, and largely it's the same shit. Not great, but there are moments where it's passable. 
But this is just half the story. You watch them play and it's pretty clear the difference Kemba has made in this offense. Last year everyone stood around and watched Kyrie dribble for 20 seconds and everything got stagnant. They were easy to defend and it wasn't an accident that the two Jays didn't really take a leap. For example, last season with Kyrie on the floor the Celts had a 113 Ortg. This season, with Kemba on the floor their rating jumped to 116. Part of that is Kemba, but part of that is how the players react to playing with Kemba as opposed to Kyrie. He's allowed the two Jays to flourish and while it may not see like a lot, his 2 fewer FGA makes a world of difference. Kyrie was never comfortable with someone else being the star, Kemba almost welcomes it.
That brings us to #2.
Fixing the chemistry
This might be the biggest 180 compared to last season and there is no doubt Kemba plays a significant role. We all remember Team USA right? While the internet was getting their jokes off because they sort of stunk, but we knew the only thing that mattered was the chemistry that was building between Kemba/Jaylen/Jayson/Smart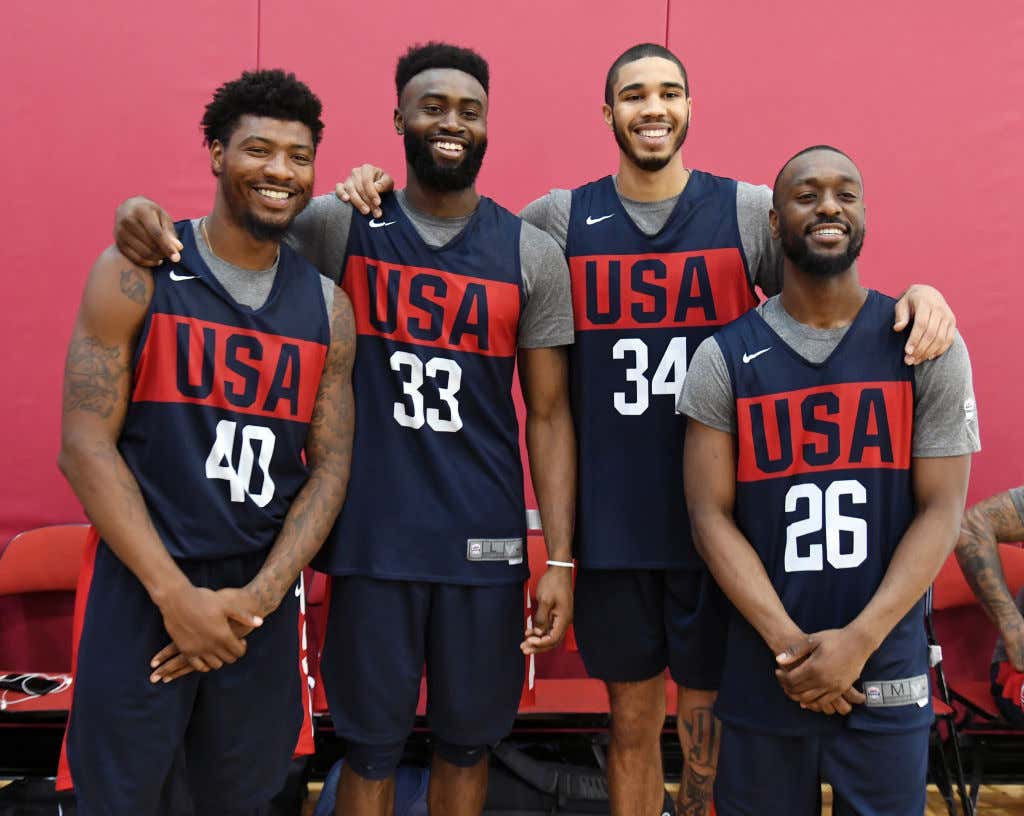 Getty Images.
Part of the chemistry turnaround was the departure of unhappy guys like Kyrie, Terry, and Mook. Part of it was the fact that Gordon Hayward was actually good again so nobody resented him getting minutes. But I cannot understate the breath of fresh air that Kemba brought. His smile basically changed everything. The positivity he brought since Day 1 changed the entire vibe of this team. He was happy to be here (getting the bag helps), he was excited for his teammates, and it seemed like he was thankful to finally be on a team that had a real shot. Everything we hoped Kemba would do in this department has happened in spades.
Not being a #1 option
The haters, of which there are many, wouldn't stop talking about how Kemba only put up big numbers in CHA because he was the only option. That once he played with other legit options he wouldn't be as effective. Yes, it's true his scoring dropped from 25.6 to 21.2, but his shots dropped from 20.5 to 16.6. I think we all take that considering the fact that this also happened
How would he respond not being the #1 option? Oh I don't know, something tells me that being the only team in the league with three 20 point scorers and a 4th option that's putting up 17 a game on 50% shooting is pretty fucking good. There are games where Kemba assumes his go to role and carries them, and then other nights where he's perfectly comfortable with someone else being "the guy". He put up those CHA numbers because he HAD to. There was no one else. Now, in his first opportunity to play with a shit ton of talent, Kemba fit in perfectly. No drama, no bullshit, no throwing teammates under the bus. 
Be a positive playoff factor
If we're going to be honest, this is really the only thing that truly matters. It's the biggest question the Celtics face in Orlando. What version of Kemba are they going to get? We all remember what things looked like when Isaiah struggled vs ATL and Kyrie quit against MIL. This team is done if they don't get the best version of Kemba possible. If he's inefficient, if he has no quickness or burst due to his knee, it changes everything. Having to respect Kemba as an offensive threat is what forces teams to not overplay Tatum.
Kemba might have the most pressure of anyone on the roster when it comes to this postseason. Especially when you factor in how the Kyrie era ended. Time will tell if Kemba is just a regular season stud or if that can translate to the playoffs. I throw out whatever he did in CHA because that roster was dogshit. Well now he's on a team loaded with talent that people consider a contender. It's going to be fascinating to see how it all plays out.
But if there's one thing I know, it's that Year 1 of Kemba has been even better than I imagined it would be on this day last year. Up until now everything I wanted to see from Kemba as a Celtic we've seen come to fruition. Not just in terms of individual success but a team success standpoint as well. 
I don't want to overreact and say Kemba singlehandedly saved the Celtics, but he kinda did.