The Madden 20 Chronicles Volume 1: Is A Game Of Madden Worth Bringing Up My Mother?
If there's one thing I've always enjoyed participating in, it's a good old fashioned online Madden Franchise League. I've been playing in these leagues since I was in junior high, and the leagues usually consist of me and 3-5 friends. We spend all night drafting a 53 person roster, argue about trades over a group chat, and talk shit throughout the season until there is a champion. I was a beast on Madden 12 and 13 and would win back to back championships like Dr. Disrespect. Even though EA Sports has made the gameplay quality worse and worse each year, I still continue to play franchise mode online. 
The biggest league I've played in was 8 people, but I've always wanted to play in a 32 person league. Well, my wish came true last weekend when I got a text from a friend from high school asking me if I wanted to fill up his 32 person league. I said, "Hell yeah!" This wasn't your ordinary "just for fun" league. This was a gambling league. It costs $10 to join, the winner gets around $200, and you can win money for leading the league in TD's, sacks, etc. I threw in my $10, joined the league, and have been 0-3 since. I quickly realized that I'm not playing some talented gamers, but I'm playing a bunch of 14-21 year old kids that live in their Mom's house and spend their days on YouTube to learn how to cheat the game so they can't lose.
I only know like 3 people in this league so my motivation to talk shit to my opponents each game is very high. Last night I played against an opponent who had a headset and it's safe to say he was not a fan of me. I was sucking so bad, that he begged me to quit in the 1st half. I took offense to that, so I continued to talk shit to his face ears the rest of the game just to piss him off. As a result of my professional sportsmanship, this heated conversation was taken to our group chat where everyone got an opportunity to speak. Thus, the Madden 20 Chronicles were created. 
(Authors note) With 1 minute and 20 seconds left in the 1st half, I was down 14-7. EA Sports lagged us out of the game which forced us to restart. To make the 2nd game fair, we got the score back to 14-7, and played from there. My opponent (Arizona Cardinals) only wanted to play 1 half because he was a whiny little bitch, but I wanted to get my money's worth and play the full game. 
Towards the end of the game when I was down 38-17 or whatever, I told my opponent with 10 seconds left "If you can score 1 more TD on me, I'll send you $10". He would quickly score and that pissed me off. Rather than send him $10 that he'll probably spend on a virtual pack, I told him to suck my cock instead.  
Now this is where we draw the line. I'm fine with talking shit and bringing up previous plays and records, but if you're going to bring in personal stuff like my Mom into this, then you're just an asshole that plays video games 24/7 and there's nothing you can do to change about it.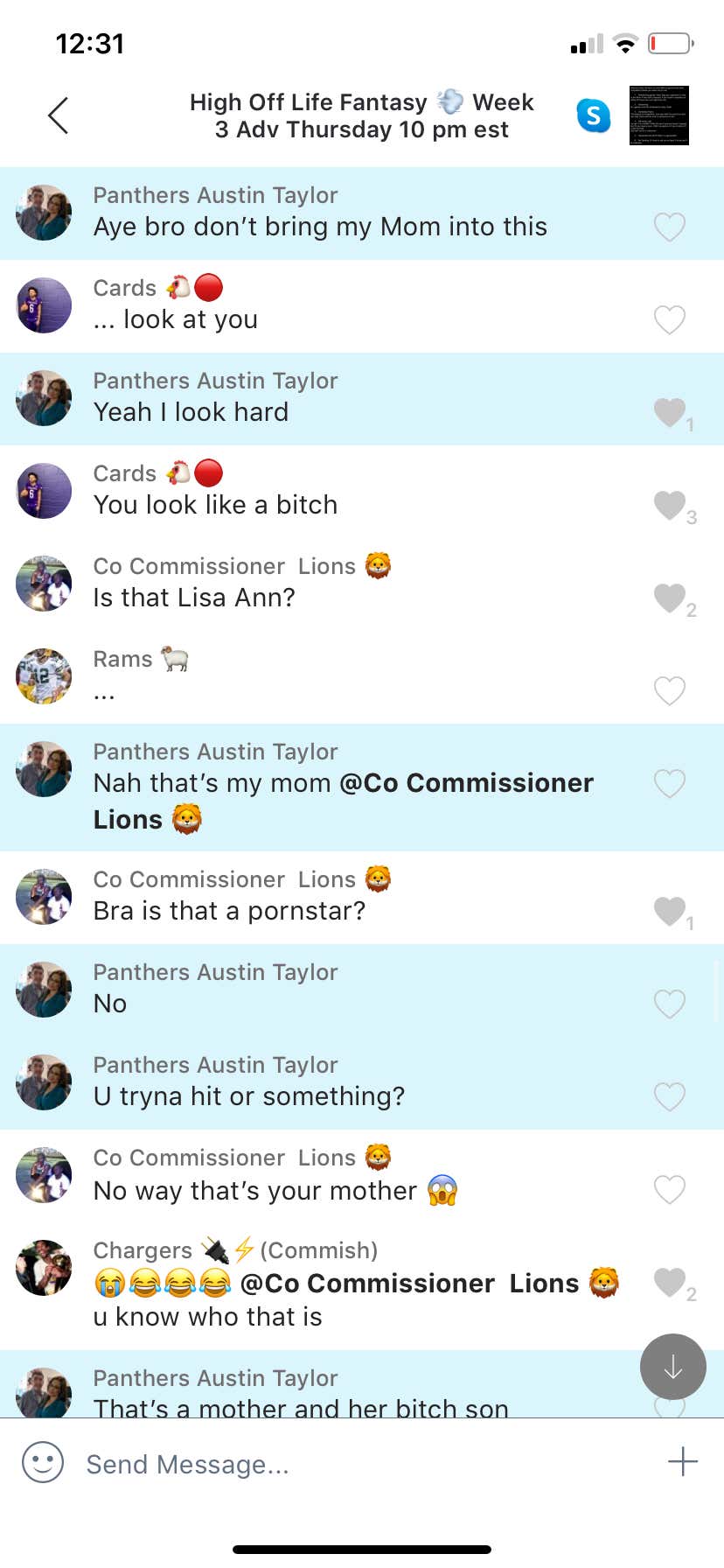 "That's that one bitch, I forget her name". Couldn't have just said Mrs. Taylor?? 
Though I may look like a duck, I can assure you I don't have duck lips from kissing my Mom. That would mean almost everyone in this world would have duck lips from kissing their mother. So what if that means I kissed 400 penises? That's 400 more than you!
This is the best $10 I've spent in my life. There's truly nothing like an online Madden league, especially when money is on the line. Stay tuned for Volume 2 of the Madden Chronicles as I take on the Texans next week!