This Guy's Quiz Tinder Pickup Should Be Corny As Hell But The Punchline Is Perfect
Looks like a standard lame-ass pickup attempt but comes full circle to get her with no choice but admit to wanting the D. Based off the tiny profile picture Allison seems more like a Jezebel emailer than the type who'd take kindly to that kind of entrapment but even she's got to let out a "Wow." Good thing Tinder messages are binding contracts, once she goes with D, she's locked in.
And now it's time to kick your shoes off for our late Friday tradition of the week in Tinder screencaps. Funny, sexy, and an NSFW one down bottom. Tweet me yours if you've got em and thanks to all those who have.
Redefining aggressiveness here. But hey, Cyberpunk McLovin is putting it all out there so here's hoping he or she gets what he or she wants. (via @nickhayes11)
(via Danny)
Weird name chicks doing weird name chick replies after relative genius. Classic Gwynnetha.
Wasn't 100% sold until that last line but I'm all in now. Brilliant marketing here, Hartford Private Glory Hole must be swimming in dicks through holes in the wall now. (via @mattleblanc1991)
If she is joking, she needs to do more crunches. If she's not joking, she should do more crunches after a trip to ol' Dr. Scholl's.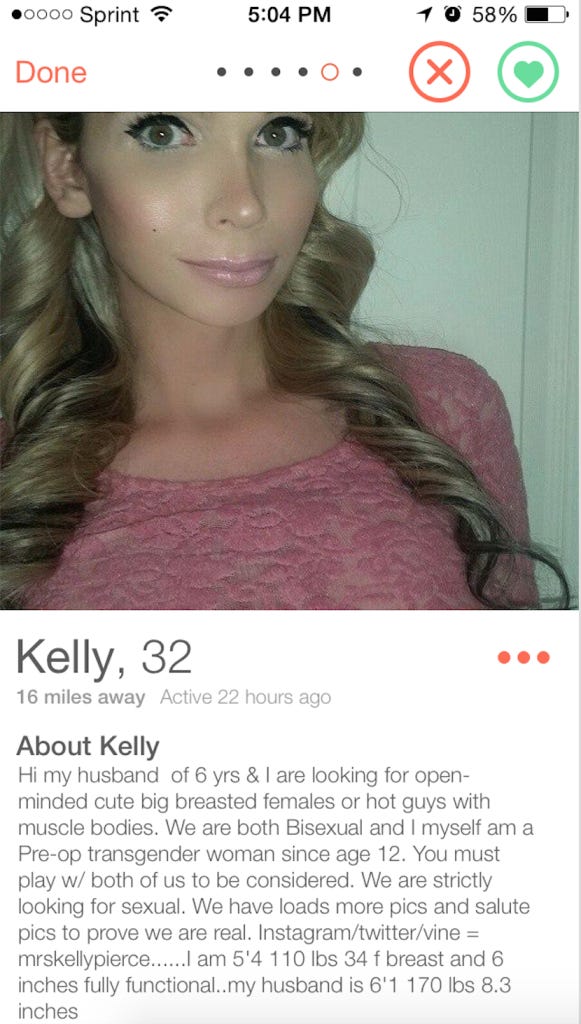 Hey have you met my friend Cyberpunk McLovin? (via Terry)
Finding out which one she is makes a BIG difference on how bad I feel for posting this screenshot (via @factsmarin)
Well I guess this one is only hot if you're not black or Puerto Rican. (via @moy_brian)
And to close it all out, here's some teacher who whipped a titty out in a NSFW moment..they've grown on me the more I've looked at them so I'd give them an A-. Swipe safely, kids.