These Dudes Have Some Unreal Head Game
Yo. Yooooooooo. What a rally. What a couple of sick bastards we've got on our hands here. Well, I guess sick bastards we've got on our heads here. But you know what I'm saying. Good lord that was fucking dirty. 
I mean when my man hopped on on the table to tee up that slam?
I got up out of my seat and I applauded until the cows came home. Not only one of the wildest plays I've seen in headis history, but one of the wildest plays I've seen in sports across the board. That right there is an athlete. To have the athletic ability to even hop on the table so quickly to pull that move off is one thing, but it's the instinct to not even have to think about making that play that really separates this legend from the rest of the pack. That's how you know you're in an elite category. When the game just comes so naturally to you that the extraordinary becomes routine. 
And then when ol' boy followed that up with a perfectly executed swan dive, only to end up immediately losing the point after?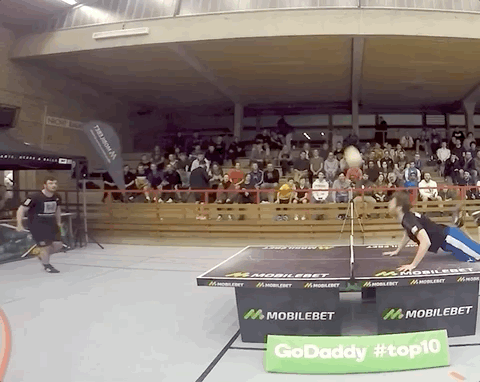 My heart broke for that man. It was such a miraculous save. Such a clutch shot. Only to be followed up immediately by a dagger to the chest. But that's just sports, baby. That's why we love them so much. Because you never know what's going to happen. All you can hope for is to witness a little bit of greatness and these two legends provided it to us in spades.