RICK HAHN DID IT AGAIN!!! White Sox Draft Jared Kelley 47th Overall
MASTERFUL work by the White Sox here. A lot of mocks had the Sox taking Jared Kelley at 11th overall. Even more mock drafts had him going in the top 15 picks. MLB Pipeline had him rated the #12 overall prospect in this year's draft: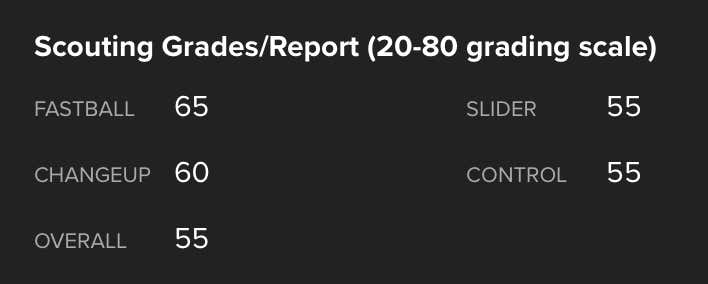 He fell due to signability issues, as he's a hard Texas commit and teams are kinda scared to draft prep talent this year. In any other year, he's going top 10 with this kinda shit:
97+ MPH with life on life on life and an EASY delivery. 
Not too much effort involved in his arm action and delivery, which will lead to solid or better command and hopefully the ability to be a 200+ IP work horse.  But my favorite part about him? He has has a faaaaddddinnnnnngggg changeup as a HS:
It's not very often at all a college pitcher can work off a changeup, let alone a HS kid. They just don't need to, as they can rely on blowing fastballs by hitters or wiping them out with a breaking pitch. That, and a changeup is hard to develop as it's a feel pitch. It's just awkward for a lot of pitcher's to grip as you're not using your index and middle fingers to grip the pitch, more your middle, ring and pinky fingers. But Kelley has it down already and can focus on improving a slider or hook to complement his already awesome 2 pitch arsenal. 
Now there's still a chance he doesn't sign. If the Sox took him they do think they'll be able to work out a deal, but it's not a guarantee. Prior to going 47th overall, his rumored number was $3MM to forego his UT commitment and sign with whomever drafted him.
This is where some math checks in: 
- White Sox bonus pool ~$7.75MM
- 11th overall slot is ~$4.55MM
I'm guessing Crochet signs for around $3.75MM which leaves the Sox with about $4MM to play with. Meet Kelley's $3MM number and then you have $1MM to sign players with in rounds 3-5. Boom, done. That and teams know what their chances of signing a player are prior to selecting him. If the White Sox don't end up signing him, I'd be very surprised. 
Kelley's already a big body at a listed 6'3", 215 pound Texas frame, but he has a baby face and still has filling out/tightening up to do on top of cleaning up a few mechanical issues that I can see right away. Nothing crazy though, all of that shit will come once the Sox player development department sinks their meaty paws into him. 
Unlike Abel who I think has the potential to fly through the Phillies system, I'd imagine Kelley will be babied just a bit more in terms of pitch and innings limits, and that approach is more than fine with me. That said, in due time, he has the potential to be a very good big league pitcher. 
I LOVE what the Sox have done with their first two picks. They're way more boom or bust than typical, but if they do tap into their ceilings then we got two really, really good pitchers to look forward to down the road. That, or they'll be packaged in a trade for another stud. Win/win. 
Now get a deal signed so we can watch our teams play this summer please