King of Staten Island: Pete Davidson And Judd Apatow's New Movie Lives Up To The Hype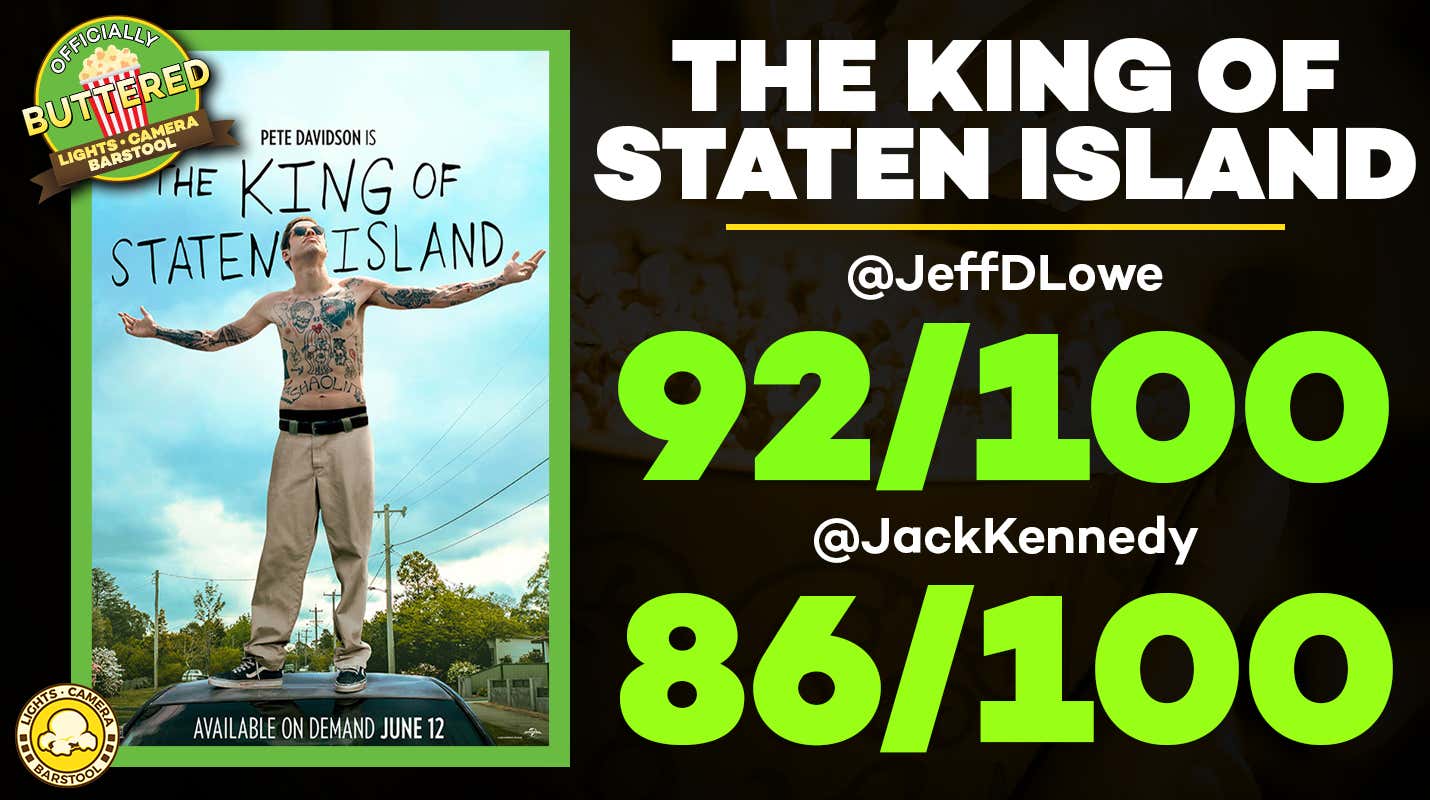 Holy hell, it feels like we haven't done a review of one of these bad boys in quite some time. 'The King of Staten Island' was set to be a major theatrical release for Judd Apatow and Pete Davidson, however… pandemic. So, it now arrives on-demand, and KenJac and I had the chance to watch it a few weeks back. Here's what we thought...
A semi-autobiographical comedy-drama about Pete Davidson growing up in Staten Island, including losing his father during 9/11 and entering the world of stand up comedy. 
JeffDLowe (92/100): Raw, rigid, and emotional, 'The King of Staten Island' is different from most dramedies or coming-of-age-like movies, but it delivers both a great personal touch and some fantastic laughs. Sometimes the simplest stories can pack the biggest punches, and I felt something when the credits rolled for another great movie from Judd Apatow.
For those who know me, and the reviews I give on movies, you'll know right away when watching this movie as to why I loved it so much. This is the type of movie I eat up all the time. A great script with a perfect blend of emotional moments and great humor. It's the reason why I gushed over movies such as 'Lady Bird' or 'Eighth Grade'. Is 'The King of Staten Island' as good as those movies? No, not quite, those play out with a little more finesse and tightness, and that'll be a hang-up for some people.
I'd argue this, though: the length and structure play a big part in what I enjoy about the story being told here. Pete Davidson's life, the basis for this movie, was a bit chaotic, it wasn't perfectly sound, he dealt with loss, mental health issues, and so much more. Everything plays out in a way that runs parallel to the development of Davidson's character in the movie. 'The King of Staten Island' is a coming-of-age movie and a slice-of-life, all at the same time. It's rough around the edges, but that is what makes it all so relatable for me. It isn't emotion built up to extraordinary lengths, all of it feels incredibly grounded. Without spoiling anything, two scenes in particular really grabbed me for how they connected the narrative and message being told here: one at a baseball game, another at a bar (or restaurant), you'll know what I mean when you watch the movie.
It's also worth noting that many questions about Pete Davidson's dramatic acting should be squashed, as he pairs up with Bill Burr and Marisa Tomei for a flurry of great performances. I'd love to see the trio of Davidson, Burr, and Tomei team up for something again down the line.
Once the movie ended, I noted how much I liked it. But I also paused for a second and thought to myself, "do I like it only because there are literally no new movies coming out anymore these days?" The answer is no, 'The King of Staten Island' is my favorite movie released amongst a small 2020 lineup, but I am convinced it will stay towards the top as theaters begin to re-open.
Rent or buy this movie right away when it drops this coming Friday (June 12th).
KenJac (86/100): If you like genuine, slice-of-life comedies, then you will enjoy this movie quite a bit. For me, it broke a lot of expectations. Pete Davidson gives a grounded performance that I didn't really see coming from him, and the combination of Bill Burr and Marissa Tomei is weirdly perfect. It's also something way more subtle and emotional than I usually expect from Judd Apatow. In the words of John Rothstein, the unexpected will become ordinary. 
This movie is obviously all about Pete Davidson. He wrote it and it's essentially a semi-autobiographical, alternate history look at what his life would have looked like if he didn't become a comedian. He does a fantastic job of making this feel more authentic, which is probably the most important factor in successful slice-of-life movies. The next biggest roles come from Bill Burr and Marissa Tomei, who bounce off each other way better than I expected. No bullshit, I think Burr is going to be getting a lot more work that isn't strictly comedy soon. Also, I love it when a movie can throw together amazing tertiary characters like Pete's friends and the firehouse crew. 
The biggest flaw in this movie is the length for me. I never like hitting a point in a movie when I can't tell when it's going to end or even how far along in the narrative I am, and I hit that point about 3/4ths the way through this. Other than that, it was incredibly enjoyable. The film has an interesting and emotional story that obviously has a very personal meaning for Davidson, beautiful camera work, and solid laughs throughout. 
Like I said before, this movie will subvert a lot of your expectations going into it. It's definitely one of the better movies to release since quarantine started, which makes it a must-stream by default since we don't have any new content to suckle on. 
--
Big-time recommend from us as the movie will be Officially Buttered as it clears the 69/100 average threshold. We also interviewed Judd Apatow, and that will be released in the next Lights Camera Barstool this upcoming Sunday.
Until next time… stay safe and enjoy the new movies hitting streaming platforms this weekend.