Utah, Get Me Two: The PLL Championship Series Is Heading To Utah
Sportico - The Premier Lacrosse League will restart its season in Utah, Sportico has learned.
The PLL last month became the first U.S. professional sports league to announce its intention to play games under a so-called "bubble'' scenario during the COVID-19 pandemic. At the time, the league said it was considering several locations, including facilities in the mid-Atlantic, Southeast and Midwest.
The league's three-week tournament will be played at Zions Bank Stadium in Herriman, Utah. The tournament will run from July 25 to Aug. 9. Players will arrive a week in advance.
I know that right off the bat Utah doesn't necessarily sound like the ~*sexiest*~ spot in the world. But ever since the University of Utah came into the lax scene, it's tough to come up with a better backdrop for the game. It's the type of place where you wouldn't even mind running sprints all day at practice because the scenery is just so damn sweet. 
That shit is mesmerizing. Imagine flipping through the channels one night at the end of July and that pops up on your screen? I don't care if you've never watched a single minute of lacrosse before in your life, you are stopping on that channel and taking that in. That's the Earth right there. That's nature in all of her glory. That's not some CGI fabricated nonsense at Disney World. Those views appeal to your most basic, natural instincts of what it means to be a human being. So you want to grow the game on a national broadcast? You let nature do it for you. The only way they were going to do that was either to take my original idea of copying Dana White and purchasing an island...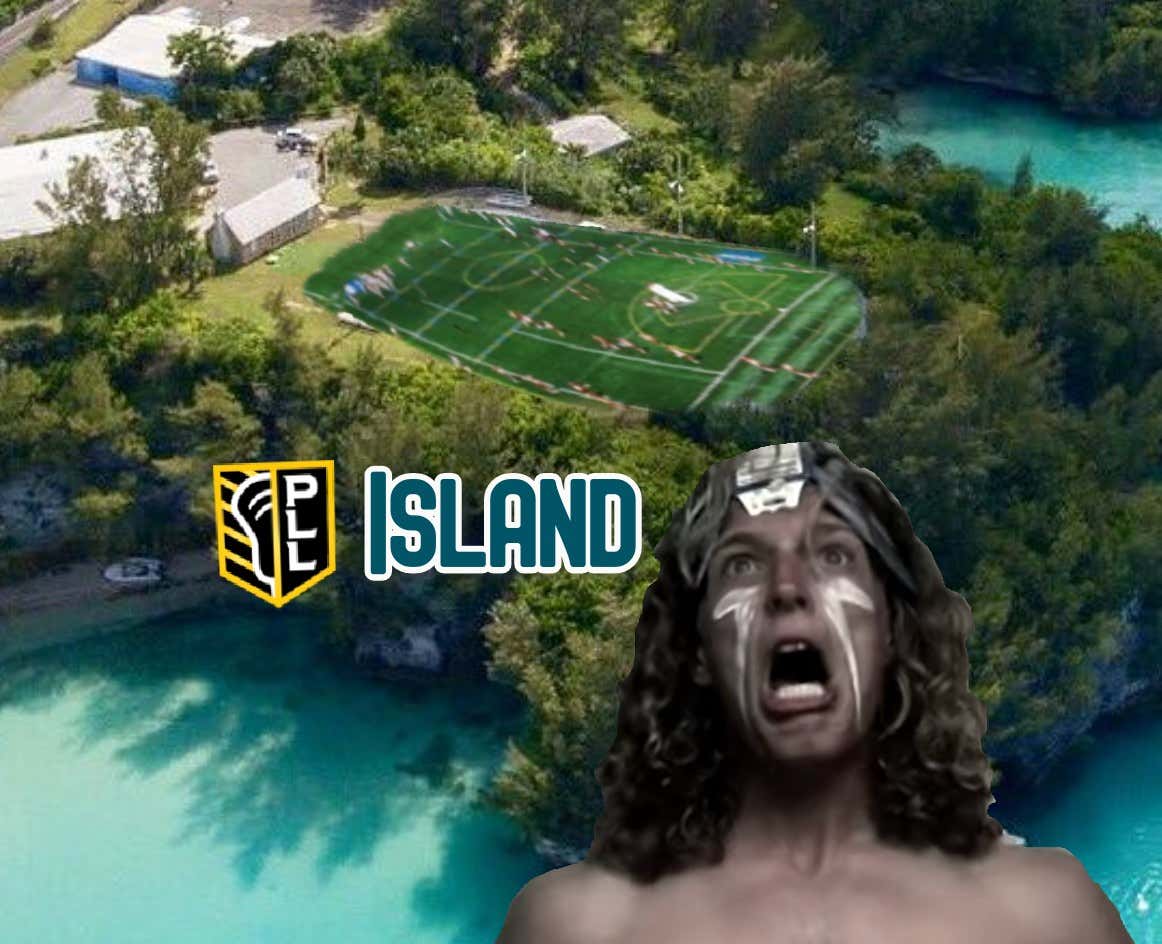 Or doing exactly what they did here and going with PLL Mountain up in the *checks notes* Beehive state. The beehive state? Really? In what world is Utah known for beehives? You've got mountains, the Jazz, and Mormons. Nobody ever thinks about bees when they think about Utah. 
Either way, the PLL Championship Series is officially on. We now have our dates and we have our location. We have our teams, and I guess we wait to see if a certain podcast gets to make the cut for the 300 person guest list to PLL Mountain. 
The total number of people involved would be less than 300, including players, medical staff and media production personnel, the league has said.
The only detail that isn't completely figured out yet--which is one that I'm actually pretty concerned about--is whether or not you're allowed to drink in Utah. Didn't that state like just legalize soda this year? If you can't drink in Utah, that's going to throw a massive wrench in this whole operation. You can't bring these guys out for 3 whole weeks without being able to delete a few bevies with the boys after a quick dub. It's just not right. So who do I need to talk to in order to make sure the fellas can booze? Is Mitt Romney still in charge there? I'm sure he'd get it.