Belichick Had a Director of Racial Justice Meet with His Team. And it Wasn't the First Time.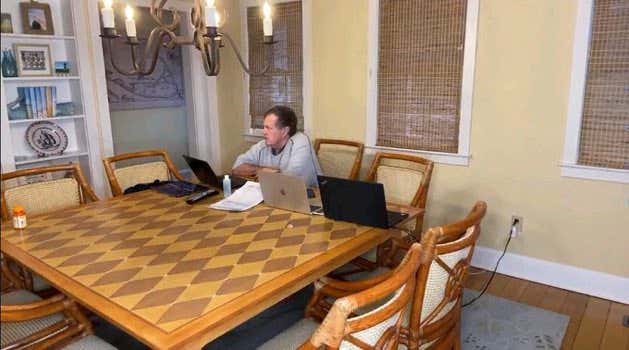 I've mentioned a couple of times here the way the Patriots have been dealing internally with the racial strife going on across the country. Not the least of which has involved Bill Belichick drawing praise from his players for facilitating open and honest discussions during team Zoom meetings. 
Well we find out now that he's been even more forthright in confronting this issue than just that.
MMQB - There have been plenty of questions over how the hyper-focused Bill Belichick would handle the last week. So here's what he did: Like a lot of other clubs, the Patriots devoted Zoom meetings to discussion on what's happening in our country, and Belichick actually brought in a speaker for one of them. Rahsaan Hall, director of the racial justice program at the ACLU of Massachusetts, addressed the team for an hour on Friday, giving them an education on racism in our country. Those I spoke with said that Hall was excellent, and spoke in great depth on the subject. And the theme of the session makes sense, given how Belichick has always used history to educate his teams. Also, there was a level of comfort there already, since the Patriots and Hall have worked together, with Hall having addressed the New England rookies during last June's rookie transition program.
For starters, no one could ever accuse this organization of not tackling this issue head on to genuinely reach an understanding. Or just offering empty gestures and platitudes or just writing checks and hope it goes away on its own. This sounds like a sincere effort to have difficult conversations out of a moral obligation to do the right thing. Especially given how valuable Belichick treats everyone's preparation time, even during the offseason. He wouldn't hand an hour over to a guest speaker unless he truly appreciated the magnitude of the matters at hand. 
But what really floors me about this is that it's not the first time he's had Rahsaan Hall in. I mean, talk about being out ahead of an issue. This isn't just some reactionary thing like Roger Goodell suddenly being all about those heartfelt and invaluable anthem protests he's been legislating out of the game. Belichick was handing the floor over to Hall a year ago to talk about these very same subjects to his rookies. Incredible.
Given the gravity of the situation, I'll resist the urge to go off with the hyperbole I normally would about how Belichick anticipated all this and blah, blah, blah. Because this is not the time for that. Instead I'll say this is consistent with the man. I've told this story before but it bears repeating. I have the February 2002 edition of Sports Illustrated from when the Pats won their first Super Bowl. In it is a lengthy interview with Jim Brown who was in prison at the time. He was denouncing athletes who he felt don't do enough to help minority communities and was asked if he could name someone who is an exception. He said he couldn't name any athletes, but he did single out Belichick, who had supported Brown's outreach programs with his money and his time. Including paying visits to prisons to sit down personally with incarcerated men to mentor them. He wasn't doing that for the publicity then. And he's not inviting ACLU directors to address his team just to seem like he's concerned about the state of race relations. It's who he is. And I'm not joking when I say it's the exactly the kind of thing that makes me proud to be a fan of the man.