At 12 Years Old Buck Freeman was a Mule Driver in a Pennsylvania Coal Mine. Baseball Got Him Out
The name Buck Freeman may not be a household name like Babe Ruth, but many consider him the first prolific home run hitter in baseball history. At 5 feet 9 and 169 lbs., the lefty hit 25 home runs for the Washington Senators in 1899, his first full major league season.  It was during the "Deadball Era", and his total was more than twice that of the nearest competitor (Bob Wallace 12).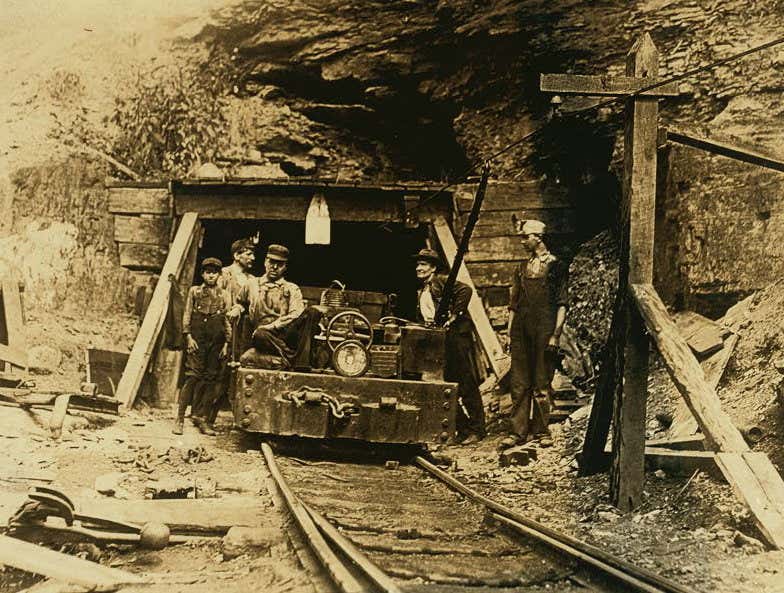 Born on October 30, 1871, in Catasauqua, Pennsylvania to Irish immigrants, Freeman lied about his age to get work in the local coal mines as a Slate Picker and by age 12 he was promoted to Mule Driver. He was a pretty good southpaw pitcher and believed his ticket out of the Pennsylvania coal mines where he and his father worked, was baseball. After hitting two home runs in a sandlot game at the age of 16, Buck said he was approached by Bud Fowler, the first African-American player in professional baseball "You have pretty good control of the ball for a left-handed pitcher, kid, but batting is your hold. Keep on practicing with the stick. It will get you more money." Up to that point, Buck hadn't considered becoming a position player and a full-time hitter.
Buck began his major league career in 1891 at the age of 19, pitching for the Washington Statesman in the American Association. He pitched in his first game on June 27th, losing to the Philadelphia Athletics 5-4. In five games he was 3-2 with a 3.89 ERA, but after walking 33 batters in 44 innings he was released and would not play in another major league game for seven years.
Buck pitched for Wilkes-Barre's Eastern League squad in 1893, but in 1894 he moved to Haverhill, Massachusetts and while playing in the New England League as a right fielder, he won the batting title with a .386 average, hit 34 home runs (including four in one game) and had 167 RBI.
In 1897, while with the Toronto Canucks, Buck hit 20 homers and then set the league-record the following year with 23. When his then-manager Arthur Irwin, was promoted to manage the Washington Senators in 1898, he brought five of his minor leaguers with him to the big leagues, one being Buck, who was 26 years old at the time.
In his second at-bat, Buck hit his first major league home run, a deep shot into the right-field bleachers. Buck's two-homer game five days later secured his spot on the team. Playing in 29 games in 1898, he batted .364, with 3 home runs, and 21 RBI, enough to earn him a starting job in right field the following year.
In addition to his record-setting 25 home runs in 1899, Buck batted .318, had 25 triples, scored 107 runs, had 122 RBI, and stole 21 bases in what is considered "one of the greatest rookie seasons in baseball history". He was also hit by pitch 18 times, which would be the most in his career. Buck "swung from his heels and for the fences", and his natural swing was being compared to the punch of then-World Heavyweight Boxing Champion, Bob Fitzsimmons.
Buck's 25 home runs would stand as the record for twenty years (1919) when 24-year-old Babe Ruth, who began his career as a left-handed pitcher for the Boston Red Sox, eclipsed it with 29 while playing for the Red Sox and dividing his time between pitching (9-5, 2.97 ERA, 15 GS, 12 CG, 133.1 IP) and playing left field.
*Ned Williamson of the Chicago White Stockings hit 27 home runs in 1884, a majority of them at home in Lake Front Park II, which had the shortest outfield fences in the majors (LF 186, CF 300, RF 196). So short that in 1883, a ball hit over the left-field wall was only a double. That year the White Stockings hit just 13 homers, The following year (1884), when a ball hit over the left-field wall was deemed a home run, they hit 142, and four players hit 20 or more. After the White Stockings left Lake Front II in '84, the National League set the minimum distances for the outfield fences at 210 feet. Williamson's 27 home runs in '84 were not regarded as the major league record because of the short field dimensions at Lake Front Park II. 
It was in 1899, that Buck hit what was described as "the longest home run ever hit at Brooklyn's Washington Park", as reported by the Washington Post "The ball sped far over a canvas awning in the right-center corner of the lot and was picked up by a small boy on the opposite side of the street, in front of a row of tenement houses a half a block from the grounds." The Senators played at Boundary Field, which was known for its long dimensions, with trees that hung over onto the field that caromed potential home runs back into play. Buck didn't hit many cheapies, especially at home.
Early in the history of baseball, there were those who didn't believe home run hitters were as valuable as "slap hitters". The majority of baseball strategists during the "Deadball Era" believed the game should be played "hit and run, move the runners", similar to what's considered "small ball" in today's game. Buck's clearing of the bases with one swing did not impress the majority of owners and managers, or the press. After Buck hit 25 home runs in 1899, the Spalding Baseball Guide criticized "sluggers" whose only goal was to hit it out of sight and wrote that a good slap hitter was "worth a dozen of your common class of home-run hitters." Their comments were aimed at Buck, though his name wasn't mentioned.
Buck was the first baseball player to work out in the offseason as it was believed then that hard muscles were of little use in baseball. Buck was a member of a gym in his home town of Wilkes-Barr, Pennsylvania where he regularly walked 12 miles a day, lifted weights, worked on the parallel bars, and boxed. "What work I have done as a batsman I owe in large measure to my exercise in the gymnasium, which developed the muscles that come into play when I hit the ball. I gather myself for a swing, and, as a rule, take a forward step in order to place myself at such an angle that the whole weight of my body moves at once in the same direction as the bat." Buck was one of the first power hitters to focus on technique and conditioning. Still, in 1913, the great Ty Cobb wrote "The successful ballplayer never hardens the muscles"...
When the National League was reduced from 12 teams to eight, the Washington Senators, who had never had a winning record in their franchise history, were dropped. Buck quickly signed with the Boston Beaneaters for $2,000 (became the Braves in 1912) of the National League. Although Buck had a good year with Boston (.301, 6 HR, 13 Triples, 19 doubles), his then-manager Frank Selee, the first major league manager not to be a player-manager, did not think home run hitters were winners and publicly said Buck wasn't a complete player "He is a poor fielder, thrower, and base runner".
After the Beaneaters posted their first losing season in 14 years, Tim Murnane of the Boston Globe wrote that the "Napoleon-like" Selee made Freeman the scapegoat, leaving him home for a late-season road trip and then insulted him in the press: "I have often thought of playing [Freeman] at first and trying Tenney in the outfield, but brains are needed in the infield." 
Along with some of his teammates, Buck left the Beaneaters in 1901 and they signed more lucrative contracts across town with the Boston Americans (became the Red Sox in 1908) of the start-up American League. Buck played first base and finished 3rd in hitting with a .339 average, second in home runs (12), RBI (114), and slugging (.520). He returned to right field in 1902 and had another good season, finishing second in the league with 11 home runs and first in extra-base hits (68) and RBI (121).
In 1903 The Americans won the first-ever modern World Series, a best of nine, beating the heavily-favored Pittsburgh Pirates five games to three. Buck had nine hits, three were triples, scored six runs, and had four RBI. During the regular season, Buck led the league in home runs (13), extra-base hits (72), and total bases (281), and tied Sam Mertes of the New York Giants with 104 RBI. He became the first hitter to lead both the American and National Leagues in home runs. Only three other players in major league history have done it since; Sam Crawford (1908), Fred McGriff (1992), and Mark McGwire (1998).
Although many ballparks in the early part of the "Deadball Era" had short porches, some under 200 feet, Buck hit some of the longest home runs during that time. "On August 20, 1903, Freeman became the first man ever to hit the ball completely out of Chicago's South Side Park."  At Philadelphia's Columbia Park, "he once hit a ball so far that it reportedly sailed out of the stadium, over several houses, and through an open second-story window".
In 1904 Buck led the league with 19 triples, finished second with 84 RBI, and tied for second with 7 home runs. By 1905, at 33 years of age, Buck's numbers fell off considerably. His streak of 541 consecutive games and his 5,431 consecutive innings streak ended. His consecutive innings record survived until 1985 when Cal Ripken Jr. surpassed it. 
Buck's 77 home runs from 1899 through 1905 were 29 more than the total of his closest rival, future Hall of Famer and Rhode Island native, Nap Lajoie. But Buck continued to decline in 1906 and in 1907 his contract was sold to the Washington Senators. Four days after arriving in Washington he was sold to the Minneapolis Millers of the American Association (Minor Leagues) and was out of the major league baseball for good. 
In 1907, when Buck was 35 years old and done playing major league baseball, Babe Ruth was 12 years old, considered incorrigible by local authorities, was living at St. Mary's Industrial School for Boys, a Reformatory in Baltimore, and still seven years away from making his pitching debut with the Boston Red Sox. 
Buck set a record with 18 home runs for the Millers in '07, but in '08 he dislocated his shoulder and only played half a season. His 10 home runs were still good enough to tie for the league lead.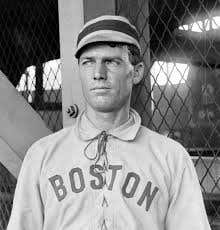 Buck finished his playing days as a player-manager in the outlaw Susquehanna League in 1910 and 1911. When all the dust settled, Buck had won seven home run titles in both the major and minor leagues. He broke the single-season home run records in the New England League, Eastern League, American Association, and the American League. Even after having three disappointing seasons at the end of his career, Buck finished his 11-year major league career with a .293 batting average, 82 home runs, 131 triples, 199 doubles, and 713 RBI, all in the "Deadball Era".
Buck became a minor league umpire in 1913, and during the offseason, he worked as a stoker in the boiler room of a local silk mill, according to him "to stay in shape". He bred fighting birds, keeping hundreds of gamecocks in his barn, and was heavily into cockfighting. In 1937, even after the police raided a cockfight at his home, he later boasted "I'd walk 20 miles to see a good cockfight". 
Buck umpired for 13 years before becoming a scout for the St. Louis Browns until 1933. He then managed an outlaw team in Bloomsburg, Pennsylvania for two years. 
Buck finally retired from baseball in 1935 and he and his wife Annie, with whom he had six sons, lived in the Georgetown section of Wilkes-Barre where he was a legend. He often told baseball stories to local kids and many years later one of those kids remembered "In Wilkes-Barre, he was just like Babe Ruth. Every kid in town knew him.". 
John Frank "Buck" Freeman died of a stroke in Wilkes-Barre on June 25, 1949, at age 77. 
In May of 2018, Buck was inducted into the Boston Red Sox Hall of Fame.