Here Are Some Pedro Martinez Highlights, For Kramer The Ass Man's Viewing Pleasure
I couldn't sleep last night. I couldn't sleep for DICK. I'm super stressed out right now, as are most people in the country for obvious reason. But this comment I received yesterday in one of my MLB update/non-update blogs from yesterday put me over the edge:
Some people have noticed, but we are much more limited in what we're legally allowed to use for thumbnail pics than we used to be.... That or we're finally following the rules by not just taking screen shots for our thumbnails all willy nilly. But yesterday instead of using some stock image of a baseball mitt or bat, I (legally) used a pic of young Pedro: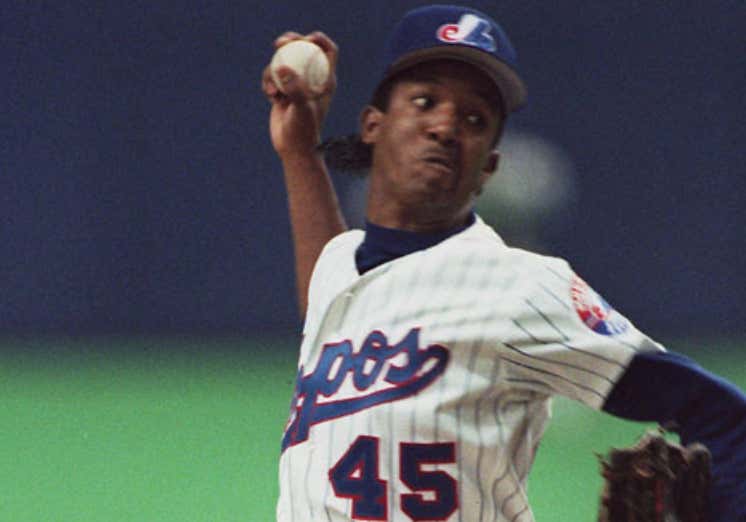 I wish this never happened. I duped KramerTheAss man from some of the greatest possible highlights a pitcher can put together. I mean Pedro Martinez is on the Mt. Rushmore of all time most entertaining pitchers of all time. That's just an objective statement right there. 
And speaking of which, here is my Mt. Rushmore of pitchers:  
I'd go with Bob Gibson
Kerry Wood pre-injuries
Roger Clemens 
and Pedro 
That's it. This one's for you, KramerTheAss man. I'm sorry I did you dirty last night. I truly didn't mean for that to happen and wanted to make up for my gross misconduct. 
PS - prolly the best season in modern baseball history was Pedro's 1999 season. Stats from another planet. Really wish I was just a couple years older so I could remember it more