Wall St. Thinks The Record Amount of Retail Trading is Due To Lack of Gambling Options. Gee You Think?
Yahoo Finance - The investment veterans at DataTrek Research put forth an interesting theory in a recent brief that sheds more light on an interesting phenomenon in the markets right now: the buying role of retail investors.

Specifically, DataTrek's Jessica Rabe wrote that some mom and pop investors might be day-trading the market more because casinos professional sports have shut down and casinos have closed.

Across certain segments of the "regular people" investment landscape — Vanguard and Fidelity, for example — there hasn't been much in the way of panic selling as many customers seem to have internalized the "stay the course" messaging that followed the last financial crisis (and was conspicuously displayed on investment websites). In fact, many of these retail investors have bought equities as markets plunged.
File this one under: NO SHIT.
Hats off DataTrek. You guys cracked the code.
Ever heard of this guy?
Apparently not. 
If you had, you all could have saved yourselves a lot of time and just released your little research report to look like this-
"Despite Massive Economic Volatility Why Have We Seen Such a Giant Uptick In Investing During Covid Shutdown?"

After extensive research, evidence shows it to be predominantly attributed to a former smut peddler turned media tycoon and his goldfish.
Degenerate's had THE LIFE 6 months ago. States began opening up to the idea that sports betting wasn't on par with heroin distribution and were easing up. Casinos now seem to exist nationwide- even Massachusetts. Action was everywhere. People that had never gambled in their life were now heavily invested (get it?). And Barstool played a MAJOR part in taking that all mainstream. 
You think you can just rip away people's ability to chase bad money on a west coast collegiate team they've never heard of and they'd take it lying down? Do you think that with people not even having the ability to place wild props or exotics they wouldn't figure out a way to get a fix?
We're talking about n̶i̶h̶i̶l̶i̶s̶t̶s̶ DE-GEN-ER-ATES here.
(shameless reason to plug one of my favorite movie scenes ever)
Thank God we have industry experts such as DataTrek and Jessica Rabe to remind us; what's the term they so respectfully used in quotation marks in their study again?, ah yes, us "regular people" that we're not on their level.
Axios - Online brokerages have seen a record number of new accounts opened this year as so-called mom and pop retail investors look to buy the dips and cash in on the market's late February selloff.

What's happening: "The rush of retail investors into U.S. equities is at least partly a function of a world with no casinos, no sports betting to speak of (horses and ping-pong aside), and little to do outside the home," DataTrek Research co-founder Jessica Rabe points out in a note to clients.

Retail traders, especially those using the stock trading app Robinhood, have shown unusual buying patterns, pursuing cheap and particularly volatile stocks, she observes.

By the numbers: "TD Ameritrade said last week that retail clients opened a record 608,000 new funded accounts in the quarter ended March 31, with more than two-thirds of those opened in March," WSJ reports.

"E*Trade saw a net gain of 363,000 accounts in the quarter — a company record — around 90% of which were retail."
"Charles Schwab Corp. reported a record 609,000 new brokerage accounts in the quarter, including individuals' self-directed accounts and those managed by financial advisers."
"Retail traders, especially those using the stock trading app Robinhood, have shown unusual buying patterns, pursuing cheap and particularly volatile stocks, she observes."
Gotta fuckin love this. Shifting money around looking for value in cheap but roller-coaster stocks? Obviously our longshot or underdog hammer. Guy fuckin hates chalk. "Give me a stock that'll either be +280% by the end of the month or will completely bottom out. No in-between."
SI - The increase in the number of Robinhood buying Ford, Disney, GE, GoPro, and Aurora Cannabis in the midst of a global pandemic reflects the platform's growing pool of retail investors with a risk tolerance more akin to gambling than traditional investing. Four of the five equities cited are "volatile low priced stocks." Colas described them as "the sort of names that can move +10% in a few days." 

It's fair to question if the influx of risk-taking investors on Robinhood's platform over the last two months is indicative of activity across the U.S. markets at large. As Jessica Rabe noted the company has "a mostly millennial user base." But DataTrek Research's other co-founder says the inclusion of Delta Airlines and Carnival Cruise Lines "within the top ten positions among the online broker's users aligns with Google search volume data for 'buy stock' over the last 90 days (the most commonly related queries refer to the airline/cruise sectors)" and thus the assumptions made based on Robinhood data can extrapolated out (see: sports bettors having turned to retail investing while the games were on hold). 
What? No Mention of Ali Baba in there SI?
Do gotta love the mention of the bettor's go-to companies being bought up heavily.
Definitely the sign of round-robin guys. We all know them. 
"Parlay's are for suckers bro. Gotta play the percentages. Round Robins are the way to go." AKA diversify your losses. Don't just lose everything all on one game/stock. Spread out the losses. Play the percentages bro.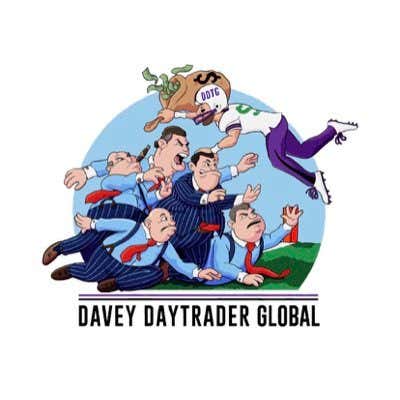 Support the cause. Buy a shirt.