Fastest Left-Handed Pitcher You Never Heard Of
Legend has it that he once threw a pitch so hard it tore part of a batter's ear off. Other stories say he hit an umpire with a fastball and shattered his mask, knocking him 18 feet back, putting him in the hospital for three days with a severe concussion. Legend also has it that he once won a $5 bet by throwing a baseball through a boarded outfield fence from 15 feet away on his first try. And, that he once threw a baseball over a fence 440 feet away...
So why haven't you heard of Stephen Dalkowski Jr.? He never made it to the Major Leagues. He played Minor League baseball for nine seasons from 1957-1965. He was erratic and had very little control of his legendary fastball, often throwing balls over the backstop. It's said that he had a drinking problem that got worse over his career and continued after his retirement.
Dalkowski was a chunky left-handed pitcher who lacked self-confidence but could throw a baseball at better than 100 MPH. Without modern radar equipment, some experts estimated he actually threw closer to 110. He had various nicknames. "Dalko" was one, but because of his ability to throw fastballs, he was also tagged with "White Lightning".
Dalkowski was born on June 3rd, 1939 in New Britain, CT where he played quarterback for New Britain High School and won division championships in 1955 and '56. As a baseball player, he set a record that still stands, striking out 24 batters in a game.
After graduating high school in 1957, despite having control problems and issuing a lot of base on balls, Dalkowski was signed by the Baltimore Orioles, who took a chance on him and sent to play Class D baseball for the Kingsport Orioles in the Appalachian League. He struck out 121 batters in 62 innings, but walked 129 and finished 1-8 with an 8.13 ERA with 39 wild pitches. In one game Dalkowski struck out 24 batters, but walked 18 and had 6 wild pitches.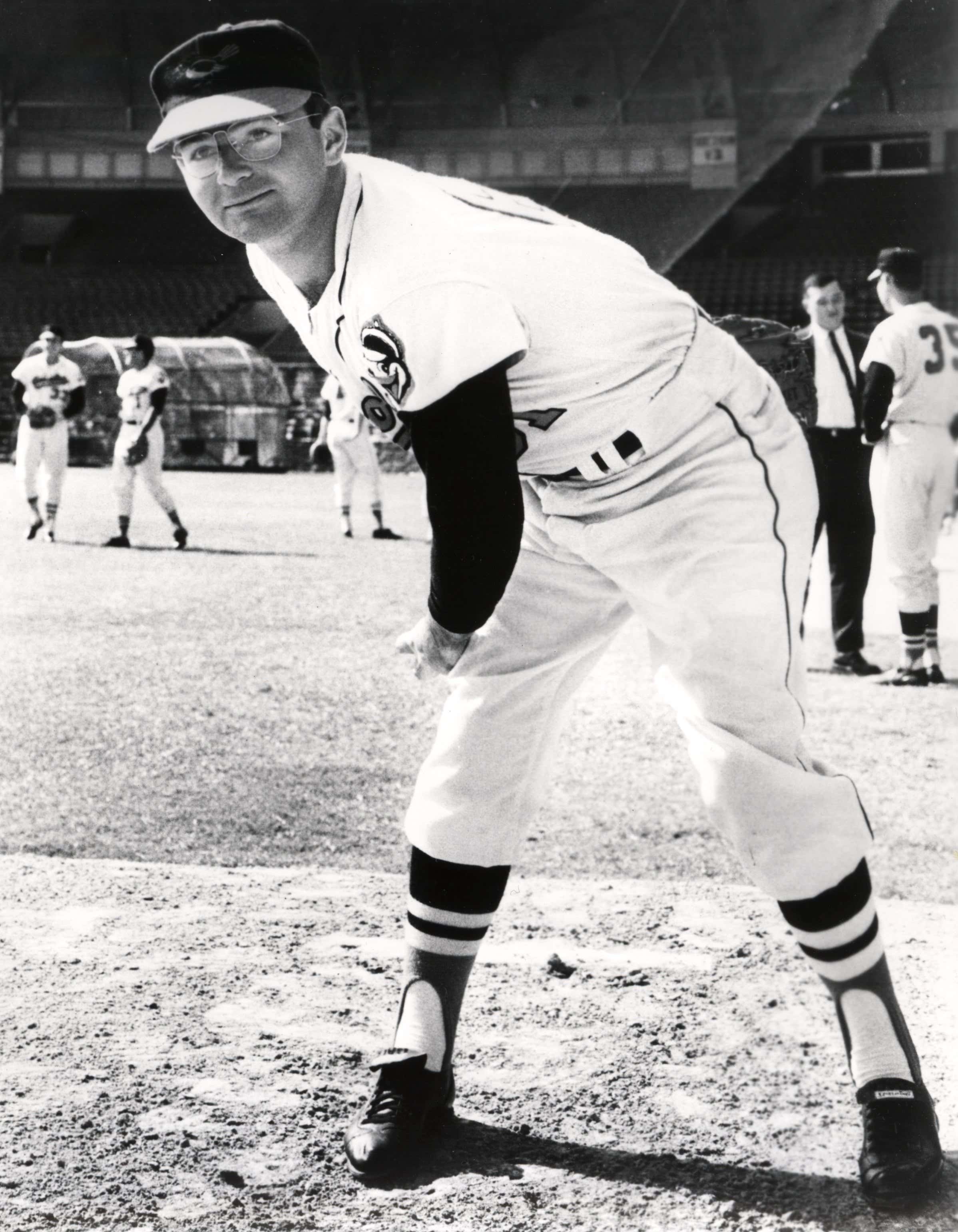 Dalkowski had an unusual delivery, often finishing his "buggy-whip" motion by contacting his left elbow with his right knee. Because of his cross-body finish, he had to have a special protective pad made to avoid injury.
He began 1958 in Class C with the Arbedeen Pheasants, but then was moved to the Wilson Tobs in Class B, and then quickly to Single-A where he finished the season with the Knoxville Smokies. On the three teams he combined to strike out 203 batters in 104 innings, but walked 207 and finished the season 4-10 with 26 wild pitches.
In '59 he began in Class D with the Pensacola Dons and finished with the Aberdeen Pheasants in Class C, but the results were the same. In 59 innings he struck out 99, walked 110, and finished 4-3 with 13 wild pitches.
In 1960, while playing C ball for the Stockton Ports, he struck out 262 batters in 117 innings, but walked 262, finishing the season 7-15 with a 5.14 ERA and 11 wild pitches. In one game he would strike out 21 and in his next start, he'd walk 21.  He averaged 13.81 strikeouts and walks per nine innings that year. In 2019 Gerrit Cole averaged 13.8179 k/9, breaking Randy Johnson's record of 13.4099 set in 2001. Dalkowski either walked or struck out 3 out of every 4 batters he faced.
He spent 1961 playing Class B for the Tri-City Atoms, where he struck out 150 in 103 innings, but walked 196 and had 28 wild pitches. He finished 3-12 with an 8.39 ERA.
In '62 he showed some improvement while playing Single-A ball for the Almira Pioneers under the tutelage of his then-manager Earl Weaver, who simplified Dalkowski's approach to pitching. He struck out 192 in 160 innings, walking 114 while finishing 7-10 with a 3.04 ERA and only 12 wild pitches. He led the league with six shutouts and had eight complete games.
In '63 Dalkowski got the call and was brought up to pitch for the Orioles during spring training. It's unclear whether he hurt his elbow throwing a slider to Yankee Phil Linz or while fielding a Jim Bouton bunt, but he was only able to throw 90 mph after that. He only pitched a combined 40 innings for the Almira Pioneers in AA and the Rochester Red Wings in AAA that year, walking 40 and striking out 35 with 3 wild pitches.
He began 1964 in Class A with the Stockton Ports but was moved to AA where he played for the Almira Pioneers and finished the season in AAA with the Columbus Jets, a Pittsburgh affiliate. His combined totals included 166 strikeouts in 135 innings, 92 walks, a 10-6 record with a 3.67 ERA, and only 6 wild pitches.
In 1965, Dalkowski pitched for two Single-A teams, the Tri-City Atoms, and the San Jose Bees, but by then he was already starting to show signs of physical and emotional wear. He struck out 95 and walked 88 in 122 innings. He decided to retire after the season, at just 26 years of age. In nine minor league seasons, he compiled a 46-80 record, with 1324 strikeouts, 1236 walks, and 145 wild pitches in 956 innings. He only allowed 37 home runs over his entire minor league career.
Paul Blair played 17 years in MLB and was an eight-time gold glove center fielder for the Baltimore Orioles said "Dalkowski threw the hardest I ever saw. He was the widest I ever saw". 
Ted Williams faced Dalkowski during batting practice before an exhibition game and after one pitch under his chin, he stepped out of the batting cage and said "Fastest ever. I never want to face him again." Ted went on to tell writers he never saw the ball. Longtime umpire Doug Harvey also claimed Dalkowski was the fastest pitcher he had ever seen: "Nobody could bring it like he could." Earl Weaver saw both Dalkowski and Nolan Ryan and said: "Dalkowski threw a lot harder than Ryan". Cal Ripken Sr. said that in his estimation Dalkowski threw 115 mph...
After his career ended Dalkowski worked as a laborer and continued his heavy drinking. He tried rehab, but it only worked short-term.
Screenwriter and Director Ron Shelton spent some time in the Orioles' farm system after Dalkowski was gone and he heard all the legendary stories about him. It is believed that the character "Nuke" LaLoosh in his 1988 movie Bull Durham was borne out of those tales. It's also believed that the character Steve Nebraska in the 1994 movie The Scout was loosely based on Dalkowski as well.
In his 1970 Sports Illustrated article titled "The Wildest Fastball Ever", Pat Jordan wrote of Dalkowski, "Inevitably, the stories outgrew the man, until it was no longer possible to distinguish fact from fiction. But, no matter how embellished, one fact always remained: Dalkowski struck out more batters and walked more batters per nine-inning game than any professional pitcher in baseball history".
Jordan concluded with "His failure was not one of deficiency, but rather of excess. He was too fast. His ball moved too much. His talent was too superhuman. It did not matter that he never won a major league game, or never became a star, or never even threw a single strike past Ted Williams. It mattered only that once, just once, Steve Dalkowski threw a fastball so hard that Ted Williams never even saw it. No one else could claim that." 
On April 19, 2020, 44 days short of his 81st birthday, Steve Dalkowski died in a nursing home in New Britain, CT, the city where he was born, a casualty of COVID-19.