Grading This Year's Giants Draft Picks Based On The Numbers They Will Be Wearing Next Season
DraftGradeSZN may be over since I imagine we all read every single article we could get our hands on during these tough sports content times. But the Giants released their new numbers yesterday, so I thought I would grade the picks based on number choice alone since I feel like a number means just as much to a player's success as whatever those mock drafters use to give their grades on the inexact science that is the NFL Draft. I also swear that I thought about doing this before DeAndre Baker got arrested and this is in no way trying to take my brain off of that fucking alleged idiot. 
Crap, now I'm angry again. Onto the numbers!
Andrew Thomas:
GRADE: A+. Ohhhhhhhhhh mama. I didn't think I could love the Andrew Thomas pick more and then he chose 78 as his number. This comes with absolutely zero research but I feel like there are more left tackles with the number 78 in the Hall of Fame than any other number. I can already see number 78 in the Giants Ring Of Honor in 20 years or so. I didn't think I could love the Andrew Thomas pick any more than I did a few weeks ago. But him going from 71 to 78 shows he is committed to getting better from Day 1.
Andrew Thomas is the epitome of my feelings towards the Giants the last few months under Coach Judge. I don't know much about him and it may not be sexy, but I am sooooooooooo fucking excited about potentially watching good Big Blue football again. 
Xavier McKinney:
GRADE: B. Not a huge fan of 29 but I feel like Bama guys can choose whatever number they want and will still ball the fuck out. If Daniel Jeremiah calls you the best safety in the draft and you are roundly hailed as one of the steals of the draft, number probably isn't going to matter.
Please God let the X-Man solve our tight end coverage woes once and for all
Matt Peart:
OH.
GOD.
NO.
GRADE: F-----------. To be clear, I liked the Matt Peart pick when it happened because he seems like a real athletic player that is only going to get better as he gets coaching and work in the strength room. If Peart pans out, the Giants should have the bookends of their O-Line set for the foreseeable future, which is worth those two hog mollies' weight in gold for a franchise.
But I can't get behind someone with the number 74 on their back and I sure as shit can't let my little lamb Daniel Jones get behind someone with the number 74 on their back. I'd love to give Peart a pass for not knowing the twisted history of that number but I can't even do that because he says he was not only a Giants fan growing up but Eli Manning was his favorite player.
Choosing the number of the guy that essentially hit the Fast Forward button for Eli's retirement is a riskyyyyy move. I still like Peart but I won't be able to believe in him until he gets that wretched number off his back. If Coach Judge is the man I think he is, he will send the number 74 to the other side of the ball.
Darnay Holmes:
GRADE: A+++++++++++. I'll admit that seeing the number 30 doesn't give me much hope for Darnay Holmes to become a lockdown corner that we may need because one of our starters just got pinched. But I loved Holmes the second the Giants drafted him because of his speed and return ability. Putting the number 30 on his back and dreaming of him returning kicks with the throwback 80s GIANTS jerseys sealed that love for good and now has me envisioning him being an ace in the return game like Dave Meggett was once upon a time. 
Do you want to watch some Dave Meggett highlights? Good, me too!
Shane Lemieux: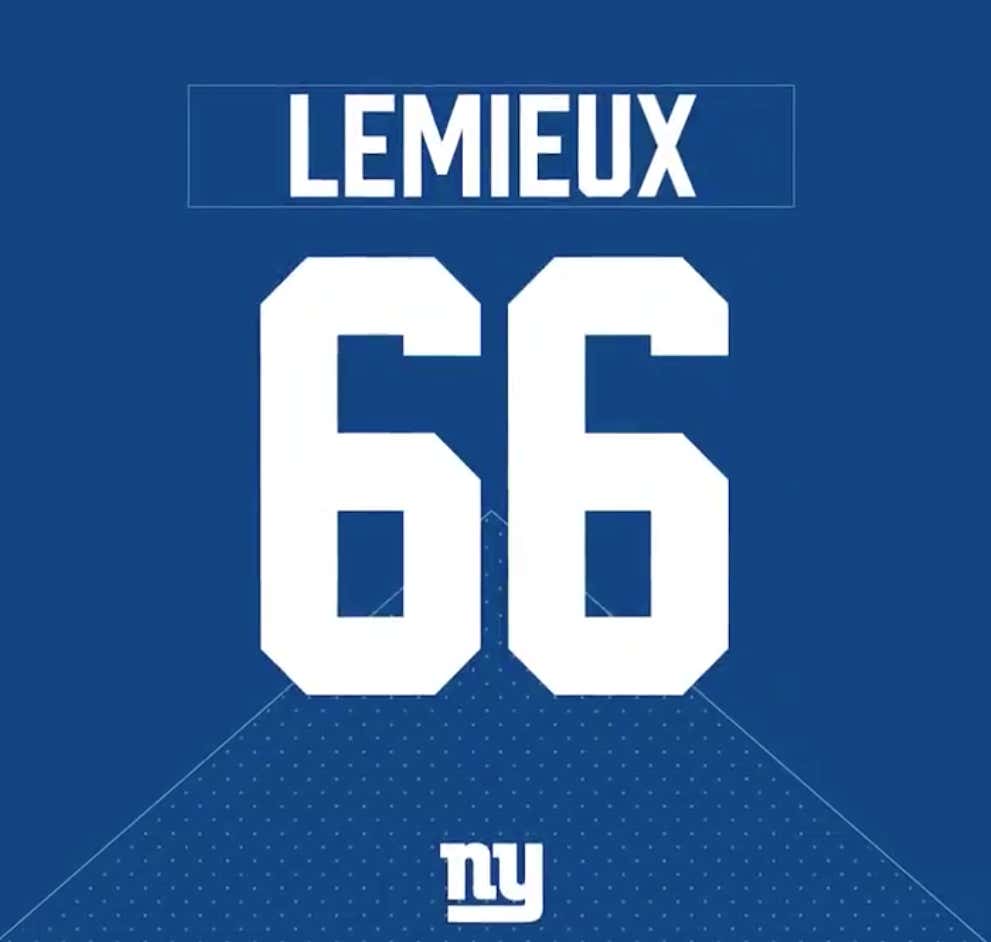 GRADE: A+. I think Shane Lemieux got 100 different questions about Mario Lemieux the day he was drafted despite them not being even close to related, so I respect him steering into the skid and choosing 66 as his number, which must be a Godsend for the 10 or so Penguins + Giants fans on the planet.
Cam Brown: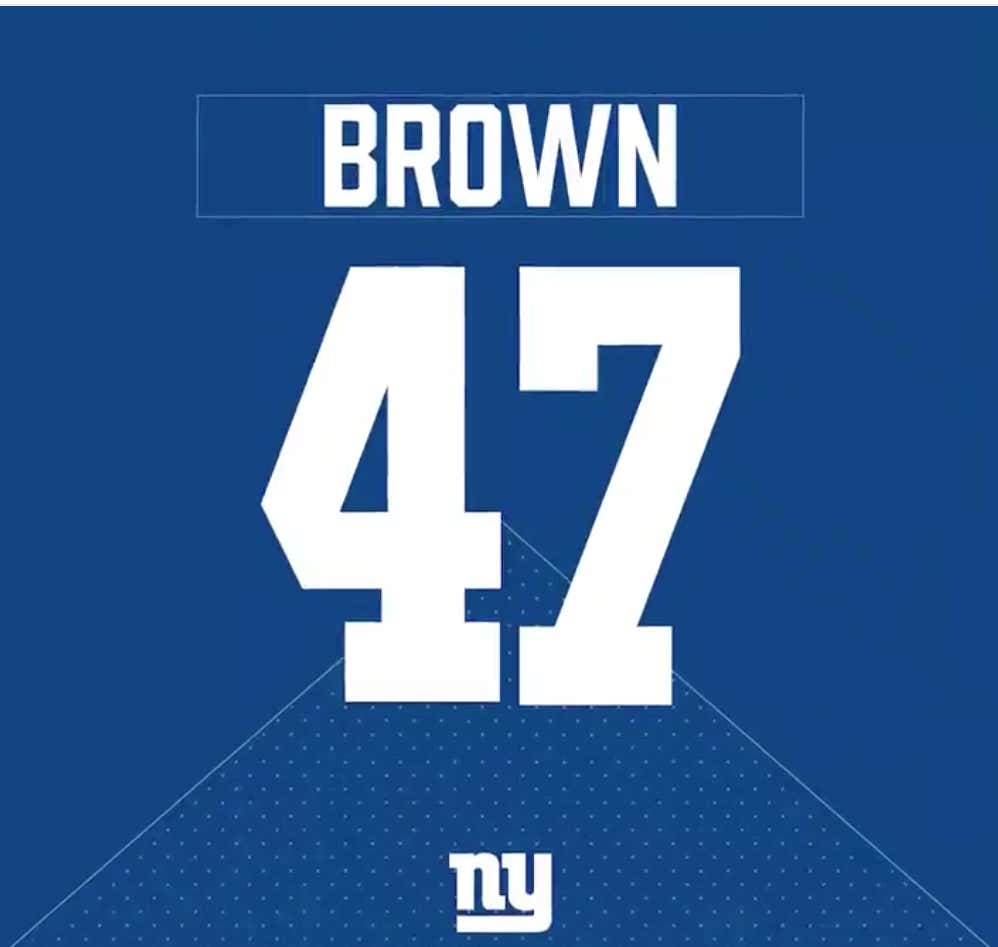 GRADE: C. Even though I love the pick because I love Coach Chaos taking one of his guys, I am instinctively going to be mad at Cam Brown just from residual anger left on the number 47 from Alec Ogletree. 47 doesn't have nearly the hate behind it that 74 does, but it's another example of a number that needed to be sent to the other side of the ball for a tight end to wear or something.
Now that I see this in print, maybe the numbers 4 and 7 should never be next to each other on a Giants uniform. By themselves they are harmless, but together they are explosive. They are pretty much the bomb liquids from Die Hard With A Vengeance.
Carter Coughlin:
GRADE: C-. I reeeeeeally want to like Carter Coughlin because of his last name, but you GOTTA go with number 42 or 46 if you are going to choose a number in the 40s as a Giant named Coughlin. 46 is already taken, but 42 going unclaimed is unacceptable. In fact, Carter Coughlin not walking into John Mara's office and demanding he was number XLII has him on my hot seat from Day 1.
TJ Brunson:
GRADE: C+. I convinced myself Andre Brown was going to be a stud because he ran for 180 yards and 3 TDs over 2 weeks back in 2012. Turns out I may have gotten too excited about a couple of games. Da'Rel Scott however is going to be a problemmmmmm behind this reworked offensive line because all he needs is an inch of daylight and he's gone.
Anyway back to Brunson, going from wearing a fast number like 6 as a linebacker at South Carolina to a slow number like 35 in the pros is a huuuuuuge step down in my book. Anything the Giants get out of Brunson is a blessing.
Chris Williamson:
GRADE: B. When I see the number 31, I think of Aaron Ross. Ultimately Ross was kind of a disappointment, but he won a Super Bowl and could get pressure on a blitz. So because of that, Williamson is definitely going to be good at getting pressure on the QB. And for the Sehorn crowd, I don't want to relive the most Metsy moment in Giants history when they lost their Great White Hope to a torn ACL when he gave returning kickoffs a whirl in a fucking preseason game. So I choose not to think of Handsome Jason every time I see 31.
Tae Crowder:
GRADE: B. MTV was channel 37 on cable when I was growing up, so I always remember that number fondly. It's kinda gross but i feel like all Mr. Irrelevants have to choose a gross number to really accentuate that chip on their shoulder.