Johnny Dickshot Had a Nickname When He Played Major League Baseball. Can You Guess it?
Nicknames are a big part of Major League Baseball. Maybe it's because the regular season is long and nicknames are born out of time and experience. You can't rush a nickname because if you do, it won't always stick. It's a hit or miss thing, there's no in-between. And it's got to come from someone else, you can't give yourself a nickname, which would be right up there with liking your own tweets...
Johnny Dickshot was an outfielder who played for the Pittsburgh Pirates from 1936 to 1938, the New York Giants in '39, and the Chicago White Sox from '44 to '45. In his final season, he batted .302, had 147 hits, 19 doubles, 10 triples, 58 RBIs, 18 stolen bases, and 13 outfield assists. 
During his baseball career, he was tagged with a nickname that he inadvertently gave himself. Use your imagination, but whatever you do, don't cheat and Google him (especially with young children in the room!), and put your best guess in the comments. I'll update with his nickname in 24 hours. 
Here's a list of some of my favorite MLB nicknames beginning with Johnny.
Some of My Favorite MLB Nicknames
Johnny Dickshot/????
Walt Williams/ No-Neck
Willie Mays/ The Say Hey Kid
Willie McCovey/ Stretch
Mark McGwire/ Big Mac
Willie Stargell/ Pops
Carl Yastrzemski/ Yaz
David Ortiz/ Big Papi
Alex Rodrigues/ A-Rod
                                                       Dennis Boyd/ Oil Can Boyd
Randy Johnson/ Big Unit
Frank Thomas/ Big Hurt
Ernie Banks/ Mr. Cub
Reggie Jackson/ Mr. October
Ted Williams/ Teddy Ballgame, The Splendid Splinter
Mariano Rivera/ Mo, Sandman
Jimmy Wynn/ Toy Cannon
Ozzie Smith/ The Wizard
Aaron Judge/ All Rise
Pete Rose/ Charlie Hustle
Leroy Paige/ Satchel
Lawrence Berra/ Yogi
                                                      George Herman Ruth/ Babe
James Bell/ Cool Papa Bell
Fred McGriff/ Crime Dog
Noah Syndergaard/ Thor
Gary Maddox/ The Secretary of Defense
Mike Hargrove/ The Human Rain Delay
Jose Bautista/ Joey Bats
Ron Cey/ The Penguin
Francisco Lindor/ Mr. Smile
Brooks Robinson/ The Human Vacuum Cleaner, Mr. Hoover
Ricky Hendersen/ Man of Steal
Don Mossi/ Ears
Phil Rizzuto/ The Scooter
Stan Musial/ Stan The Man
Lou Gehrig/ The Iron Horse
Cal Ripken Jr./ Ironman
Harry Simpson/ Suitcase
Edward Ford/ Whitey
                                                             Bill Lee/ Spaceman
Honus Wagner/ The Flying Dutchman
Jim Grant/ Mudcat
Jim Hunter/ Catfish
Mark Fidrych/ The Bird
Denton Young/ Cy
Albert Lyle/ Sparky
George Anderson/ Sparky
Walter Johnson/ Big Train
Ty Cobb/ The Georgia Peach
Lewis Wilson/ Hack
Clarence Arthur Dean/ Dazzy
Jay Hanna Dean/ Dizzy
Hank Aaron/ Hammerin' Hank
Elijah Jerry Green/ Pumpsie
Bob Turley/ Bullet Bob
Charlie Keller/ King Kong
Dave Kingman/ King Kong
Frank Baker/ Home Run
Bill Skowron/ Moose
Don Mattingly/ Donnie Baseball
Orlando Cepeda/ The Baby Bull
Orlando Hernandez/ El Duque
Edwin Snyder/ Duke
Harold Henry Reese/ Pee Wee
Russell Earl Dent/ Bucky ("Bucky Fucking Dent" if you're from Boston)
Roger Clemens/ Rocket
William Haywood Wilson/ Mookie
Markus Lynn Betts/ Mookie
Al Hrabosky/ The Mad Hungarian
Dick Stuart/ Dr. Strangeglove
Leo Durocher/ The Lip
Joe Dimaggio/ Joltin' Joe, The Yankee Clipper
Carlton Fisk/ Pudge
Jimmy Foxx/ Double X
Richard Gossage/ Goose
Robert Grove/ Lefty
                                                       Joe Jackson/ Shoeless Joe
Walter Johnson/ The Big Train
Greg Maddux/ Mad Dog, The Professor
Tom Seaver/ Tom Terrific
Johnnie Baker/ Dusty
Larry Wayne Jones/ Chipper
Ryan Klesko/ Rhino
                                                       Bob Uecker/ Mr. Baseball
John Powell/ Boog
Dom DiMaggio/ The Little Professor
Andre Dawson/ The Hawk
Sammy Sosa/ Slammin' Sammy
Mitch Williams/ Wild Thing
Don Zimmer/ Zip, Gerbil, Popeye
Sam McDowell/ Sudden Sam
Miguel Cabrera/ Miggy
Lou Whitaker/ Sweet Lou
Lou Piniella/ Sweet Lou
Jeff Bagwell/ Bags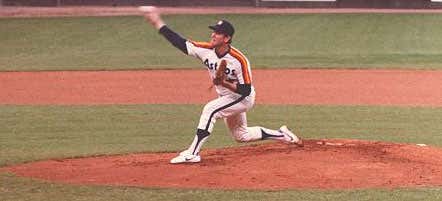 Nolan Ryan/ The Express
Joe Morgan/ Little Joe
Freddie Patek/ The Flea
Mike Trout/ The Millville Meteor
Don Drysdale/ Big D
Fernando Valenzuela/ El Toro
Harmon Killebrew/ Killer
Andres Galarraga/ The Big Cat
Tim Raines/ Rock
Donald Dyer/ Duffy
Dwight Gooden/ Doc
Harry Leroy Halladay/ Doc
Ron Guidry/ Louisiana Lightning
Hideki Matsui/ Godzilla
Johnny Lee Odom/ Blue Moon
Dave Parker/ Cobra
David Keith Stewart/ Smoke
Tom Gordon/ Flash
Greg Luzinski/ The Bull
                                                Shane Victorino/ The Flyin' Hawaiin
Bill Madlock/ Mad Dog
Pablo Sandoval/ Panda
Aubrey Huff/ Huff Daddy
Al Oliver/ Scoop
David Wells/ Boomer
George Scott/ Boomer
Maurice Vaughn/ Mo, The Hit Dog
Max Scherzer/ Mad Max
Aroldis Chapman/ Cuban Missile
Bryce Harper/ Mondo, Bam-Bam
Brock Holt/ Brock Star
Andrew Benintendi/ Benny, Benny Biceps, Benny Baseball
                                                            Rich Garces/ El Guapo
Dustin Pedroia/ Pedey, Laser Show
Steve Lyons/  Psycho
Will Clark/ Will the Thrill
Octavio Victor Rojas/ Cookie
Forrest Burgess/ Smokey
Johnny Damon/ The Caveman
Dick Radatz/ The Monster
                                                         Covelli Loyce Crisp/ Coco