THE NC DINOS WALK IT OFF IN EXTRAS FOR THE 2ND DAY IN A ROW!!!
What a game! What a team! What a wonderful time to be alive! Okay, I take back the last part of that. But holy fuck did all of us lucky enough to stake claim to Dino Island fall ass backwards into the most fun KBO team ever. Not only did the Dinos walk it off in the 10th for the second game in a row but they also won another rollercoaster of a game.
Every inning from the 6th-on having a lead either switch hands or tied up is not for the faint of heart. But that's only going to make us stronger in October or whenever the fuck the playoffs are. Iron sharpens iron and at this point all Dinos fans know it's only a matter of time before the Dinos start dropping their dongs (2 more today) and the winning run will cross the plate sooner or later, like my guy here wearing some GORE-TEX.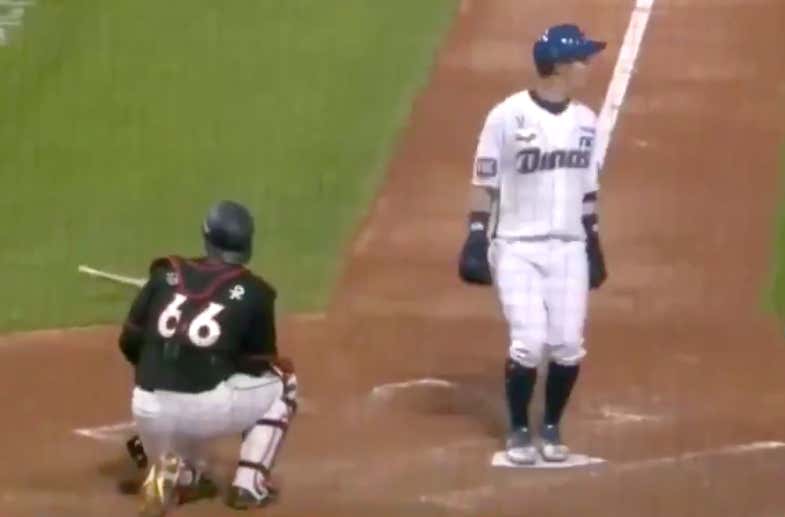 Can never be too safe during a pandemic! Shout out former Oriole Mike Wright for keeping the Wiz off balance all day with 6+ innings of one run ball and Kwon Hee-dong for coming up clutch after replacing our only Big Leaguer in the lineup (I use Big Leaguer veryyyyy loosely with Aaron Altherr).
Damn it feels good to be a Dino fan, even if I am now watching games by staring at the scoreboard page on Google since the Dinos aren't on ESPN this week and I'm not smart enough to figure out another way to watch them. But everything is fine as long as I'm wearing my Dinos Dongs shirt and they keep walking games off in extra innings.
NOW HIT THE MOTHERFUCKING MUSIC!!!
P.S. T's and P's for Rhee Dae-eun who gave up the game-tying bomb in the 9th yesterday and the game-winning hit today. Poor Dae-eun is going to have more dinosaur nightmares than the two kids that lived through the actual Jurassic Park movie.