Well, Emmanuel Clase (The Guy The Indians Traded Corey Kluber For) Has Been Suspended For 80 Games....
Remember this day?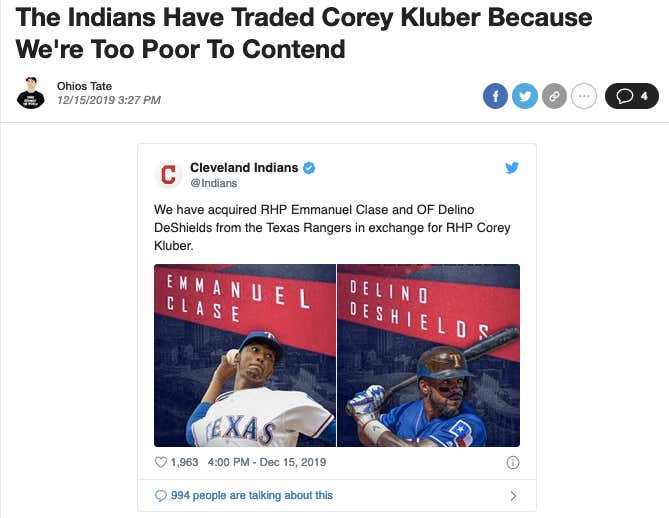 The Indians literally gave Corey Kluber away this December. Delino DeShields stinks....dude hits like .230. We have enough .230 hitting outfielders on this roster. But at least we got this Emmanuel Clase guy. Upper 90s cutter that can touch 100? Okay, let's give the dude a chance. Until.....
Cool. Is this why he hits 100? Only in Cleveland do we lose a dude for 80 games when the games aren't even being played. And no, they already said the games not being played right now do NOT count towards his suspension. Even though I'd like my lawyer to look into the legality of that. How come the Astros suspensions are getting counting during the coronavirus shortened season, but the Indians reliever needs to wait until it's all clear?
Anyways, lots of people saying this is a bad look for Cleveland. It sucks for Cleveland, but it's not our fault. How were we supposed to know the dude was on roids?? This kind of stuff is just what happens to Cleveland teams. I mean, it is what it is. Corey Kluber wasn't going to go out and win another Cy Young this, but he was a calming presence to see on the mound, even if he clearly has declined in recent years. I wish we would've kept him, or at least gotten more for him. But when we made the tough decision to finally move a fan favorite, it looks like we got a .230 hitter and a guy on PEDs in return. The Rangers may have gotten the better of us in this deal.
Tough scene. But it's Cleveland. We're used to it. NEXT!