Steven Cheah's FINAL 2020 Mock Draft
The En Eff El Draft Presented by Mack Weldon is TONIGHT at 8pm EDT. I'll be on the call with Rone and Brandon Walker steering the ship. There will also be PLENTY of special guests from inside and outside Barstool.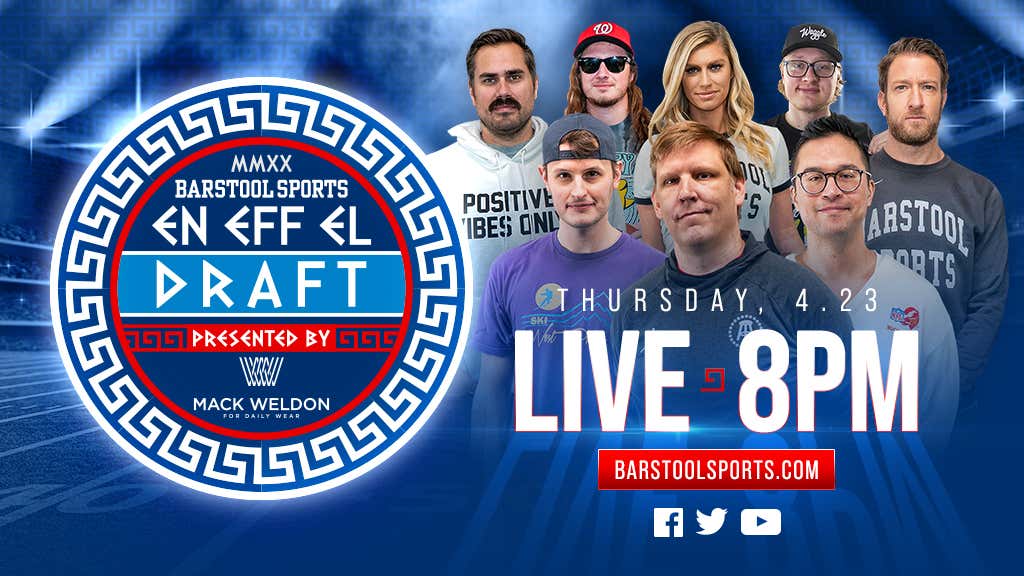 I deal in the currency of hope, and there is no more hopeful day in the calendar year than Draft Day. Everybody is undefeated and you have months to convince yourself your team will be a contender. But seriously, the Bucs this year?! Phew!
Everything has led up to this day so I won't keep you any longer. Here is my FINAL Mock Draft (4.0) for 2020. And my previous ones for reference: 3.0, 2.0, 1.0.
*1st Round*
1) Cincinnati Bengals – QB Joe Burrow (LSU)
Everybody knows this is the pick. FBS record 60 TDs last season. He's from Ohio, gf lives in Cincinnati. He doesn't have an elite arm, but I compare his game to Tony Romo with more of a Tom Brady-esque demeanor. That's pretty darn good. This is the pick. We're going 1/1 to start!
2) Washington Redskins – EDGE Chase Young (Ohio State)
I very confident I'll start off 2/2! Chase Young is widely regarded as the best player in the Draft. The Redskins defensive line gets scary with FIVE 1st round picks on it. Very reminiscent of last year's 49ers group as far as draft status.
3) *TRADE* Los Angeles Chargers (via Detroit Lions) – QB Tua Tagovailoa (Alabama)
Tua has been forever linked to the Dolphins dating back over a year, but I just can't shake this. NFL Network Analyst Daniel Jeremiah was under anesthesia and told the doctor when he was still hazy that the Chargers were going to take Tua. He denies any truth to it, but he's also the Chargers color commentator during the season. So I'm putting stock in that. I don't think Tua would get to them at #6 because I think Miami would prefer him to Justin Herbert, but Miami also has a lot of holes and I think they're ok just sitting at #5, so Tua to the Chargers is where we start to get crazy. TRADE DETAILS: Chargers 2nd (#37) & 4th (#112) in addition to #6 overall to move up three spots. 
4) New York Giants – OT Tristan Wirfs (Iowa)
This would be the second highest one of our guests on the Going Deep pod has gone in a Draft. Wirfs was on this past week and talked about how the Giants have shown the most interest in him having had three zoom meetings with him. A former State Champion Wrestler in Iowa, he's poised to take on the big apple. Absolute freak athletically too. At 6'5" 322 lbs. he blazed a 4.85 40 yard dash and set or tied the record at the Combine for Offensive Lineman in the vertical (36.5") and broad jump (10'1"), so he is clearly an explosive dude.
5) Miami Dolphins – QB Justin Herbert (Oregon)
There has been chatter that the Dolphins actually prefer Herbert to Tua and I'm going to have them sticking at #5 and letting their guy fall right in their lap. By not trading up, they'll have all THREE of their 1st round picks to build a competitive roster. Herbert has got the size, speed, and arm you want in a Franchise QB, but his game leaves you wanting something more. I will say that he wasn't a great fit for the offense at Oregon and should be a better pro. He'll need the coaches to do right by him to live up to his draft status.
6) *TRADE* Detroit Lions (via Los Angeles Chargers) – CB Jeffrey Okudah (Ohio State)
The Lions get the guy they've been linked to all along in Okudah along with a 2nd & 4th rounder. Okudah is a talented press man corner that can really do it all. He's a sticky guy on the outside that would fill a need for a team that just dealt their best cover guy in Darius Slay. In my opinion, he'll be one of the best players when looking at this Draft class in 4-5 years.
7) Carolina Panthers – DT Derrick Brown (Auburn)
The Panthers have a bunch of needs and there will be even more turnover with Matt Rhule and his guys taking over. The Panthers take the conservative play and go with Derrick Brown who is a top talent at 6'4" 326 lbs. that can help the Panthers run defense. They could also go with Clemson's Isaiah Simmons here from Clemson, but lots of holes to fill. Suckers... 
8) Arizona Cardinals – WR CeeDee Lamb (Oklahoma)
The trade for Nuk Hopkins solves their immediate need for a #1 WR. But Kliff Kingsbury runs four wide A TON. They've got Christian Kirk and the ancient Larry Fitzgerald and Kyler Murray is lobbying for his former teammate. Should be a fun season in the desert. 
9) *TRADE* Atlanta Falcons (via Jacksonville Jaguars) – LB/S Isaiah Simmons (Clemson)
The Jags are openly shopping this pick and the Falcons have been rumored to move up targeting a top defender. I think they definitely like Okudah, but that's too rich for them. Simmons will help solidify their LB corps and flying around indoors will certainly be able to help match up with NFC South foes Alvin Kamara, Christian McCaffrey, and even Gronk. He's lined up at Safety, Linebacker, and Nickel Corner in college and will never have to come off the field.
10) *TRADE* Washington Redskins (via Cleveland Browns) – OT Andrew Thomas (Georgia)
The Browns have been hot on the tail of Trent Williams dating back to last season. With Baker Mayfield on his rookie deal, they need to win now and can afford to pay some guys. They'll give Williams a new deal and the Redskins get a guy who can protect Dwayne Haskins for years to come.
11) New York Jets – OT Jedrick Wills Jr. (Alabama)
The Jets tried to sign every Tom, Dick, & Harry that can execute a reach block. They also lost WR Robby Anderson in free agency and even though they replaced him with Breshad Perriman, they still need some more talent at that position. But the game is won and lost in the trenches and GM Joe Douglas used to play on the O-Line. Wills can slide in Day 1 at Right Tackle and help protect Sam Darnold. 
12) Las Vegas Raiders – WR Henry Ruggs III (Alabama)
The Raiders need help outside at Wide Receiver. GM Mike Mayock loves drafting from championship schools and HC Jon Gruden loves drafting speed. This is a great marriage and Chucky will maximize Ruggs' strengths.
13) San Francisco 49ers (via Indianapolis Colts) – WR Jerry Jeudy (Alabama)
The 49ers lost Emmanuel Sanders and have the chance to nab Alabama WR Jerry Jeudy. He's an elite route runner who has no wasted steps and is able to get in and out of his breaks at full speed. GM John Lynch knows that's a pain to deal with as a former Strong Safety and he gets a versatile WR to pair with Deebo Samuel.
14) Tampa Bay Buccaneers – OT Mekhi Becton (Louisville)
The Bucs are in win now mode and need to help protect Tom Brady. They've got Donovan Smith at Left Tackle but just signed a rotational tackle Joe Haeg, who is not the ideal starter at Right Tackle. Having Becton, who has been called the best run blocking lineman since Quenton Nelson lined up next to Gronk will change the Bucs offense overnight.
15) Denver Broncos – CB C.J. Henderson (Florida)
The Broncos are looking for a Receiver to go opposite Courtland Sutton, a Tackle to potentially replace Garrett Bolles, but they go with the value here and take Henderson to help replace Chris Harris. Henderson is a sticky cover Corner but needs better ball production and to be a more willing tackler.
16) *TRADE* Jacksonville Jaguars (via Atlanta Falcons) – DT Javon Kinlaw (South Carolina)
The Jags need help everywhere and even though they picked Taven Bryan early a few years ago, they've lost Calais Campbell and Malik Jackson. Kinlaw is a monster at 6'6" 324 lbs. He needs a bit more production, but has a sky high ceiling as an interior rusher.
17) Dallas Cowboys – EDGE K'Lavon Chaisson (LSU)
Dallas needs another rusher opposite of Demarcus Lawrence Chaisson has the traits to do so. His production in college was lacking and he dealt with injuries, but the arrow is pointing up on this talented rusher. 
18) Miami Dolphins (via Pittsburgh Steelers) – OT Isaiah Wilson (Georgia)
The worst kept secret for a 1st round surprise is Wilson who is not a top 50 player for most prognosticators. He's super raw but has a ton of potential. Miami will need to protect their new signal caller and Wilson is from the Bronx. The same high school in fact that Fins HC Brian Flores went to. So I'm sure he's very familiar.
19) Las Vegas Raiders (via Chicago Bears) – A.J. Terrell (Clemson)
The Raiders drafted a Clemson CB last year in Trayvon Mullen and I see Mayock pairing Terrell back up with him here. They've now addressed their two most glaring needs with their first two picks.
20) Jacksonville Jaguars – S Xavier McKinney (Alabama)
The Jags could go Tackle here, but Marrone is a defensive guy and they have needs across the secondary. McKinney is the top rated Safety in the Draft but can improve his pass defense.
21) Philadelphia Eagles – LB Kenneth Murray (Oklahoma)
The Eagles typically don't go LB very high, but Murray fits a need and it is a solid value at #21. The adopted older brother of three special needs kids, he's a not only a feel good story, but also a tackling machine.
22) Minnesota Vikings (via Buffalo Bills) – CB Jaylon Johnson (Utah)
This was the pick traded for Buffalo to acquire Stefon Diggs and while WR is a need, the Vikings LOVE drafting Corners in round 1. See Xavier Rhodes, Trae Waynes, & Mike Hughes. Johnson fits the bill here for Mike Zimmer's defense.
23) *TRADE* Indianapolis Colts (via New England Patriots) – QB Jordan Love (Utah State)
The Colts move up from #34 to leapfrog the Saints and take the talented QB out of Utah State in Jordan Love. The Pats get the 3rd pick of the 2nd round and #75 overall for this spot. Love gets a year or two to sit behind Philip Rivers and work on his game. He had a very down year with only 20 TDs to go along with 17 INTs, but keep in mind he lost his entire offensive coaching staff and NINE starters on offense. Major upside pick here as he's got a Mahomes-type arm.
24) New Orleans Saints – LB Patrick Queen (LSU)
The Saints take the best available player here that fits a need in Queen. He'll stay in-state and pair with Demario Davis to form a devastating Linebacking corps that puts a scare into me as a Bucs fan.
25) Minnesota Vikings – WR Brandon Aiyuk (Arizona State)
The Vikings get their Receiver here and he is a stick of dynamite with the ball in his hands. Aiyuk is a big, physical receiver that excels in run after the catch situations. 
26) Miami Dolphins (via Houston Texans) – WR Justin Jefferson (LSU)
Great value here with Jefferson who is my 3rd ranked Receiver in the Draft. The Dolphins get a nice security blanket who can uncover quickly underneath for Justin Herbert. Jefferson lined up primarily in the slot in college, but has the speed (4.43 40-yard dash) to threaten defenses on the outside as well.
27) *TRADE* Detroit Lions (via Seattle Seahawks) – EDGE A.J. Epenesa (Iowa)
GM John Schneider has traded down in every 1st round since 2012, so they're not going to pick here. The Lions move up for Epenesa who didn't exactly show out at the Combine, but he's just a football player. Great hand usage and position versatility with the ability to kick inside as well.
28) Baltimore Ravens – EDGE Yetur Gross-Matos (Penn State)
Gross-Matos is a dynamic rusher, but can get pushed around in the run game. But he's loaded with potential and the Ravens are a great place to develop. With Matt Judon on the franchise tag, they look for a guy to groom as his replacement while he's still in-house.
29) Tennessee Titans – DT Ross Blacklock (TCU)
Blacklock came back from an achillies injury this past season to post good numbers from a Defensive Tackle spot. His game and effort translate to the next level and we've already seen the Titans are not afraid to take a DT off of injury taking Jeffrey Simmons Round 1 last year. They still need help in that area so take a similar approach to last season.
30) Green Bay Packers – WR Denzel Mims (Baylor)
Mims is a talented contested catch guy with a big catch radius. With a guy who can pinpoint a ball like Aaron Rodgers, that's a pretty good match.
31) *TRADE* New York Giants (via San Francisco 49ers) – C/G Cesar Ruiz (Michigan)
The 49ers are a logical trade candidate as they don't have any picks after #31 til Round 5. They give up a late round pick (#210) & #31 to move down to #36 and get a 4th (#110). Ruiz could help shore up the Giants Offensive Line and if Nate Solder can rebound, they could have the makings of a good Offensive Line with Ruiz paired with Wirfs.
32) Kansas City Chiefs – EDGE Zack Baun (Wisconsin)
The Chiefs have an elite pass rusher in Frank Clark, but opposite him they were dependent on Terrelle Suggs and others who provided enough to win the Super Bowl. But they go with a youth infusion here getting Badger Baun. He's probably best as an off-ball LB in the NFL, but he can also rush the passer a little bit.
**2nd Round**
33) Cincinnati Bengals – OT Ezra Cleveland (Boise State)
Cleveland could go round 1, but he's a riser in the pre-draft process. He'll help protect Joe Burrow for years to come.
34) *TRADE* New England Patriots (via Indianapolis Colts) – TE Cole Kmet (Notre Dame)
It's no secret the Pats want to upgrade this area and Kmet is the most Pats-like TE in the Draft. He made a name for himself in that Saturday Night game vs. Georgia and the Pats get good value for him after the trade picking up an additional 3rd.
35) *TRADE* Seattle Seahawks (via Detroit Lions) – OT Austin Jackson (USC)
Jackson has a ton of potential but coming off a down year. He donated bone marrow to his sister in July and wasn't able to lift weights for awhile which bled into the season and affected his production. Seattle gets a good value here early in Round 2.
36) *TRADE* San Francisco 49ers (via New York Giants) – DT Marlon Davidson (Auburn)
The 49ers sent DeForest Buckner to the Colts and use this pick to fill that hole and retool their Defensive Line. 
37) *TRADE* Detroit Lions (via Los Angeles Chargers) – CB Trevon Diggs (Alabama)
The Lions turned the #3 pick into Jeffrey Okudah AND Trevon Diggs so far when they probably would have taken Okudah as #3 anyway. Big win for the team rocking the Honolulu blue.
38) *TRADE* Indianapolis Colts (via Carolina Panthers) – WR Tee Higgins (Clemson)
Rivers loves big receivers and Higgins is a big receiver and jump ball specialist who will help the Colts out in the red zone. With diminutive T.Y. Hilton as the #1, the Colts are going to have to get bigger on the outside.
39) Miami Dolphins – RB D'Andre Swift (Georgia) 
The Dolphins grab the 1st RB in the Draft with an eye again with helping out their young signal caller. Swift is a make-you-miss guy in the open field who can help out as a Receiver and isn't a bad pass blocker. Complete Back.
40) Houston Texans (via Arizona Cardinals) – EDGE Josh Uche (Michigan)
This was the pick the Texans got for DeAndre Hopkins. Yowzas. The Texans need more help off the EDGE and Uche is undersized but has the traits you look for in a rusher.
41) Cleveland Browns – DT Josh Madubuike (Texas A&M)
The Browns signed Andrew Billings in the off-season but still look to beef up their D-line and Madubuike has the potential to be a great pass rusher from the inside.
42) Jacksonville Jaguars – OT Josh Jones (Houston)
Jones had a really good senior year after a tough junior season. He showed well at the Senior Bowl and goes to the Jags who sign him up to help protect Gardner Minshew.
43) *TRADE* Jacksonville Jaguars (via Chicago Bears via Las Vegas Raiders) – RB Jonathan Taylor (Wisconsin)
I have the Jags trading Leonard Fournette to the Bears for this pick and with that pick they take Taylor out of Wisconsin. A real Big Cat special with all his teams involved. Taylor is an instinctive runner who ran a 4.39 40-yard dash at 226 lbs. He'll need to improve his fumbling issues (averaged 1 fumble every 54 touches).
44) *TRADE* Carolina Panthers (via Indianapolis Colts) – OG Lloyd Cushenberry (LSU)
The Panthers need to protect Teddy Bridgewater and just dealt one of the best Guards in the league in Trai Turner. So they take Cushenberry here to fill that spot.
45) Tampa Bay Buccaneers – RB Clyde Edwards-Helaire (LSU)
The Bucs need a pass catching back and Edwards-Helaire is the best in the Draft at that. He's taylor made to play with Tom Brady.
46) Denver Broncos – OT Prince Tega Wanogho (Auburn)
This dude is an actual Prince. Like in real life. He's also a FREAK athlete. He was a TE in high school and at that time ran a 4.6 40-yard dash. He's put on some LBs to play OT but has worlds of potential.
47) *TRADE* Jacksonville Jaguars (via Atlanta Falcons) – CB Kristian Fulton (LSU)
The Jags need help at CB and they missed out on C.J. Henderson early, but getting Fulton at #47 helps alleviate that as they got this pick in the deal.
48) New York Jets – EDGE Terrell Lewis (Alabama)
Lewis is a talented EDGE rusher but dealt with injuries. He's got 1st round talent.
49) Pittsburgh Steelers – OG Robert Hunt (Lousiana)
Hunt and Cushenberry are the two top Guards and the Steelers can plug him in Day 1 to help protect Big Ben.
50) Chicago Bears – S Jeremy Chinn (Southern Illinois)
 Chinn is has unreal athleticism AND production, just at a much smaller school. The Bears have a need at Safety next to Eddie Jackson and Chinn fits the bill. The Bears come out of the 2nd round with Chinn & Leonard Fournette.
51) Dallas Cowboys – WR Jalan Reagor (TCU)
The Cowboys get another WR to pair with Amari Cooper. Reagor is an immense talent with not a lot of production last season, but a lot of that can be pointed to QB play. He'll be a better pro.
52) Los Angeles Rams – RB J.K. Dobbins (Ohio State)
Dobbins is one of the top tier RBs and his style would be a good match for the Rams who will need to replace Todd Gurley.
53) Philadelphia Eagles – WR K.J. Hamler (Penn State)
Hamler is a smaller receiver but will stretch the field for Carson Wentz & co.
54) Buffalo Bills – EDGE Curtis Weaver (Boise State) 
Former 1st round pick Shaq Lawson didn't turn out how they'd hoped, but Curtis Weaver offers some hope they can get better pressure off the edge.
55) Baltimore Ravens (via New England Patriots via Atlanta Falcons) – LB Willie Gay Jr. (Mississippi State)
This was the pick traded originally for Mohammad Sanu which got used in a trade for Hayden Hurst. Makes sense give this is a weak TE crop. Willie Gay has outstanding traits with size and speed and tackling ability. But he had a lot of issues at Mississippi State (is that even an accredited university?). By all accounts he's a good kid whose issues are behind him, but the Ravens get a talented LB at #55.
56) Miami Dophins – S Kyle Dugger (Lenoir-Rhyne)
The Fins need help at Safety and Dugger is a small school guy that plays with a big chip on his shoulder. He impressed at the Senior Bowl which is exactly what you want to see out of a small school guy.
57) Los Angeles Rams – LB Akeem Davis-Gaither (Appalachian State)
The Rams lost Cory Littleton in free agency and have a hole at LB. Davis-Gaither is a playmaker who can step in right away.
58) Minnesota Vikings – S Antoine Winfield Jr. (Minnesota)
Feel good story here. His dad played for the Vikings and he played for P.J. Fleck with the Gophers. He is a lot like his dad with his toughness and willingness to lay a hit, but his lack of size shows up on deep balls down the field. But he can also make plays, just like his old man.
59) Seattle Seahawks – RB Cam Akers (Florida State)
He's no Cam Banks, but Cam Akers had a rough go, but a lot of that was playing behind a piss poor Offensive Line. Seattle gets some solid value here. They like Chris Carson, but his fumbles are an issue and Rashad Penny is not an NFL starter.
60) Baltimore Ravens – C/G Matt Hennessy (Temple)
The Ravens lost Ryan Jensen a two years back and are still looking to build out that interior Offensive Line. Hennessy is a nice fit here.
61) Tennessee Titans – CB Damon Arnette (Ohio State)
The Titans are probably having nightmares of Tyreek Hill and Sammy Watkins running free and Arnette comes from a school that has produced some very good pros at CB as of late.
62) Green Bay Packers – DT Neville Gallimore (Oklahoma)
The Packers got run all over by the 49ers and look to address that area with Gallimore at the end of Round 2.
63) Kansas City Chiefs (via San Francisco 49ers) – S Grant Delpit (LSU)
Delpit was a top 10 talent before tackling issues reared their ugly head this past season. He gets in a good spot where former LSU Tiger Tyrann Mathieu can show him the way to maximize his potential.
64) Seattle Seahawks (via Kansas City Chiefs) – CB Jeff Gladney (TCU)
Gladney could certainly go sooner. He's a feisty CB who gets into guys. Seattle will love him.
***3rd Round***
65) Cincinnati Bengals – WR Devin Duvernay (Texas) 
The Bengals give Burrow a young weapon as John Ross and A.J. Green have been rumored to be on their way out.
66) Washington Redskins – TE Adam Trautman (Dayton)
Trautman is a pass catching TE that will help Dwayne Haskins out early.
67) Detroit Lions – OG John Simpson (Clemson)
Detroit needs to build their Offensive Line and Simpson is a nice piece early in Round 3.
68) New York Jets – WR Laviska Shenault (Colorado)
Shenault has a lot of production but ran a slow 40 and underwent core surgery. He's had a bunch of injuries, but if healthy is an incredible value in the third.
69) Carolina Panthers – TE Harrison Bryant (Florida Atlantic)
Carolina looks to replace Greg Olsen with Bryant.
70) Miami Dolphins – DT Jordan Elliott (Missouri)
Elliott is a good value here and can rush the passer from the inside.
71) Los Angeles Chargers – OT Matt Peart (UConn)
They've kind of handcuffed themselves with the trade up to #3 but now they can address the Offensive Line to try and protect their new fragile signal caller.
72) Arizona Cardinals – OT Lucas Niang (TCU)
Nick Bosa puts in a good word to GM Steve Keim about Niang who had a good day against him and Chase Young before injuries derailed his 2019 season.
73) Jacksonville Jaguars – QB Jacob Eason (Washington)
The Jags bring in some competition for Gardiner Minshew with a former 5-star guy with a ton of potential. Has he matured since his Georgia days? He's got a huge arm and a ton of upside, but he still needs some seasoning.
74) Cleveland Browns – LB Jordyn Brooks (Texas Tech)
They just lost Joe Schobert in Free Agency and Brooks can fill in and make an impact year 1.
75) *TRADE* New England Patriots (via Indianapolis Colts) – EDGE Bradlee Anae (Utah)
Anae had a big time Senior Bowl and can help bring some heat off the edge for the Pats.
76) Tampa Bay Buccaneers – OT Saahdiq Charles (LSU)
The Bucs bring in another Tackle that can move up and down the Offensive Line to help protect TB12. Multiple failed drug tests have him fall way down the board. Hopefully his issues are behind him.
77) Denver Broncos – WR Michael Pittman Jr. (USC)
John Elway loves drafting big Receivers and Pittman is a jumbo WR at 6'4" 223 lbs. Big catch radius for Drew Lock.
78) Atlanta Falcons – CB Amik Robertson (Louisiana Tech)
He's a smaller player, but he is a fierce press corner who plays big. Good fit for the Falcons who need help at that position.
79) New York Jets – WR Van Jefferson (Florida)
 Feel good story alert – Van's dad Shawn Jefferson is the Jets WR coach. Now he gets to coach his son. #BoyDad movement in full effect.
80) Las Vegas Raiders – QB Jalen Hurts (Oklahoma)
Hurts is just a Mayock player. Checks literally every box. They won't bring him in to start, but could play a Taysom Hill type role early on.
81) Las Vegas Raiders (via Chicago Bears) – EDGE Darrell Taylor (Tennessee)
There is buzz he's going to go a lot higher than here due to a rather weak EDGE rusher class, but Taylor would bring some help for Maxx Crosby & crew.
82) Dallas Cowboys – CB Noah Igbingoghene (Auburn)
I really hope this guy doesn't somehow sneak into the first round so I don't have to try and pronounce his name.
83) Denver Broncos (via Pittsburgh Steelers) – CB Reggie Robinson (Tulsa)
The Broncos need more than just C.J. Henderson to help stop Pat Mahomes.
84) Los Angeles Rams – OT Ben Bartch (Saint John's (Minnesota))
The Rams need to protect Jared Goff more like 2018 than 2019 and Bartch can help patch up that line.
85) *TRADE* Seattle Seahawks (via Detroit Lions vs. Philadelphia Eagles) – OG Logan Stenberg (Kentucky)
Stenberg has a good head on his shoulders and had a nice Senior Bowl. He'll be a good fit in the Seahawks power running scheme.
86) Buffalo Bills – RB Darrynton Evans (Appalachian State)
The Bills really like Devin Singletary but they need some help with a pass catching back. Evans fits the bill here.
87) New England Patriots – CB Bryce Hall (Virginia)
The Pats get reigning Defensive Player of the Year, Stephon Gilmore some help in the CB room.
88) New Orleans Saints – QB Jake Fromm (Georgia)
Fromm has gotten Drew Brees comparisons in terms of super heady QBs with a below average arm. GM Mickey Loomis decides to take a shot at a backup QB with potential to work with Brees for a year before he transitions to NBC Sports.
89) Minnesota Vikings – WR Tyler Johnson (Minnesota)
The Vikings get another home guy. Johnson is a monster in the red zone and will help out Kirk Cousins inside the 20.
90) Houston Texans – CB Javaris Davis (Houston)
The Texans continue to draft Corners but need some of these guys to hit. Hopefully Davis develops properly.
91) Las Vegas Raiders – CB Cam Dantzler (Mississippi State)
I texted Brandon for a scouting report on him in late January. He did not respond. Dantzler ran a 4.64 at the Combine which you can't do as a CB. He then ran a hand timed workout during Quarantine w/ a few guys running stop watches on a h.s. field and ran 4.38. I'm not one to throw stones at 40-yard dash discrepancies. I simply am the wrong guy to do that.
92) Baltimore Ravens – RB Zack Moss (Utah)
Moss is the leading rusher in Utah history and he'll be a good addition to a backfield that fizzled out when Mark Ingram got hurt last year in the post-season.
93) Tennessee Titans – RB A.J. Dillon (Boston College) 
6'0" 247 lbs. and he ran a 4.53. Derrick Henry is on the Franchise tag and they bring in Dillon to hopefully replace him next season.
94) Green Bay Packers – LB Logan Wilson (Wyoming)
There is some buzz he could be a 2nd round guy, but this is a good LB crop, so he gets pushed down. The Packers lost two LBs in Free Agency, so they'll likely look to address this position on Thursday or Friday.
95) Denver Broncos (via San Francisco 49ers) – WR Chase Claypool (Notre Dame)
Remember when I said Elway likes to draft big Receivers? Claypool fits the mold even moreso than Pittman with a 6'4" 238 lbs. body. He almost switched to TE, but Claypool is a developmental prospect who can come in and excel on Special Teams right away.
96) Kansas City Chiefs (Georgia Southern) – CB Kindle Vildor (Georgia Southern)
Vildor is likely a Nickel CB at the next level due to his size, but he can play.
***3rd Round Compensatory Picks***
97) Cleveland Browns (via Houston Texans) – LB Malik Harrison (Ohio State)
Browns again looking to replace Schobert and help with Special Teams.
98) New England Patriots – OT Hakeem Edeniji (Kansas)
The Nigerian Dream (not Nightmare) had 48 consecutive starts for the Jayhawks.
99) New York Giants – EDGE Julian Okwara (Notre Dame)
High risk/high reward pick here with Okwara who could turn into something off the edge.
100) New England Patriots – WR John Hightower (Boise State)
The Pats still need help at Receiver and look to the blue fields of Boise State
101) Seattle Seahawks – WR Lynn Bowden Jr. (Kentucky)
This guy is an athlete! He played QB and WR his college career. Shades of a young Antwaan Randel-El. The 12th man will love him.
102) Pittsburgh Steelers – S Ashtyn Davis (Cal)
A track star, he's got sideline-to-sideline speed, but a situation where the lack of medicals will hurt him. He has big time upside at a need position.
103) Philadelphia Eagles – OT Tyre Phillips (Mississippi State)
Jason Peters situation is not resolved, but Halapoulivaati Vaitai is no longer with the team, so Tackle is a need area.
104) Los Angeles Rams – WR Antonio Gandy-Golden (Liberty)
The Rams go to Liberty to get a small school Receiver with big time upside.
105) Minnesota Vikings – OG Damien Lewis (LSU)
The Vikings need to rebuild the interior of their Offensive Line and Lewis can help with that.
106) Baltimore Ravens – EDGE Jonathan Greenard (Florida)
He'll need to be more consistent but can help generate pressure when locked in.
Thanks for reading and make sure to tune in tonight for the En Eff El Draft Show Presented by Mack Weldon.