On This Date in Sports April 16, 1940: Opening Day No No
in collaboration with the Sportsecyclopedia.com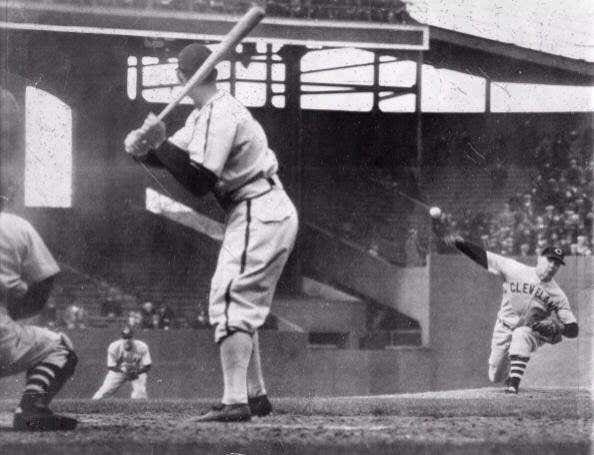 Bob Feller of the Cleveland Indians has an Opening Day for the ages, throwing a No-Hitter to beat the Chicago White Sox 1-0 at Comiskey Park, striking out eight batters on the way. To date, it is the only Opening Day No-Hitter in MLB history. It would be the first of three No-Hitters in Feller's career, which was the record at the time of his retirement. 
Robert Feller was born on November 3, 1918, in Van Meter, Iowa. A star in high school, Feller was signed and made his debut with the Cleveland Indians at the age of 17 in 1936, striking out 15 batters in his debut. Bob Feller quickly became one of baseball's biggest stars. In 1939, Feller won 24 games and finished third in MVP voting. 
Bob Feller got the start for Ossie Vitt's Indians on Opening Day as they started the season on the road against the Chicago White Sox. Eddie Smith meanwhile was tabbed by Jimmy Dykes to start for Chicago. Feller's roughest inning was the second, as Roy Weatherly dropped a fly ball by Taffy Wright in centerfield. Two batters would walk to load the bases, as Bob Feller escaped by striking out Bob Kennedy. It was his fifth strikeout of the game. 
In the fourth inning, Rollie Hemsley drove in the only run of the game with a two-out triple that scored Jeff Heath. Bob Feller had early control issues, with four walks in the first three innings. After getting staked to a 1-0 lead, he became more dominant retiring 20 straight batters until Luke Appling walked with two outs in the ninth. Taffy Wright would end the game with a groundout to Roy Mack at second.
The 1940 season was one of the best of Bob Feller's career as he won the pitching triple crown and finished second in MVP voting with a 27-11 record, a 2.89 ERA and 261 strikeouts. The Indians would battle the Detroit Tigers and New York Yankees all season for the American League Pennant despite a player revolt against manager Ossie Vitt, which became known as the ''crybaby mutiny''. Feller's final start would be a 2-0 loss to Detroit, which allowed the Tigers to clinch with two games left in the season.
Bob Feller would throw three career no-hitters, at the time a record. To date, only Sandy Koufax with four and Nolan Ryan with seven had more No-Hitters. Feller's second No-Hitter was in 1946 against the Yankees, while his final No-Hitter was thrown in 1951 against the Tigers.