Diddy Is Being Called "Fatphobic" For Not Letting Lizzo Twerk On His Easter Sunday Stream, Even Though He Allowed Draya To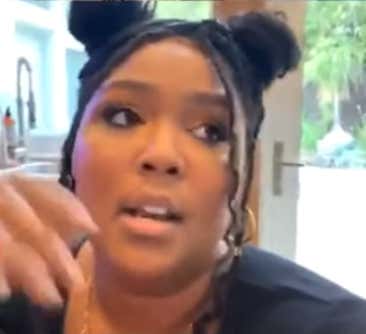 Diddy's Easter Sunday Instagram Live stream lit the internet on fire over the weekend (not as much as the unboxing streams, but not everyone can be Dave, so we'll give Diddy a pass). Thanks to appearances from JLo, ARod, Jessica Alba, Kevin Hart and other celebs, tens of thousands tuned in to watch. It was all to raise money to help with the battle against coronavirus.
You won't believe this, but controversy has made its way into Diddy's life following the live stream. Why? Well, Lizzo made an appearance on the stream. A great get for Diddy. Lizzo is the definition of a superstar. As she often does, Lizzo decided to start twerking as everyone was dancing. Diddy was not a fan:
Diddy shut down the twerking real quick. His reasoning was his dance-a-thon was a "family-friendly" stream and that nobody should be twerking on Easter Sunday. That doesn't make much sense when you hear the song in the background, which lyrics included "she a bad bitch, eat the pussy like a spinach." Now, I'm not one to get mad over a line about eating the pussy like a spinach (I've never heard this line before, but whatever), but you can't be mad about somebody twerking, while that song is being played. The "family-friendly" line is often up for debate, but I don't think we are at the point in our society where families are open about eating the pussy like a spinach. 
A few hours later, Draya came on stream. She started twerking:
Guess who let it happen? Diddy. 
This has led Diddy to be called "fatphobic" on Twitter:
That tweet has over 67k likes and 13k retweets. Not a great look for Diddy!
Diddy has released a statement on the matter:
"There's one thing that I want to make clear—my queen, my sister Lizzo," he said before revealing the reason was because the song had too many curse words. "She's one of the best twerkers in the world, ok, so let's keep that clear. It wasn't about twerking. You're allowed to twerk on Easter." Diddy continued his explanation by stating, "It was a lot of cursing in the record and I don't need child services knocking on my door right now, you understand?" He then showed love to Lizzo. "Lizzo, we love you," he stated. "Everybody, stop looking for the negative. Look at the positive, man. Let's go to the love."
What a time to be alive. In the first part of the statement, Diddy says, "Lizzo is one of the best twerkers in the world" as if she is a great three-point shooter or something. Lizzo has been twerking all her life. When other kids went out partying, she went to the gym and twerked. 
He, also, goes on to say it is okay to twerk on Easter. I have noted this down for future Easters. 
Diddy should've just let Lizzo twerk. It's what she does. Lizzo is a twerker. Is he fatphobic? I don't know. The visual of letting Draya twerk but not letting Lizzo twerk definitely led to a credible accusation. The guy raised over $4 million during the danceathon. His one mistake was not letting Lizzo twerk.