Another Week Of Quarantine Means Another Week Of Freaks In The Pornhub COTW
The New York Times says that this is the horniest our nation has ever been. TIME Magazine says everybody is sitting around in their home all boned up 24/7. NPR says that most Americans have just made it easier on themselves by making Pornhub their homepage for the foreseeable future. And with more people watching pornog than ever, that means that more people are commenting on pornog than ever. So here's the best batch that this week had to offer. 
A mood that I'm sure many can relate to in these trying times. 
"I'm in love with a man. A man called God. Does that make me gay? Am I gay for God? You betcha"
The dab isn't back because the dab never left. 
But yeah...if you really wanna get in the mood and a video that starts off with bottle flips and dabs does the trick for you, then I think you'll thoroughly enjoy that flick. 
Next up we have a little 2-for-1 special because it appears that this quarantine has been making everybody a little nostalgic for the late 90s/early 2000s.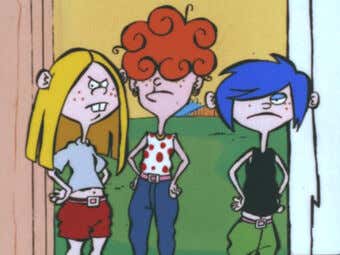 Okay so for starters, I wholeheartedly agree with that CatDog take. Such an underrated show that I feel like we hardly ever talk about anymore. If it weren't for that meme of Winslow the mouse walking right back out the door, I'd fear that CatDog would be wiped from society's history entirely. 
As for Ed, Edd n Eddy goes...well I feel like Ed, Edd n Eddy was Adult Swim for kids. Like you needed to have the brain for alternative humor as a child to be a fan. I was always Team Nickelodeon though. Either way, what a reference to pull out of nowhere. 
Oh and speaking of the late 90s/early 2000s...
I'm really curious as to at what point during the crank sesh this person had Brendan Fraser pop into their head. Like was ethanslamberry going to town on himself and the whole time he was thinking about The Mummy? Was it right when the post nut clarity kicked in and the first thought on his mind is how much he loved George of the Jungle? Because this comment has a few different meanings depending on if he was pre or post completion. 
If you're going to title a video "Fuck Coronavirus", you better mean it. We're in the middle of a war with an invisible enemy right now and we need to try anything possible to beat this thing. Even if that means some coochie is the answer. 
Honestly not a bad set of instructions there. I'm more of a cast iron skillet guy myself but if you're going to throw a ribeye on the grill, berkayzamzam has you pretty set for success. Or you could just listen to Wayne. Salt and pepper heavily, 4 minutes total, flip each minute for the grill marks. S&P the choice for me. 
Everybody loves to act like they're family is so quirky and dysfunctional until you throw on a little pornog and realize there are all these people out here banging their stepdaughters. But hey, every family is different. By the way--I have a feeling that Cummotion69 is a star in the making. He has the potential to be one of the greatest since 69luv69 for any of you OG readers. 
First of all--who is trying to 'relax' with some porn? Nothing like grabbing a glass of warm milk, getting nice and cozy, throwing on some rain sounds and then smashing the play button on "Big Loads Compilation 4". 
Second of all--
You gon' learn today. 
Thanks for stopping by, perverts. Hope to see you all again next week.