Hockey History Part 3: Is Joel Farabee The Chosen One To Finally Avenge The Eric Lindros Trade Tree For The Philadelphia Flyers?
With the 1st pick in the 1991 NHL Entry Draft, the Quebec Nordiques selected Eric Lindros of the Oshawa Generals. Leading up to the draft, Lindros made it clear that he would never wear the Nordiques sweater mostly because the team sucked ass at the time an he didn't want to learn French. But they went ahead and picked him anyway. So being a man of his word, Big E told Quebec to kick rocks and held out of the entire 1991-92 NHL season. 
So on June 30, 1992 the Quebec Nordiques and Philadelphia Flyers went on to complete one of the biggest trades in sports history. Going to the Philadelphia Flyers would be Eric Lindros. And on the return flight up to Quebec would be Steve Duchense, Ron Hextall, Peter Forsberg, Mike Ricci, Kerry Huffman, Chris Simon, a 1st round pick in '93, a 1st round pick in '94, and $15 million. 
Almost 26 years to to the day, the Philadelphia Flyers selected Joel Farabee with the 14th pick of the 2018 NHL Entry Draft. And it's all thanks to Eric Lindros. Here's how.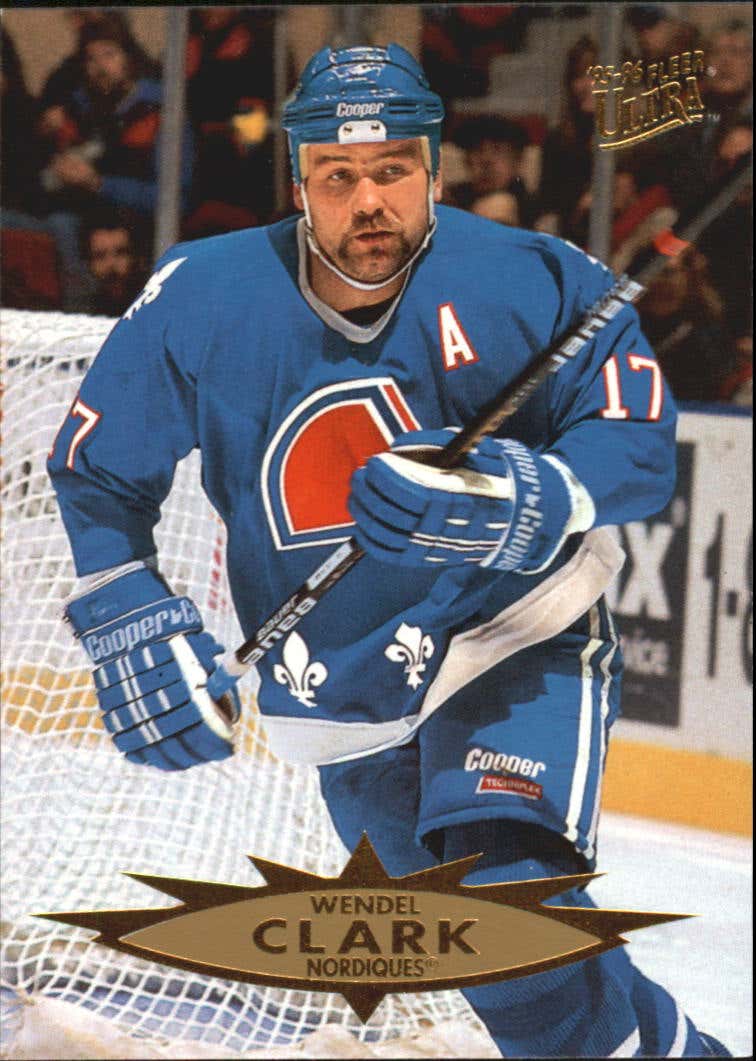 There are hundreds of players in the league who have been impacted in one way or another by the Eric Lindros trade. It's damn near impossible to keep track of all of them so you really just have to focus on following most of the bigger names you see popping up in those trades. One of those big names is Wendel Clark who was traded from Toronto in a package to Quebec on June 28, 1994 for Mats Sundin, Garth Butcher, Todd Warriner and a 1st round pick in the '94 Draft. None of those names are directly related to the Lindros trade but the Nordiques landed Garth Butcher from St Louis in a trade for Steve Duchene in January '94. Wendel Clark is a Leafs legend but only played 37 games for Quebec. The biggest impact he had on that organization is that he was traded to the Islanders in '95 for Claude Lemieux. We'll touch more on Claude later in the blog. But all roads lead back to Toronto for Wendel Clark so after 58 games with the Islanders, he was traded back to the Maple Leafs on March 13, 1996. 
Wendel Clark was heading back to Toronto and in the package back to NYI would be a 1st round pick in the '97 Draft, who happened to be Roberto Luongo. So just to keep track here we've got Lindros for Duchesne, Duchesne for Butcher, Butcher for Wendel Clark, Wendel Clark to the Islanders, and then Wendel Clark back to Toronto for the eventual Roberto Luongo pick. 
As we all know, Mike Milbury is a complete and total incompetent ass. So just a few short seasons after taking Luongo with the 4th pick in '97, he traded him with Olli Jokinen down to Florida on June 24, 2000 for Oleg Kvasha and Mark Parrish. Parrish was later traded from the Islanders in a package with Brent Sopel to the Kings at the trade deadline in 2006. Sopel was then traded to Vancouver in February '07 for a 2nd round pick in that year's draft, which the Kings then selected Wayne Simmonds with. Wayne Simmonds would later be traded in a package to Philadelphia along with Brayden Schenn on June 23, 2011 for Mike Richards. And then finally, Brayden Schenn was traded to the St. Louis Blues at the 2017 NHL Draft for Jori Lehtera, a 1st round pick swap at that draft, and then a 1st round pick in 2018. And with that pick in 2018....
Young Beezer. 
Lindros to Duchense to Butcher to Clark to Luongo to Parrish/Sopel to Simmonds/Schenn to Joel Farabee. It took a roundabout way to get there but the Philadelphia Flyers finally got their last and final piece to win the Eric Lindros trade once and for all. 
Now I'd still go back and make that Lindros trade 11 times out of 10. I will never ever regret getting able to grow up with Eric Lindros as my idol here in Philadelphia. But I can't sit here and act like the Nordiques/Avalanche didn't clearly make out better on that deal in the end. I still say that out of all the players involved, Lindros had the ceiling and potential to be the best. But at the same time, Eric Lindros deserves at least one Stanley Cup ring for leading the Avalanche to winning 2. 
You look back at the majority of the names that played major roles in the Avs winning the Cup in '96 and/or 2001. Peter Forsberg, Patrick Roy, Claude Lemieux, Ray Bourque, Rob Blake, Adam Deadmarsh, Alex Tanguay. All of those players made their way to Colorado thanks to the Eric Lindros trade. 
The easiest one to trace back is obviously Peter Forsberg who was a part of the initial trade. I already mentioned earlier in the blog about Wendel Clark coming out of the Steve Duchense branch of this trade tree and eventually the Nordiques would trade Clark for Claude Lemieux. So there's that. Claude Lemieux was later traded to New Jersey for Brian Rolston, who was eventually traded from Colorado to Boston for Ray Bourque on March 6, 2000.  
Now circling back a few years...Ron Hextall was traded from Quebec to the Islanders before making his return to Philadelphia. In that trade, the Nordiques moved up in the draft to take Adam Deadmarsh who had a pretty decent career with the Avs, no? Unfortunately for him, that stint with Colorado ended with just one Stanley Cup because he would later be traded to Los Angeles for Rob Blake on February 21, 2001 where Blake would go on to win his first Stanley Cup. 
One of the biggest reasons Rob Blake was able to win that Cup in 2001 was thanks to Alex Tanguay's 2 goals in game 7 on the Final. 
Alex Tanguay is only one trade removed from the initial Lindros trade after the Avalanche sent Mike Ricci to San Jose in exchange for Shean Donovan and the 1st round pick in '98 that Colorado would eventually use to take Tanguay. 
And then, of course, there's the most important of them all. 
Without Patrick Roy, who knows if the Avalanche win one Cup let alone two. Don't get me wrong, the team was an absolute wagon. But it always helps when you've got the best goalie in the world (or at least one of them and he ends up beating the other guy in the 2001 Final). But without selecting Eric Lindros with the 1st overall pick in 1991, the organization never lands Roy. Because with that 1st round pick in 1993 the Nordiques got in the Lindros trade, they took Jocelyn Thibault right after Patrick Roy had led the Canadiens to winning the 1993 Stanley Cup. So why waste more time with a kid when you can just ship him off in exchange for the guy who just hoisted the Cup over his head? Which is exactly what they did when Jocelyn Thibault was traded to Montreal on December 6, 1995 for Patrick Roy and Mike Keane. The rest is history. 
So sure, Joe Sakic goes down as the all-time great for that organization. But the majority of the surrounding pieces? The majority of the guys who meant the most to Colorado's Cup runs in 1996 and 2001? All thanks to Eric Lindros. So again, I don't think it's too much to ask that he gets at least one ring out of all that.