University Dog Mascots Hold Important Video Conference - Bonus: Puppy Photos That Will Make Your Day
Scrolling through Twitter today this caught my eye among a sea of Coronavirus posts... A very important meeting was taking place and I needed to know more. Were they unionizing for more Beggin' Strips? Demanding more walks? Sharing scoot-across-the-rug tips?
I reached out to Bryant U. and thankfully Miles in the athletic office told me the call was simply companionship & catching up. He wasn't sure which dog initiated it, but sent me the exact lineup starting at the top and going left to right. Also, I included some fun facts and the mascot's puppy pictures because, damnit, weird times call for puppy pictures. 
Butler University (Indianapolis): Way back in 1919 Butler was slated to play the Franklin "Baptists" during a losing football season. "The school newspaper sought a way to re-energize fans when "Shimmy," a fraternity-owned Bulldog, trotted into the office. This inspired student artist George Dickson to create a cartoon of a bulldog named Butler taking a bite out of John the Baptist."
Butler University's next in line as Blue III retires:
Oh my God...
Fresno State: Legend goes that a former student president & others were "greeted by a white bulldog on campus each lunch time during 1921. Soon students were bringing him to games, and the mascot stuck..."
Clearly he's been sitting that way since he was a puppy.
University of Indianapolis: Grady was a former Greyhound track dog in Daytona Beach, FL with over 51 races. Now he's living the good life:
No puppy pics of Grady since he came from the tracks, but look how happy he always is:
Bryant University (Rhode Island): Tupper is named after Bryant alum Earl Tupper, who invented Tupperware and donated the land for the Smithfield, RI campus. 
Absolute butterball.
Yale: They were the first college in the U.S. to adopt a live animal mascot all the way back In 1892. Thus the XVII.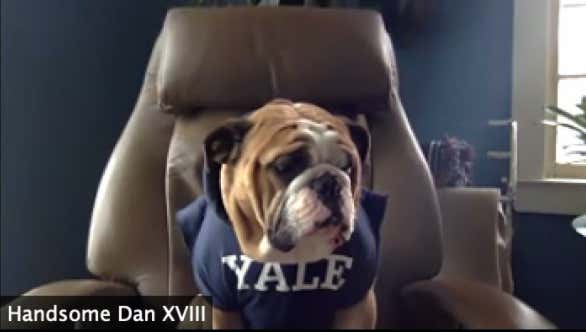 Don't know if you're allowed to say this but I think I would commit murder if puppy Handsome Dan asked me to.
Arkansas Tech: The original Jerry first appeared in the 1930s where he hung out at the campus's National Guard Battery. The students and guardsmen there adopted him as if he was their own, and the school's had a long line of Jerry's ever since. 
Drake University (Iowa): Griff II is taking over so Griff, a former champion show dog, can retire. Both stunning.
Baby Griff II... I simply cannot!! So regal!!
UConn: Jonathan's a purebred Siberian husky, and students in UConn's chapter of Alpha Phi Omega, a national co-ed service fraternity, care for him. Sort of makes me want to join the frat.
Western Illinois U: They're known as "The Fighting Leathernecks" (like the U.S. Marines!) so their mascot is the same breed as the we have in the Corps; an English bulldog.
University of Washington: This Alaskan Malamute's first ever road trip was to the Rose Bowl. Not too shabby.
Puppy Dubs made my heart physically melt through me and into the couch:
Also, a few others popped up who might be interested in joining the next one. 
Northern Illinois University's dog Mission...
...And Southern Illinois University's current Saluki. (Another fun fact, a Saluki is one of the oldest dog breeds, and is an Egyptian hunting dog similar to a greyhound or whippet. Super fast. And great looking in fringe.)
Hang in there gang. Butt sniffing SZN will be back before you know it. 
** Update: Jonathan the Husky orchestrated this meeting. Thank you Jonathan!